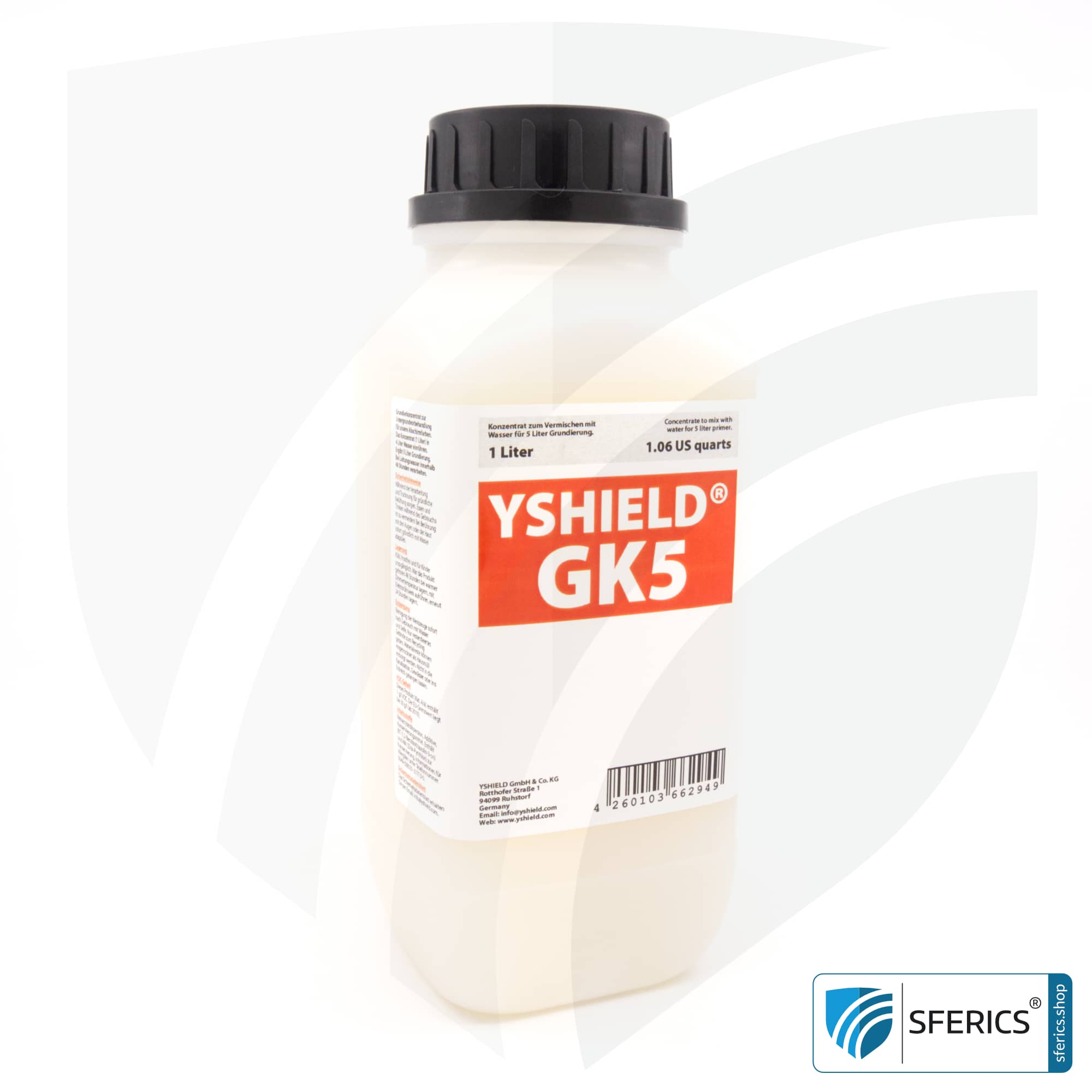 The primer concentrate GK5 is ideal for pretreating substrates as blocking ground for carbon shielding paints by YSHIELD. It is also a way to save money by avoiding an overuse of expensive shielding paint. TÜV SÜD certified!
No matter which shieldingShielding is the protection from the effects of external fault zones and environmental influences (on a person's health most of the time). More paint and no matter which manufacturer is chosen, the shielding paint and the substrate will inevitably be connected. There are rules of thumb regarding the yield of one liter of shielding paint, even though these can be "very relative". If the substrate is prepared and as smooth as possible, the given yield is achieved most of the time. However, if the substrate is grainy, rough and with indentations (rough or fine plaster), the shielding paint is strongly put in, the use of paint increases and the yield goes down dramatically (we have already had a 30-50% reduction).
This specially developed, coordinated and high-quality GK5 primer concentrate was specially designed for the requirements of shielding paints on substrates. Firstly, it is an ideal condition to achieve the highest shielding attenuation possible with the shielding paint. However, it is also ideal to help people avoid unnecessarily high shielding costs through an overuse of expensive shielding paint.
This GK5 primer concentrate be used for priming old stable coats and tender, chalky and absorbent substrates. GK5 primer is also ideal for graphite shielding paints if problematic (mineral) coats need to be applied.
Processing the primer concentrate GK5
The container contains 1 liter of primer concentrate for shielding paints. Mix it with 4 liters of water and you will get a total of 5 liters of the ideal primer for shielding paints. The primer must be processed within 48 hours as soon as it mixed in the water. A high-quality paint roller should be used when applying the primer. The minimum temperature for processing is 5°C.
The use of the primer also depends on the quality and absorbency of the substrate. However, the savings are enormous compared to the cost of an overuse of shielding paint. The typical indoor yield is approx. 35 m² and the outdoor yield is approx. 25 m².
Primer concentrate GK5 technical information
Suitable for all of our shielding paints
Container size: 1 liter mixed with 4 liters of water.
Indoor yield: up to 35 m²
Outdoor yield: up to 25 m²
Application: Indoor walls, ceilings, floors, outdoor walls
Ingredients: Pure acrylate binder, additives, preservatives (MIT, BIT).
Ecology: Normal
Color: Transparent
Documentation for the primer GK5 (.pdf)
Technical data