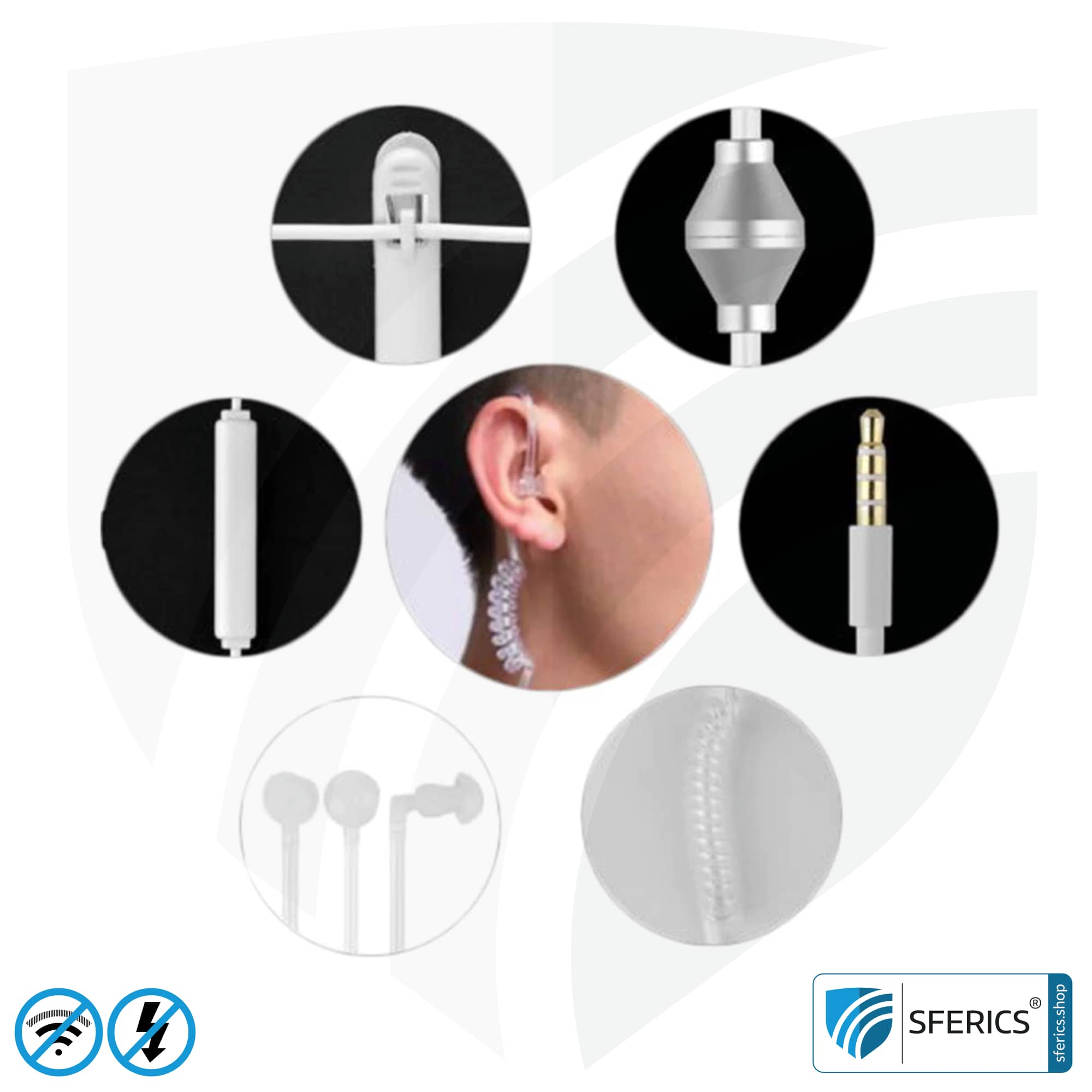 Monaural aerial cable headset with microphone and jack plug for everyday mobile use with reduced EMR exposure on the head. An adapter may be necessary for connection to the smartphone.
This monaural AirTube headset is predestined for call centers, security or reception, i.e. for all people who have headphones permanently on their ears. The unique aerial cable technology reduces head radiation by 98%. The reduction is significant, especially in direct comparison with standard headsets or Bluetooth headphones.
In addition to the pure AirTube aerial cables, the safety distance to the ear also causes this radiation reduction. The control integrated in the cable enables easy use of the AirTube in-ear headset in combination with a smartphone.
♬ Part of the monaural headset consists of a flexible AirTube aerial cable. This makes it convenient to use in everyday mobile use, while driving and during sports.
♬ This in-ear headset combines comfort and the best possible sound quality.
♬ The Monaural in-ear headset prevents electromagnetic radiation directly at the head that is favored or amplified by the standard headset.
♬ The cable contains a button to control the connected smartphone. Features include accepting and terminating calls as well as starting, ending or moving directly to the next track.
♬ Compatible with iOS and Android. Control via the integrated control switch in the cable. Should the terminal (eg smartphone) no longer have a jack plug input, then a jack plug adapter is necessary.
EXCERPT OF RATINGS FROM BUYERS
5.0 of 5 stars
Great, no cell phone radiation due to the air-conduction technology
I wanted to buy a similar product in stores, the price of about 40 € but then did a little further research.
I found what I am looking for on Amazon: first I bought from the Marketplace dealer maria.pantou: Attention, keep your hands off! I have the customer feedback (are not the reviews !, but only appear when you click on the seller name), unfortunately, read too late. In spite of repeated mail requests on my part, the product never arrived at my place! Then I ordered Hifone from the Markezplace vendor, everything went smoothly there. Technology: The question of whether mobile phone jets are routed directly into the ear via conventional cable earphones and cable headsets be or not, you can save yourself if you play it safe and, for example, also chooses the air-duct technology used here. The sound is passed on electromagnetically as normal as an air chamber and then the pure acoustic sound is led via a plastic hose to the in-ear part. Works perfect and is unbeatable on top of that. My sister has paid for the same product, because it was not available at that time just about Hifone, another provider paid about 25 € and is also fully satisfied.
5.0 of 5 stars
Super good – good sound quality
I already had an Airtube headset with two earplugs and wanted now to make phone calls with the smartphone even one that is a little smaller, easier to stow and take away, because it is not so easily tangled. Since this headset was a direct hit. The sound quality is very good, it is small and an earplug is absolutely sufficient for telephoning. No more headaches from telephoning thanks to Airtube technology. No hot ears. Wonderful! Highly Recommended.
5.0 of 5 stars
Perfect
Super sound, ideally shaped, long cable, long air duct, inconspicuous, extremely cheap, solidly built, no shortcomings, in one word: ingenious & perfect.
Video about AirTube headsets or air tube headphones