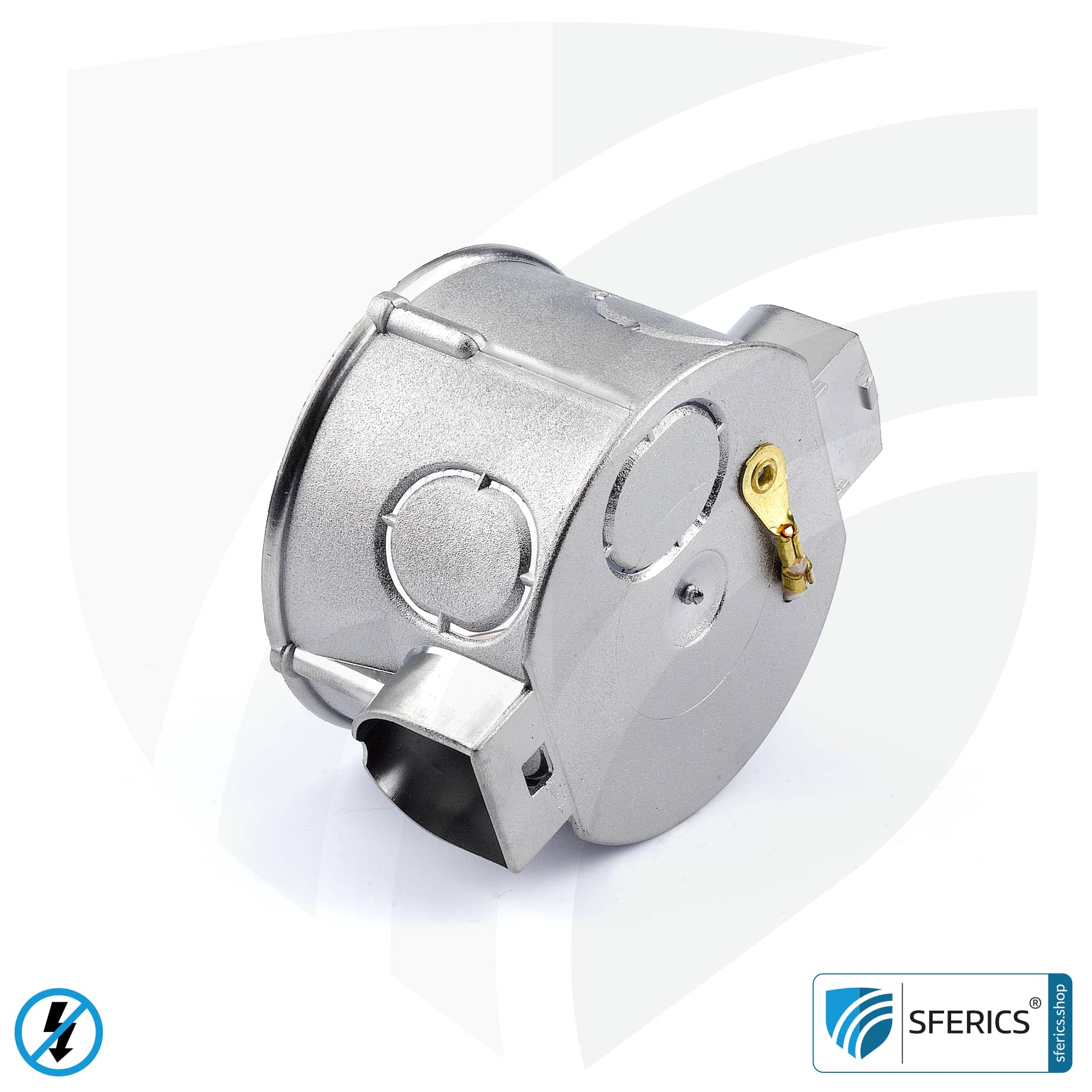 Shielded in-wall box with 41 mm depth. Ideal as junction box or switch box for the installation of shielded electrical cables under plaster. For shielded rooms according to Faraday to reduce LF electric fields.
This shielded installation box is used to reduce low-frequency alternating electric fields. This is an ideal supplement to the wall shielded by means of shieldingShielding is the protection from the effects of external fault zones and environmental influences (on a person's health most of the time). More paint in order to also close the "hole socket" in the Farraday cage in the best possible way.
Shielded with metal vacuum coating. Potential connection cable 1,5 mm² rigid. With snap-in socket, can be used as junction and switch box for plastering. Standard mounting distances.

General information about the shielded in-wall box, flat, 41 mm
The coating of the brick or hollow wall boxes is electrically conductive and are perfectly suited to fully limiting alternating fields. The focus of this shielded installation box is its use in the bedroom, hospitals, computer rooms, and other sensitive areas to limit alternating fields.
Special conductive metal vacuum coating for shielding against electrical alternating fields (in accordance with the EU's 2002/95/EG guidelines)
Approved screw spacing
Connecting wire 1,5 mm² (Copper, massive, rigid, transparent insulation), quick installation in
Plug terminals (push-wire connectors)
Installation of the insertions with screws and stretches
Standard screw spacing of 60mm
Circuit diagram shielded junction box
Details about the shielded in-wall box, 41 mm depth
Snap-lock coupling (square) with a standard distance of 71 mm
BreakFault rocks are breaks that can arise from movements in the ground. Earth and rock layers are moved from their original position by fault rocks, which in turn moves minerals and metals. More out opening up to size 16
Polystyrene (PS)
Temperature range during processing -5° C to max. + 70° C (material breaks at too low temperatures)
Documentation (.pdf)
Technical details
Details on building biology electrical installations
Electrical Installations Instruction Booklet
Other available installation boxes
Optimal, shielded and halogen-free installation cables
Recommendation: WAGO junction box terminals