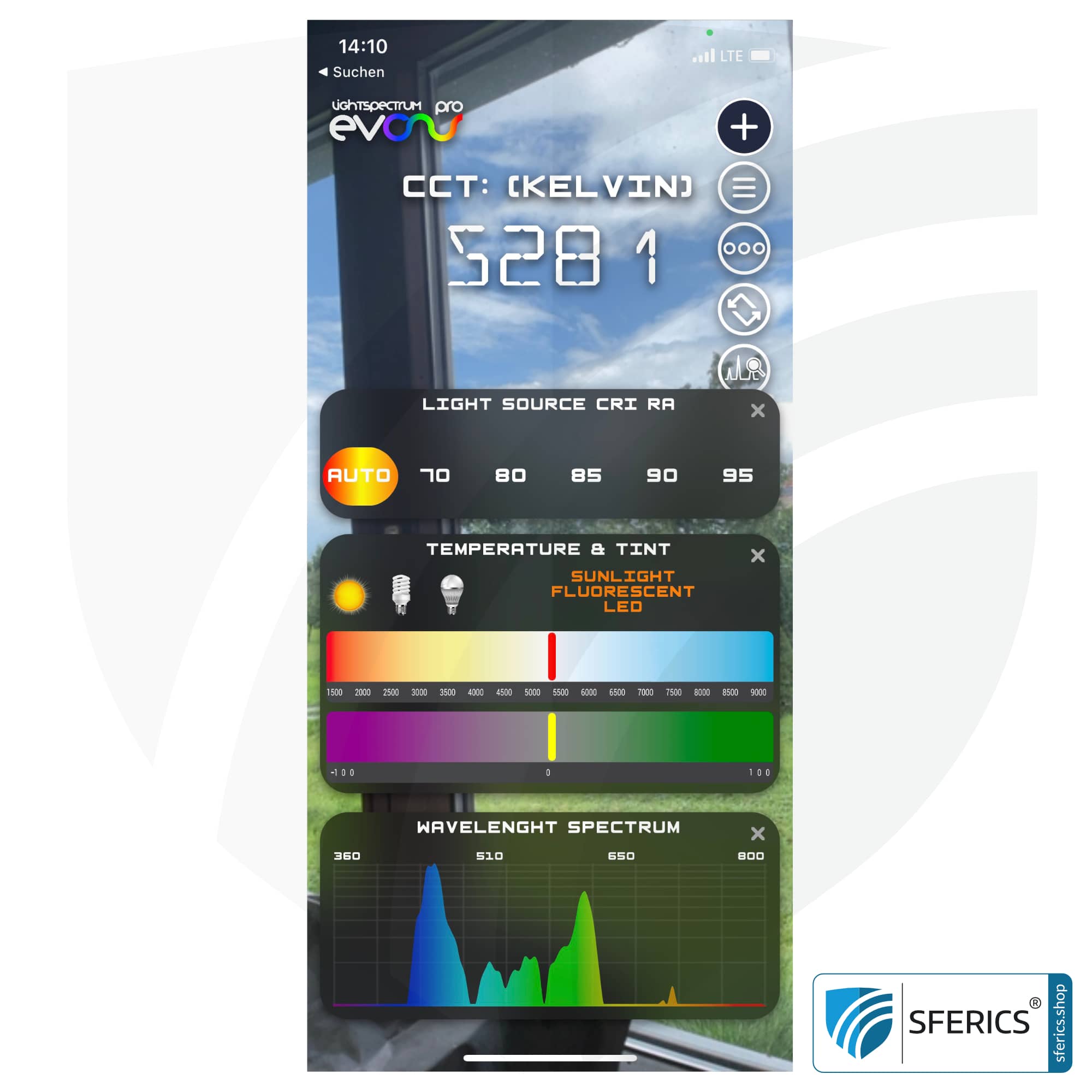 With Lightspectrum Pro EVO the iPhone and iPad become a light meter. Perfect for the first steps in the exciting health topic "Light is life" with color temperature (Kelvin), wavelengths, illuminance (Lux) and color rendering (CRI).
This app is unique. It allows the smartphone to be used as a light meter for the analysis of light or illuminants. This app is compatible with iPhone and iPad.
We can recommend this software as a supplement to a flicker meter, as the bundle can measure both the flicker value and the light color temperature at very low cost.
App description of the developer
With LightSpectrumPro EVO you can measure the color temperature of a light source without having to spend hundreds of dollars on professional devices. LightSpectrumPro EVO has an error of 2 – 8% compared to existing professional products on the market. in addition to the color temperature measurement in Kelvin, LightSpectrumPro EVO allows you to view the color spectrum of the light being examined with a band ranging from 360nm to 800nm.
In addition to the spectrum it is possible to display the position of the white point on the CIE 1931 diagram and to apply a filter for wavelengths to display in overlay on the image captured by the cameras which elements reflect a specific frequencyFrequency is the number of occurrences of a repeating event per unit of time. It is a physical measurement that is important for describing periodic processes, such as vibrations. More and with what intensity.
Available for download for iOS and Android. Powerful smartphone with high quality camera required.
Changelog excerpt from 4.0 (For the complete changelog see App in the Store)
4.3.0 – 31. Juli 2021
Added the spectrographic analysis mode with the use of the refraction box
fixed minor bugs
4.2.1 – 3. Dez. 2020
Added a new function that allows you to estimate the value of PAR (Photosynthetic Active Radiation) emitted by the light source. The value is expressed in PPFD (Photosynthetic Photonic Flux Density) in umol/m2/s, which consists of the quantity of PAR that reach the surface of the plant per second.
Fixed some UI bugs
Added compatibility with new devices
Minor bugs fixed
4.2.0 – 18. Okt. 2020
Improved the user interface
Added the Hue graph that indicates the complementary value of the color temperature, with a value of -100 for tending to magenta and +100 for tending to green
Improved the wavelength spectrum graph
Improved the algorithm for calculating the white point X and Y coordinates in the CIE1931 diagram
Minor bugs fixed
4.0.0 – 14. Juni 2018
The new version of LightSpectrum Pro Evolution changes its look, the new interface improves the user experience, and the new color space chart panel with white point indication has been added to the new features.
Improved stability and resolved some bugs found on new devices.
ALSO AVAILABLE FOR ANDROID