WHITE SILK is a semi-transparent, elegant shielding fabric with 54 dB attenuation. Visually very appealing, groundable LF and without the usual discolorations of silver fabrics. Shielding effectiveness over 99,999%. Effective against 5G!
WHITE SILK is a semi-transparent shieldingShielding is the protection from the effects of external fault zones and environmental influences (on a person's health most of the time). More fabric made of real silk and a high proportion of silver filaments. It is used to shield against high-frequency electromagnetic radiation (HF) and low-frequency alternating electric fields (LF). Typically, it is used as a curtain or room divider, but because of its groundingGrounding is an electrically conductive connection with the electric potential of the ground. More capability, it is also perfectly suited for the production of a bed canopy.
Uniqueness best describes this special shielding fabric. We are very pleased to have such a shielding fabric made of silk in our range for the first time. Purely in collaboration with a renowned manufacturer, it was possible to combine silk and silver into this elegant shielding fabric. This uniqueness is reflected not only in its appearance but also in its performance. Thus, WHITE SILK offers an impressive attenuation of 54 dB – an unprecedented performance level in this category of "white shielding fabrics".
Application of the shielding fabric WHITE SILK
The typical application of the shielding fabric WHITE SILK is in the processing into a net curtain, curtain, or room divider in laboratories, doctor's offices, etc. And due to its excellent washability, it can be used to sew a high-performance bed canopy.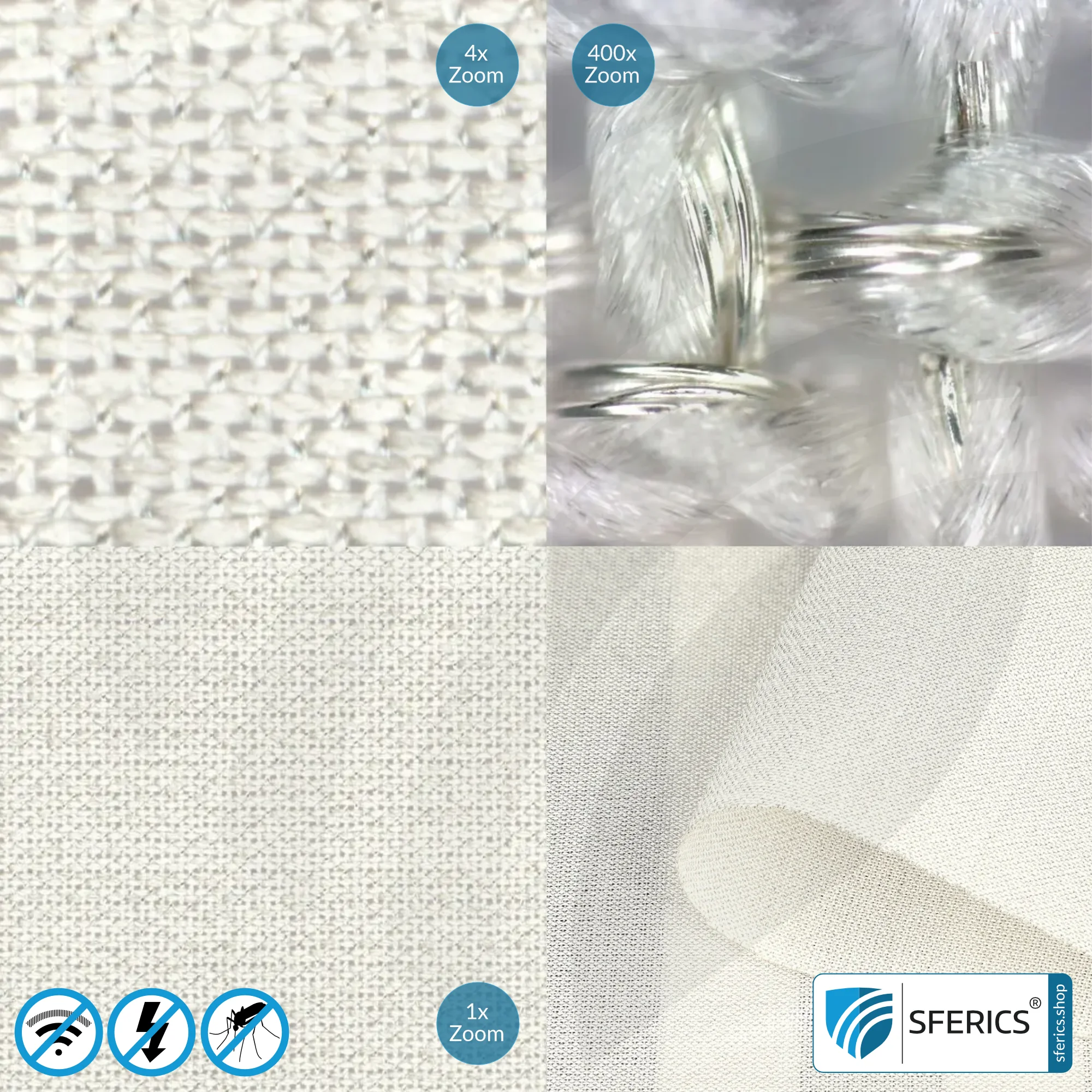 Characteristics of the WHITE SILK shielding fabric
Unique elegant combination of silk and silver
With 54 dB, the highest shielding attenuation we have ever had with a white shielding fabric
Good light transmission with very high shielding attenuation
Contactable (groundable) for shielding from LF fields
The silver fabric WHITE SILK contains no nano-silver, but silver threads
Textile properties: Washable, ironable, sewable
Quality classification: Very high
WHITE SILK technical information
Width: 150 cm, +/- 2 cm
Length: Available by the meter
Attenuation: 54 dB. Unless otherwise stated, the indicated dB-values apply to 1 GHz. Measurement from 600 MHz to 40 GHz according to standards ASTM D4935-10 or IEEE Std 299-2006.
Color: Beige
Raw materials: 81 % silk, 14 % nylon, 5 % silver
Weight: 70 g/m²
Dimension stability: +/- 1 %
Surface conductivity: 6 ohm / inch (2.54 cm)
This product with an electrically conductive surface shields low-frequency alternating electric fields (LF). Products with an electrically conductive surface has to be integrated into the functional-equipotential bonding (FEB).


Care instructions about shielding fabric WHITE SILK
Gentle cycle at 30°C 
No ironing
No drying in tumble dryers
No bleaching
No chemical dry-cleaning
Wash only with our special washing detergent TEXCARE, without enzymes or bleaching agents
No revocation for FABRICS
Like for cuts, there is no right to return shielding fabrics.
Please note that revocations do not apply to these products, because they were cut to the customer's specifications. Reselling a tailored item is no longer possible. For this reason, it is possible to request a free sample. By ordering pre-finished products, waiving the statutory right to return goods is accepted.
We only sell the highest-quality fabrics! Because of the high production costs and a favorable price, small flaws are not grounds for complaint.
Documentation (.pdf)