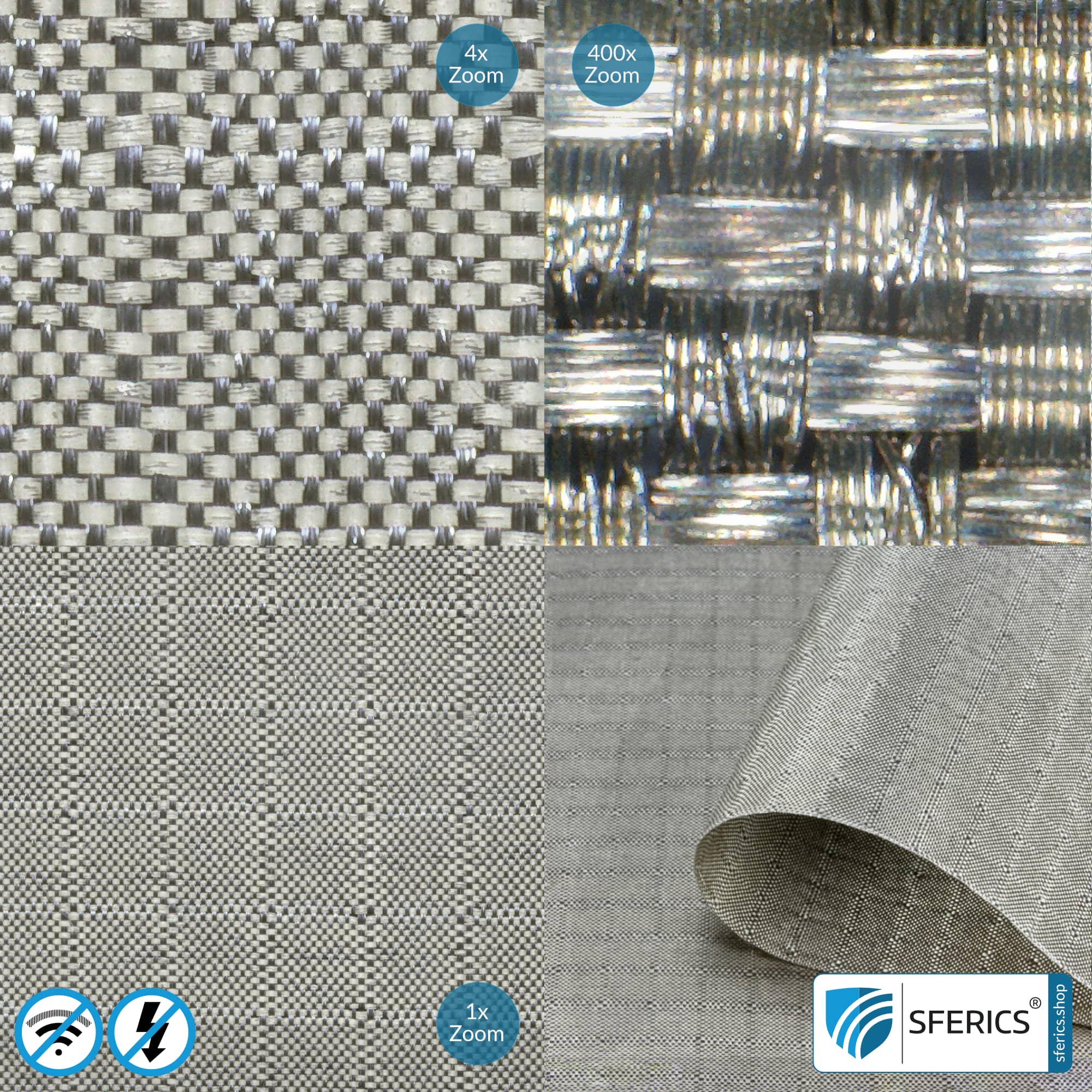 SILVER SILK shielding fabric against electrosmog by HF (WIFI, mobile phone, …) and LF (domestic electricity). HF shielding up to 58 dB, groundable LF. Ideal for mobile phone pockets, inside pockets and generally for sewing in EMF radiation protection. Efficiency shielding 99.999% – effective against 5G!
In terms of effective screening attenuation, this shieldingShielding is the protection from the effects of external fault zones and environmental influences (on a person's health most of the time). More fabric is decisive. SILVER SILK is a silver-coated parachute silk / nylon tissue – this means that this shielding fabric is fully coated in silver. This is why SILVER SILK is ideal for effective shielding against high-frequency electromagnetic radiation. With a screening attenuation of 58  dB, the SILVER SILK is predestined for us in protective mobile phone or laptop cases. Because of its excellent washability, SILVER SILK can also be sewn onto the inside of pieces of clothing. However, this shielding fabric is also ideal as an opaque shielding partition.
In our eyes, one of the features of the SILVER SILK shielding fabrics is its use for data protection. Because of its significant reflective effect, this fabric also offers high protection for your personal data in your passport or financial information on your bank or credit card. RFID NFC scanners will no longer read your data unnoticed. Contactless payment is very comfortable and modern, but only when it done sensibly. Personal (financial) data or login data is read from a distance unnoticed is everything you don't want. A bag or pouch with this fabric sewn on offers a simple but effective data protection solution.
Because of the full silver coating, SILVER SILK is electrically conductive and is best suited to groundingGrounding is an electrically conductive connection with the electric potential of the ground. More LF electric alternating fields. For example, if there is no way to exchange an electric cable or socket strip into a shielded variant you will get a similar result by "wrapping and grounding" with SILVER SILK.
Use and assets of the SILVER SILK
The properties of the SILVER SILK shielding fabric are:
Very high HF screening attenuation
Antiseptic (

germ reducing and eliminating

) because of the full silver coating
Contactable (groundable) to protect from LF fields
Textile properties: washable, can easily be sewn. Exception: Cannot be ironed!

SILVER SILK HF + LF electrosmog shielding fabric technical information
Screening attenuation: 58 dB. Unless otherwise stated, the indicated dB-values apply to 1 GHz. Measurement from 600 MHz to 40 GHz according to standards ASTM D4935-10 or IEEE Std 299-2006.
Length: by the meter
Width: 130 cm, +/- 2 cm
Materials: 80% nylon, 20% silver
Grammage: 45 g/m²
Surface conductivity: 0.2 Ohm / Inch (2.54 cm)
Application: Technical, clothing, grounding
Field type: LF (low-frequency electric alternating fields), HF (high-frequency electromagnetic fields)
Ecology: High
Color: Metallic (silver-brown)
This product with an electrically conductive surface shields low-frequency alternating electric fields (LF). Products with an electrically conductive surface has to be integrated into the functional-equipotential bonding (FEB).
Care instructions about shielding fabric SILVER SILK
Gentle cycle at 30°C 
No ironing
No drying in tumble dryers
No bleaching
No chemical dry-cleaning
Wash only with our special washing detergent TEXCARE, without enzymes or bleaching agents
SILVER SILK changes color over time
It should be noted that while the fabric with silver threads is highly effective, they change color as time goes on. The electrically conductive side of the shielding fabric can also have stains from the factory. Its quality and impact are not affected by this, it is, however, an optical change that can be covered in creative ways on curtains.
SILVER SILK changes color!
No cancellation for FABRICS

Like for cuts, there is no right to return shielding fabric.

Please note that cancellations do not apply to these products, because they were cut to the customer's specifications. Reselling a tailored item is no longer possible. For this reason, it is possible to request a free sample of the SILVER SILK shielding fabric. By ordering pre-finished products, waiving the statutory right to return goods is accepted.
We only sell the highest-quality fabrics! Because of the high production costs and a favorable price, small flaws are not grounds for complaint.
Documentation of the SILVER SILK shielding fabric (.pdf)
Technical details
Laboratory report screening attenuation
Expert report EMF Test Lab Bavaria