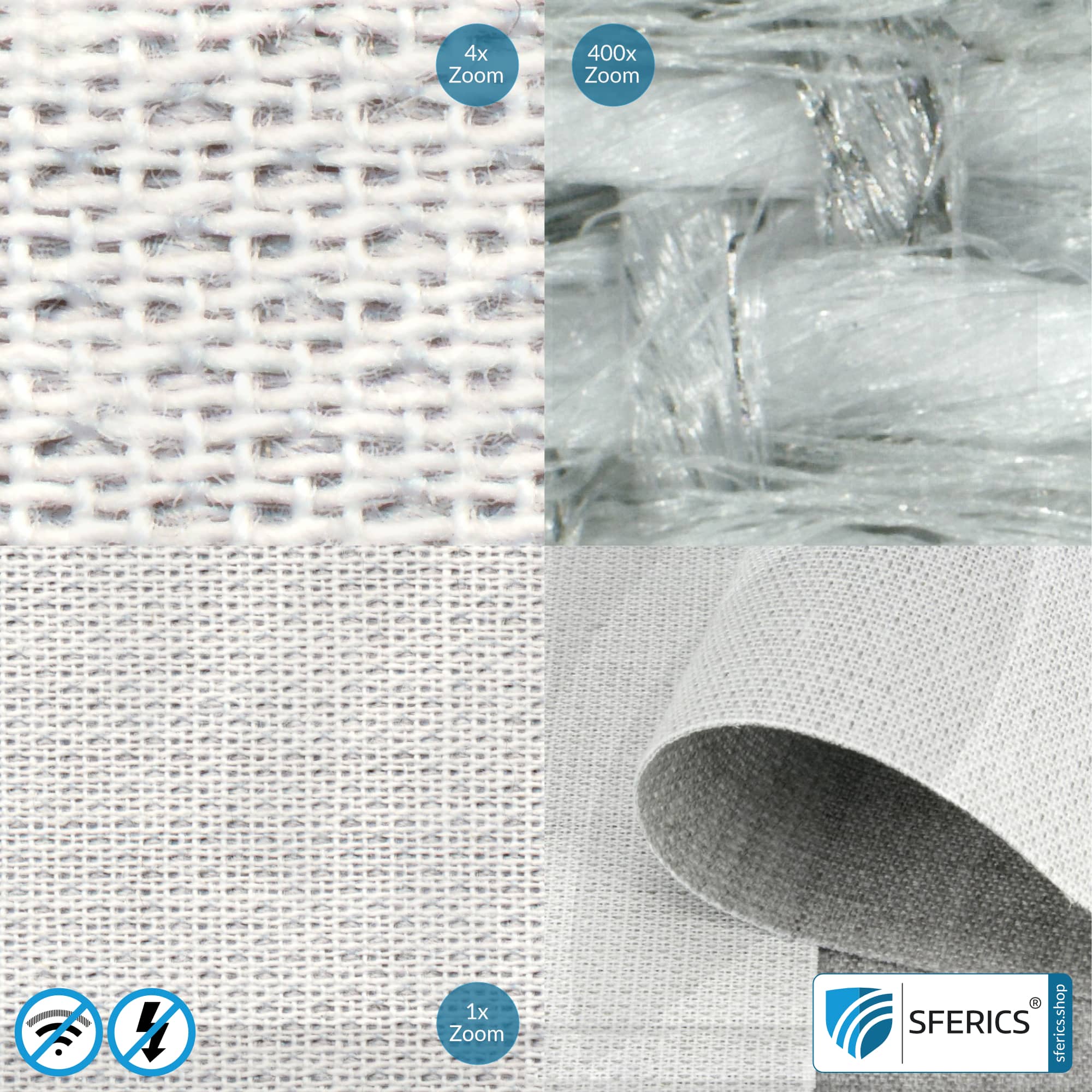 STEEL TWIN shielding fabric against electrosmog from HF (WLAN, mobile phone, …) and LF (domestic electricity). Opaque, very powerful, robust and therefore ideal for floor underlays and curtains. Opaque. Groundable LF. Efficiency shielding 99.99% – effective against 5G!
The main advantage of the STEEL TWIN lies in its resistance to fatigue when being used. For this reason, we use this STEEL TWIN shieldingShielding is the protection from the effects of external fault zones and environmental influences (on a person's health most of the time). More mesh for flooring underlays with our canopies. The reason for this is the use of stainless steel threads instead of the considerably more sensitive silver threads. There is also no discoloration, as is normally the case with silver threads.
STEEL TWIN is an opaque mesh made out cotton wool and stainless steel tissue. The woven stainless steel threads achieve an attenuation of up to 35 dB against HF mobile radiation, even 50 dB with two layers. Furthermore, this shielding mesh is contactable and therefore can be used to ground LF electric (alternating) fields from the power supply.
The characteristics of the STEEL TWIN are the two sides, which are easily recognizable. The front is made out of white cotton wool and the back is made out of a woven, narrow and dark net of stainless steel threads. This well thought out combination creates a great end product, an effective and robust shielding mesh. Despite the gray stainless steel underside, the front remains light gray and does not clash with the colors of the room most of the time.
Use and assets of the STEEL TWIN
The properties of the STEEL TWIN shielding fabric are:
Good screening attenuation, even at high frequencies!
Electrically contactable (groundable) for protection against LF fields
Textile properties: washable, can be ironed, can be sewn
Quality grading: very high


Technical data of the STEEL TWIN shielding material against HF and LF electrosmog
Screening attenuation: 42 dB. Unless otherwise stated, the indicated dB-values apply to 1 GHz. Measurement from 600 MHz to 40 GHz according to standards ASTM D4935-10 or IEEE Std 299-2006.
Length: by the meter
Width: 150 cm, +/- 2 cm
Materials: 68% cotton wool, 16% polyester, 16% stainless steel
Grammage: 190 g/m²
Surface conductivity: 100-800 Ohm / Inch (2.54 cm)
Application: Floors, curtains, textiles, windows, earthing
Field type: LF (low-frequency electric alternating fields), HF (high-frequency electromagnetic fields)
Ecology: Normal
Color: White, gray
This product with an electrically conductive surface shields low-frequency alternating electric fields (LF). Products with an electrically conductive surface has to be integrated into the functional-equipotential bonding (FEB).
Care instructions about shielding fabric STEEL TWIN
Washing up to 60°C
Iron without steam at degree 1
Drying at low temperature
No bleaching
No chemical dry-cleaning
Wash only with our special washing detergent TEXCARE, without enzymes or bleaching agents
No cancellation for FABRICS

Like for cuts, there is no right to return shielding fabric.

Please note that cancellations do not apply to these products, because they were cut to the customer's specifications. Reselling a tailored item is no longer possible. For this reason, it is possible to request a free sample of the shielding fabric. By ordering pre-finished products, waiving the statutory right to return goods is accepted.
We only sell the highest-quality fabrics! Because of the high production costs and a favourable price, small flaws are not grounds for complaint.
Documentation of the STEEL TWIN shielding fabric (.pdf)
Technical details
Laboratory report screening attenuation
Expert report EMF Test Lab Bavaria