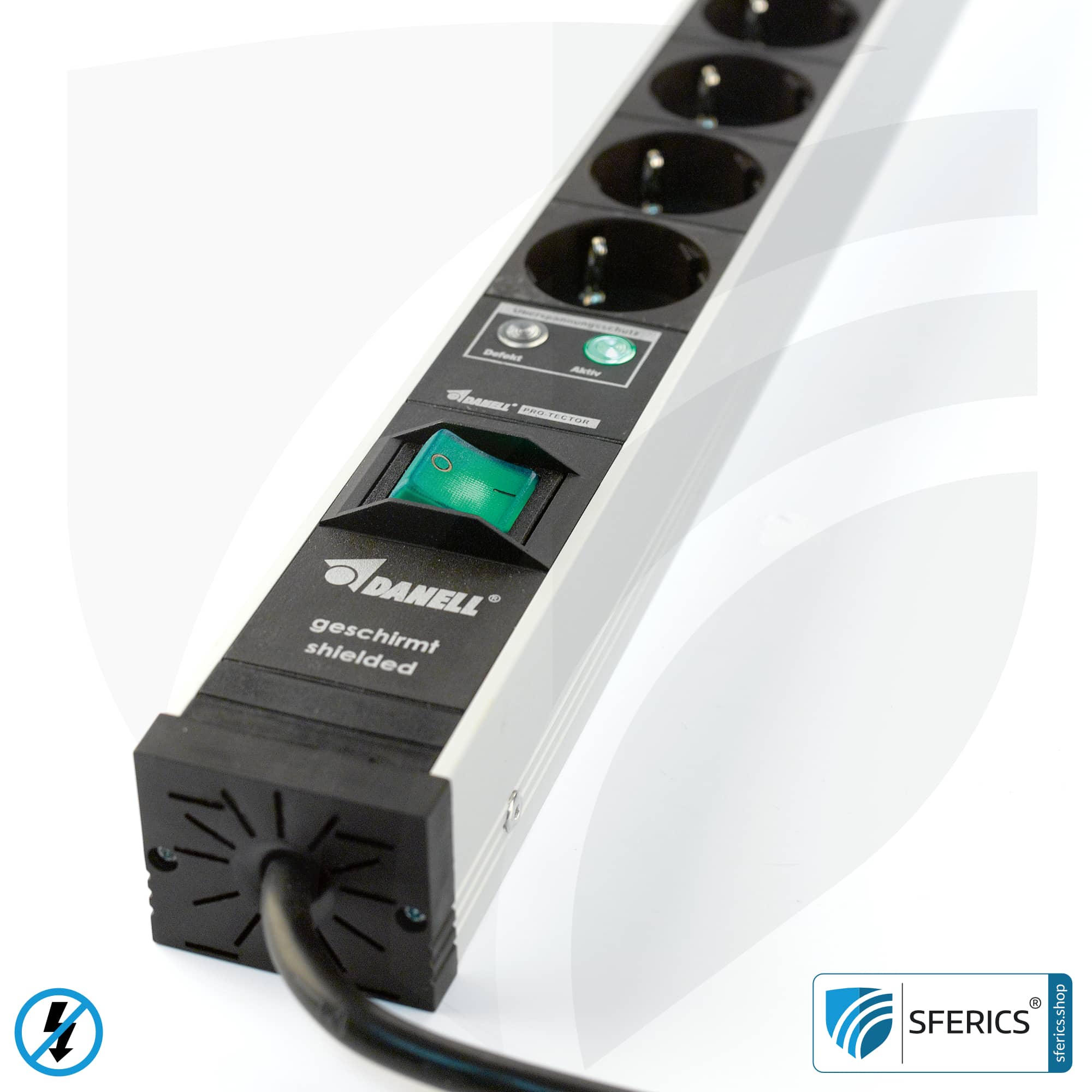 Socket strip with 9 Schuko inserts with overvoltage protection, shielded NF with on/off switch
9 Schuko inserts switched with two-pole disconnection. High shieldingShielding is the protection from the effects of external fault zones and environmental influences (on a person's health most of the time). More against alternating electric field at mains voltage. Excellent earthing cabling within the socket strip. The PLUS of this 9-way socket strip is the PRO-TECTOR surge protection of all 9 socket inserts.
Particularly in terms of workmanship, this socket strip stands out from the crowd and leaves its commercial competitors far behind. As this power strip is also assembled by hand, the purchase price is higher, but this guarantees the highest consistent quality and long-term use, regardless of whether it is for private or commercial use.
Details of the shielded 9-way socket strip from DANELL
Case: Robust, anodized aluminum profile.
Bipolar switch with protective frame against unwanted pressing.
Black socket inserts, inclined 45°, incl. child protection.
Shielded power supply cable: 2 meters, 3 x 1.5 mm².
Integrated decoupling filter.
Integrated Type II overvoltage protection according to DIN VDE 0110 Part 1.
Display for the overvoltage protection function.
Supply voltage: 250 V / 50 Hz.
Power load: 16 A according to IEC 884.
Measurements: 572 x 52 x 45 mm, without cable.

This shielded 9-socket power strip is usable in the following countries
CEE-7/4 (German system) and CEE-7/7 (French system): Afghanistan, Algeria, Andorra, Austria, Belgium, Bosnia-Herzegovina, Bulgaria, Croatia, Czech Republic, Estonia, Finland, France, Germany, Greece, Hungary, Iceland, Indonesia, Italy, Korea, Latvia, Lithuania, Luxembourg, Macedonia, Moldova, Monaco, Montenegro, Morocco, Netherlands, Norway, Poland, Portugal, Romania, Russia, Serbia, Slovakia, Slovenia, South Korea, Spain, Sweden, Tunisia, Turkey, Ukraine
Documentation(.pdf)
Download data sheet
Download supplementary sheet
Download data sheet surge protection