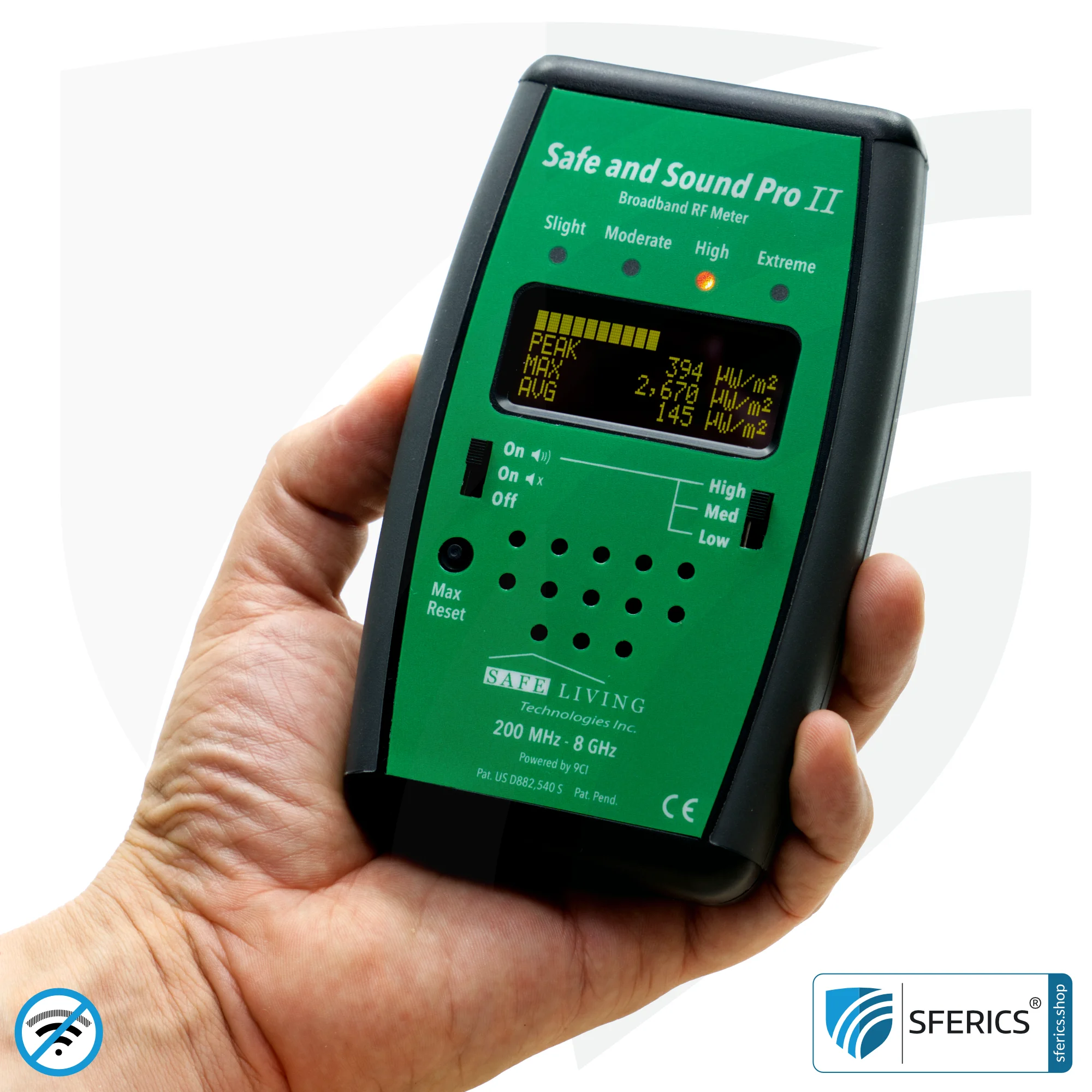 SAFE AND SOUND PRO 2 is a broadband EMF measuring device in the semi-professional area. The high detection radius of 200 MHz to 8 GHz and the unique measuring range of up to 3.180.000 μW/m² make it ideal for electrosmog HF measurement – even in the near field. Perfect for the beginner who wants MORE.
"With this measuring device I have butterflies in my stomach", this is how we can best describe our enthusiasm for this measuring device at the moment. Safe and Sound Pro II from the Canadian company Safe Living Technologies is our current favorite device at an almost unbelievable price for its performance. The combination of technical measurement performance and ease of use raises this meter to a semi-professional level for the beginner who simply wants MORE. Due to the very simple operation, the device is also suitable without restrictions for the metrological beginner.
The measurable frequencyFrequency is the number of occurrences of a repeating event per unit of time. It is a physical measurement that is important for describing periodic processes, such as vibrations. More range is between 200 MHz and 8 GHz with a sensational measuring range from 0,001 µW/m² to 3.180.000 µW/m² (nearly 3,2 million microwatts per squaremeter!) – completely without attenuators or switches. Thanks to this enormous measuring range, it is now also possible to make precise statements on the radiation intensity (power flux density of the electromagnetic field) of terminal devices such as mobile phones, smart phones, WIFI routers, mobile Internet cubes or DECT cordless phones, even at close range. The device has a 3,5 mm headphone socket which allows for high-quality audio analysis. Thanks to the Micro USB connection, the measuring device can also be used in continuous operation with a power supply unit or a power bank.
You want certainty in everyday life for your end devices? Simply switch on the Safe and Sound Pro II.
Does my DECT telephone really switch off after the call?
Smartphone in flight mode. Is it really no longer working?
How strong is my neighbour's WIFI?
Is the new 5G transmitter mast already in operation?
How often does my mobile phone transmit when I am not making calls?
and much more ….
The range of applications of the Safe and Sound Pro II is getting larger and more valuable every day. An ideal device for all those who prefer to measure and check by themselves rather than relying on the explanations in the operating instructions.
SAFE AND SOUND PRO II – a RF broadband measuring device  convinces with performance!
A further highlight is the digital display directly in the important building biology unit of microwatts per square meter (µW/m²). With the SAFE AND SOUND PRO II, the measured value can be read directly and easily without conversion. In addition to the respective current measured value, the maximum measured value and the average value are also recorded. This means that no impulse, however short, can be overlooked.
In addition to the plain text display, the device also has a four-stage, differently colored light-emitting diode scale for immediate, rough assessment of the momentary load, as well as a bar graph display which is a real help in case of strongly pulsating signal strengths. For this purpose, the measuring device demodulates the currently received signals in order to deduce the cause by acoustic analysis.
Convincing application of the Safe and Sound Pro II
Premium OLED display self-luminous for easy reading even in dark rooms
Various displays (OLED with measured values / bar chart / 4 LED's for a quick overview)
High-quality audio analysis with 3-way volume adjustment for easy location of radiation sources
Peak value memory which can be reset with a push-button
Very high sensitivity of 0,001 µW/m²
Each unit is individually tested and calibrated. This is sensational and unique in this price range. Calibration certificate from Nemko Canada Inc Testing Lab in Cambridge, Ontario.

Detailed RF broadband measurement with a new measurement level and in a new price range
This HF broadband measuring device for the frequency range 200 MHz to 8 GHz (8.000 MHz) and measuring range up to 3.180.000 µW/m² provides one thing above all: answers! Thanks to its very wide frequency range, it covers the entire spectrum from the low TETRA frequencies, via GSM, LTE, 5G, DECT, WIFI. Even air traffic control and shipping radar is detected. And that is by no means all, there are others: Mobile phones, tablets, smartphones, smart watches, mobile phone masts, EDGE, WIMAX, DAB, DVB-T, Bluetooth, Zigbee, smart meters, PC printers, radio smoke detectors, radio thermometers, radio keys, radio cameras and hidden mini spies as well as radio remote controls. e.g. of flying drones or similar and radio controllers of game consoles, baby phones, smart TV, as well as all smart home devices such as Alexa, Echo, Home Pod and whatever they are called.
All these services and applications can be measured in detail with the SAFE AND SOUND PRO II and thus its radiation intensity can be assessed. You will be amazed at what is secretly going on in front of you. Nowadays there are already toothbrushes with Bluetooth, smart toys with WIFI and there are more every day.
The antenna is built into the device, which means there are absolutely no protruding parts. With the dimensions of 9 x 15 x 2,5 cm it can be carried in your pocket without any problems to check its load situation e.g. in public transport. A list of reference and comparative values, according to the standard of building biology measurement technology, is included with every device, as well as a German operating manual.
Extensive updates until fall 2022
'PEAK' and 'MAX' readings can be displayed in either V/m or µW/m². The default unit is µW/m². Please note that 'AVG' is always displayed in µW/m².
EXPLANATIONS OF SWITCHING
Save as preset default
Press and hold the 'MAX-RESET' button on the switched off device while the device is switched on. The new standard measurement unit is now displayed. Then switch the device off (OFF) and on (ON) to start the measurement. Note: Will If the device is not switched off immediately after the measurement unit changeover, data on the software is then displayed, such as the firmware version.
Toggle units
While the device is on, press and hold the 'MAX-RESET' button until the unit changes. This takes about 5 seconds. Turning off the device will reset to the default setting.
Extension of measurement range
As a result of further developments of the Safe and Sound Pro II, the maximum measurement range has been increased from previously 2.500.000 μW/m² to 3.180.000 μW/m².
The new option is part of the new generation of Safe and Sound Pro II. This can also be seen from the firmware version 3.5. Retrofitting by means of a software update is not possible.
Technical Specifications of SAFE AND SOUND PRO 2
Frequency Range:
Full frequency analysis from 200 MHz to 8 GHz (full frequency response)
Real-time analysis from 400 MHz to 7,2 GHz with ± 6 dB accuracy (true response behavior)
Linear measurements 0,1 – 1.000.000 μW/m²
Reduced tolerance up to 3.180.000 μW/m² or 34,6 V/m
Reduced tolerance down to 0,005 μW/m² or 0,001 V/m
Detection of microwave radiation down to 0,001 μW/m²
High sensitivity and resolution at low levels
Ability to detect very short pulses (< 5 μs) including 5G
Display units can be presented in μW/m² or V/m
Temperature-compensated accuracy from -20 to +60 °C
Long battery life: >15 hours with speaker on
Long battery life: >18 hours with speaker off
A clear OLED display with PEAK, MAX & AVG readings
Loud adjustable speaker output: 3 volume levels
3,5 mm (1/8″) stereo headphone jack
Continuous operation via USB power supply (USB Microport)
Required Battery Type: 2x AA Alkaline
Warranty: 2 years
Dimensions including case: 17 cm x 11 cm x 4 cm
Optimal supplement to the electrosmog-free acoustic analysis with AirTube technology
Who the Safe and Sound Pro 2 is suitable for and why we chose it!
For the technically experienced beginner or semi-professional, the Safe and Sound Pro II is definitely a good choice. If you want to carry out more intensive or longer lasting measurements and observations, or if you want to analyse the received signals even deeper, this device is highly recommended. If you don't want to deal with the subject matter so intensively, but still want to know where you are exposed to what stress, you should take a look at the Acousticom 2.
Included with the Safe and Sound Pro 2
Safe and Sound Pro 2 high frequency meter with calibration certificate
Sturdy hard shell protective bag
Manual
Evaluation aid for measured values determined (german)
Immediate help tips to reduce personal stress (german)
various information flyers on the subject of electrosmog (german)
List with literature and internet tips for background information (german)
Documentation (.pdf)