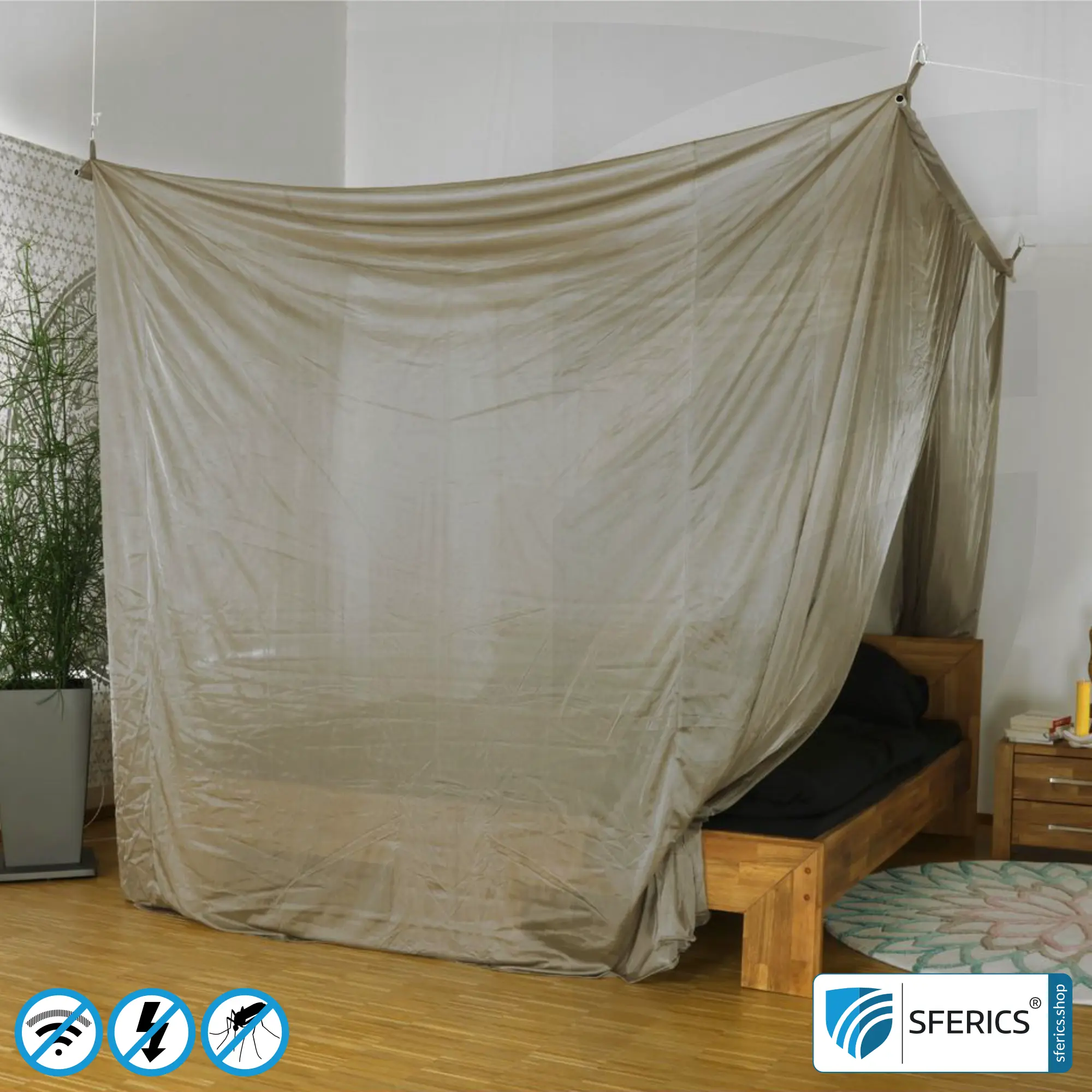 CANOPY ELECTROSMOG ULTRA in a set. 6 variants for optimal protection for single bed, queen size bed and double bed. All-round protection against HF and LF electrosmog. Up to 48 dB shielding attenuation HF (shielding efficiency of EMF over 99,99%).
The "ULTRA" canopy series is a maximum EMF protection product "Made in Germany", i.e. it meets our high requirements for the highest quality and overall protection in the bedroom. Visually it is a compromise, but the technical protective function and high shieldingShielding is the protection from the effects of external fault zones and environmental influences (on a person's health most of the time). More are clearly in the foreground.
There are many canopies on the market that claim to protect from high-frequency, and if the protection actually works, then it is only from pollution from radio loads, such as WLAN, cell phones, smartphones, DECT, etc. However, practice shows increasingly often that this is simply not enough. Obviously, a canopy that must "only" reflect radio radiation can be visually appealing in white. The necessary silver can, if needed, be visually covered with coating, ensuring a white, pure, and elegant design.
And then, the energy-saving lamp or LED comes into the bedroom, maybe even with a dimmer, and the mains disconnector that has previously protected you perfectly from electric fields may begin to malfunction. You turn the light on, but it stays dark.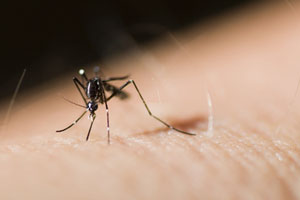 + integrated mosquito net against midges!
Protection from midges is just a side effect, but a significant one. We all know these pats that cling to their victims at night – sleeping children, women or men. This is also a hot topic during the summer. Closing the window, even though it helps against midges, ensures you to feel heat exhaustion, and chemical mace is still raises questions concerning health. We have tips for a healthy sleep in the summer, even though the topic of mosquitoes was a concern – until now.
This canopy is simply great, it combines everything into one – protection from electrosmogElectrosmog is a colloquial term for all emissions from electric, magnetic, and electromagnetic fields. More and annoying midges and mosquitoes for a healthy sleep.
Canopies, a great thing for sleep, but be careful, they are not suitable for everyone!
Our practice in the last few years has shown us two significant situations that, mainly for financial reasons, decide the type of technical shielding – RENT OR PROPERTY. There's no way around it, functioning shielding technology costs money – not an asset, but still noticeable. Euros should not play a part as far as health is concerned, but it is important to think about how much shielding can cost in a flat, especially when it cannot be taken with you.
This aspect was our motivation. To create an equal and mobile alternative to the static, high-quality shielding. The highest protection possible for tenants that is mobile and can easily be taken to the next residence. If I am the owner of the building or, in other words, of the residence or house, the priority in our eyes lies in the rehabilitation of the room with shielding paints, meshes, and curtains to create an invisible but highly-effective Faraday cageThe faraday cage is an enclosure made out of a conductive material that acts as an electric shield. More. It is and remains the best form of shielding, and owning one is ultimately a significant upgrade on the building.
Shielding canopies are designed for people in rented flats – and for children's rooms!
The classic tenant was at a disadvantage up until now. The assumption of costs by the landlord can only be seen as a success and consequently, rehabilitating the room is often impossible for financial reasons. With this canopy that protects from both at the same time, ie. from RADIO and ELECTRIC FIELDS, we now have a true alternative for the first time. When moving, simply pack the canopy and set it up again in the new residence – that's it, the investment and effect survive. Simply great!
And it is actually a lot better – our measurements have clearly shown this. With the full program of this canopy, the countless WLANs from your neighbors, DECT, Powerline, LTE, smartphones, and mobile Internet become minor matters. Previously necessary mains cut-offs in the four walls of the house or the pollution coming from your neighbors' bordering walls are no longer an issue either. You can now let your phone charge in airplane mode next to the bed – outside of the canopy. You should also keep the airplane mode on – not so much against the radiation but more against acoustic signals from e-mails, SMS, Facebook, WhatsApp or other active apps that will lower the quality of your sleep.
CANOPY ELECTROSMOG ULTRA
… is also available in an all-inclusive set!

Shielding canopy electrosmog ULTRA, indoor
(360° panorama/sphere shot for steering)
Note on the box shape for the canopy
A box-shaped canopy offers a generous feeling of space. Two overlapping side entrances. Making the bed is easy without lifting away.
Disadvantage: Suspension not possible on sloping ceilings. All dimensions depend on fabric with +/- 10 % tolerance!
Entrance: Two overlapping openings.
Mounting: Suspension four points on the ceiling. To stabilise the box shape, rods (not included in delivery) can be inserted into the flaps sewn into the top.
Scope of delivery: Canopy, mounting material.
Note on the pyramid shape of the canopy
A pyramid makes sense if a quick suspension is desired or if there is a sloping roof. Only suitable and sensible for single beds up to 100 cm wide, otherwise the slope will be too large.
The pyramid canopy Electrosmog ULTRA has a decisive disadvantage: the canopy offers only limited space, therefore "making the bed" is only possible after lifting the canopy away. This constant movement of the fabric automatically leads to a shorter service life for the maximum shade performance of the Silver Tulle shade fabric and thus of the canopy.
Why does the groundable canopy become stained?
Silver products change color as time goes by and very often have stains from the factory, which is neither a lack of quality nor grounds for complaint. Especially if the used silver does not have a protective coating and has been in contact with air, causing oxidation. If stains or discolorations are unacceptable, we recommend choosing the Electrosmog WIFI canopy.
Please note that silver products have a limited shelf life. This lifespan depends on the frequencyFrequency is the number of occurrences of a repeating event per unit of time. It is a physical measurement that is important for describing periodic processes, such as vibrations. More of upsets (hanging / dangling, moving, traveling) and the number of washes. Washing the canopy is the most damaging process and it starts with the detergent. Recommendation: Use the detergent recommended by us without exception, for the longest possible service life.
The SILVER TULLE shielding fabric used for the canopy does not contain any nano-silver!
The canopy changes color!
Borrow for familiarity / Cancelling orders
Every canopy is a unique piece. The canopy is produced on behalf of the customer, therefore there is also a waiting time due to waiting lists and production time until delivery. This results in the possibility of producing special sizes (longer, wider, higher). Since every single canopy is a commissioned production, there is no possibility to cancel the order. Nevertheless, it is our concern that the customer only buys a canopy if he wants to keep it.
For this reason, we offer the possibility of a loan of the canopy for testing and getting to know by a flat rate of € 298 for up to 14 days. This possibility of borrowing allows the customer to personally convince himself of the effect of the canopy without risk.
If a purchased canopy is nevertheless returned contrary to these conditions of revocation, then we are forced to offer this reduced price as a "used canopy" in the shop, ie. the repayment amount will be reduced by at least € 300 to cover loss of value, cleaning costs and processing costs (any damage to the canopy will increase the price reduction).
Documentation of the canopy Electrosmog ULTRA (.pdf)
Technical details canopy double bed
Technical details canopy single bed
Technical details canopy single bed pyramid
Technical details shielding fabric
Expert report EMF Test Lab Bavaria
Screening attenuation