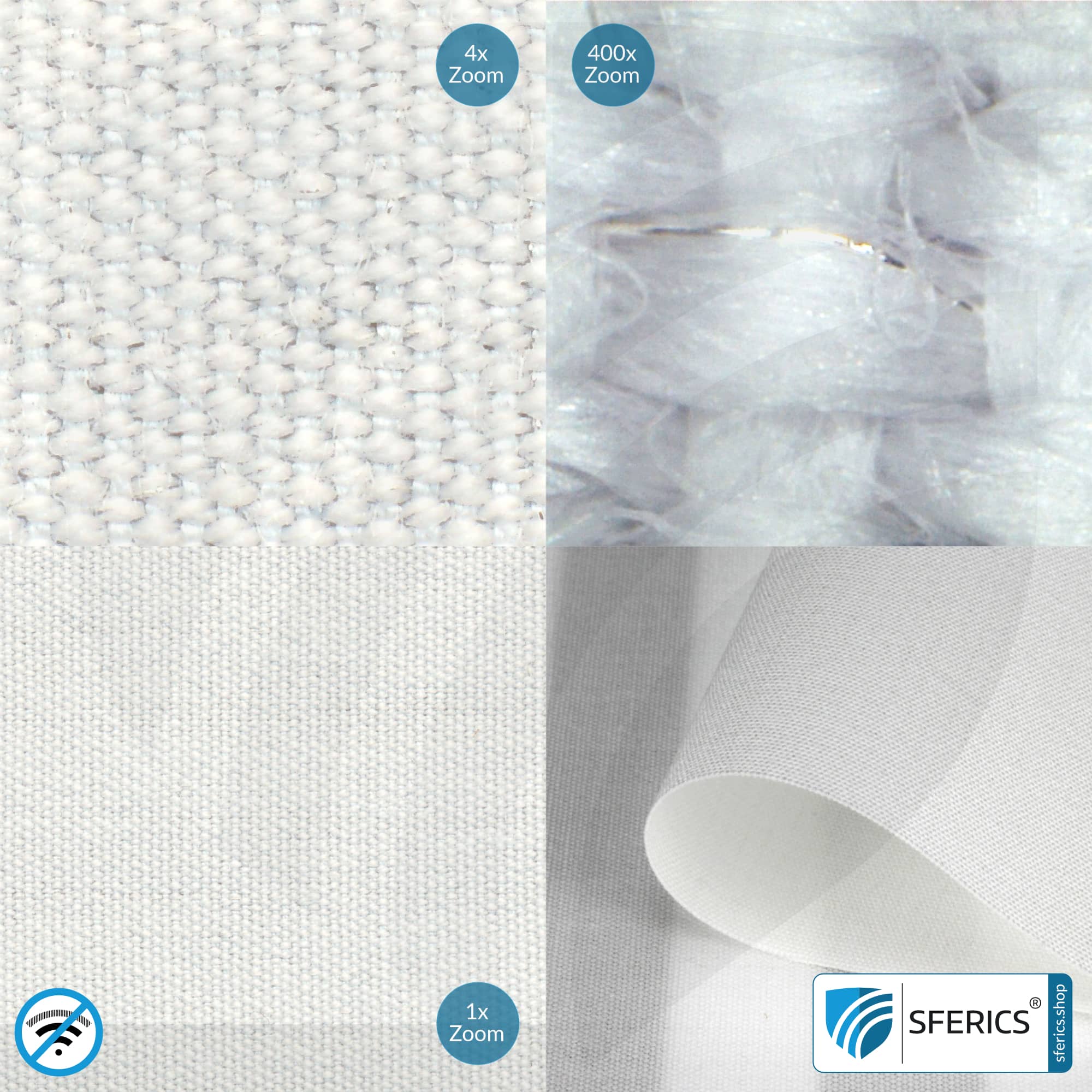 WEAR shielding fabric against HF electrosmog caused by RF (mobile phone, WIFI, DECT, …). Very pleasant to wear on the skin and therefore ideal for clothing. Washable, ironable, sewable. Easy to clean. Shielding efficiency over 99 %.
The WEAR™ shieldingShielding is the protection from the effects of external fault zones and environmental influences (on a person's health most of the time). More fabric is ideally used on clothing, such as shirts or blouses. WEAR™ is a thick cotton wool fabric by Swiss-Shield® that is suited for protection from high-frequency electromagnetic fields (HF) from transmission masts and private devices such as cell phones, smartphones, WLAN routers, mobile LTE Internet, etc.
Sewing protective clothing is not as complex as usual with the WEAR™ shielding fabric, and the pieces of clothing that have it on are very comfortable to wear. It should be noted, however, that this shielding fabric cannot be earthed. WEAR™ is not electrically conductive, so protection provided by reflecting invading mobile radiation is limited.
The WEAR™ shielding fabric is made out of a special yarn made out of 90% cotton wool, 9.5% copper and 0.5% silver. This fabric is made in Switzerland by SwissShield® with this patented, wafer-thin high-tech yarn.
Use and assets of WEAR™
WEAR™ is ideally used for clothing, but it can also be used for curtains on windows, for example. If you also need protection from low-frequency electric fields, you will need complementary methods, such as shielding paints, to achieve this.
The convincing properties of the WEAR™ shielding fabric are:
Good feel and pleasant feeling on the skin
Textile properties: washable, can be ironed, can be sewn
Quality grading: very high
Please note: For professional reasons, we can only recommend mobile electrosmogElectrosmog is a colloquial term for all emissions from electric, magnetic, and electromagnetic fields. More protection methods, such as clothes or headgear, as an addition to a protected and controlled environment. Such a controlled environment is ideally the bedroom, which can be very well protected from electrosmog with materials like shielding paints, meshes, or fleeces. Building on that makes a complement sensible. However, it does not make sense to use it on its own, as its shielding effect on the organism is too low.

Technical data of the WEAR™ shielding material against HF electrosmog
Screening attenuation: 28 dB. Unless otherwise stated, the indicated dB-values apply to 1 GHz. Measurement from 600 MHz to 40 GHz according to standards ASTM D4935-10 or IEEE Std 299-2006.
Width: 150 cm, +/- 2 cm
Length: by the meter
Use for: Clothing, curtains
Materials: 90% cotton wool, 9.5% copper, 0.5% silver
Length: by the meter
Dimensional stability: +/- 3 %

Field type: HF (high-frequency electromagnetic fields)

Ecology: High
This product contains electrically conductive parts on the inside which can neither be contacted nor grounded. That's why individual areas do not shield low frequencyFrequency is the number of occurrences of a repeating event per unit of time. It is a physical measurement that is important for describing periodic processes, such as vibrations. More electrical fields (LF). In case this product is used as a Faraday cageThe faraday cage is an enclosure made out of a conductive material that acts as an electric shield. More (complete shielding on six sides), there will be no low frequency electrical fields (LF) on the inside, which can be proven with a potential free measurement.
Care instructions about shielding fabric WEAR™
Gentle cycle at 30°C
Iron without steam at degree 1
Drying at low temperature
No bleaching
No chemical dry-cleaning
Wash only with our special washing detergent TEXCARE, without enzymes or bleaching agents
No cancellation for FABRICS

Like for cuts, there is no right to return shielding fabric.

Please note that cancellations do not apply to these products, because they were cut to the customer's specifications. Reselling a tailored item is no longer possible. For this reason, it is possible to request a free sample of the shielding fabric. By ordering pre-finished products, waiving the statutory right to return goods is accepted.
We only sell the highest-quality fabrics! Because of the high production costs and a favourable price, small flaws are not grounds for complaint.
Documentation of the WEAR™ shielding fabric (.pdf)
Technical details
Laboratory report screening attenuation
Expert report EMF Test Lab Bavaria