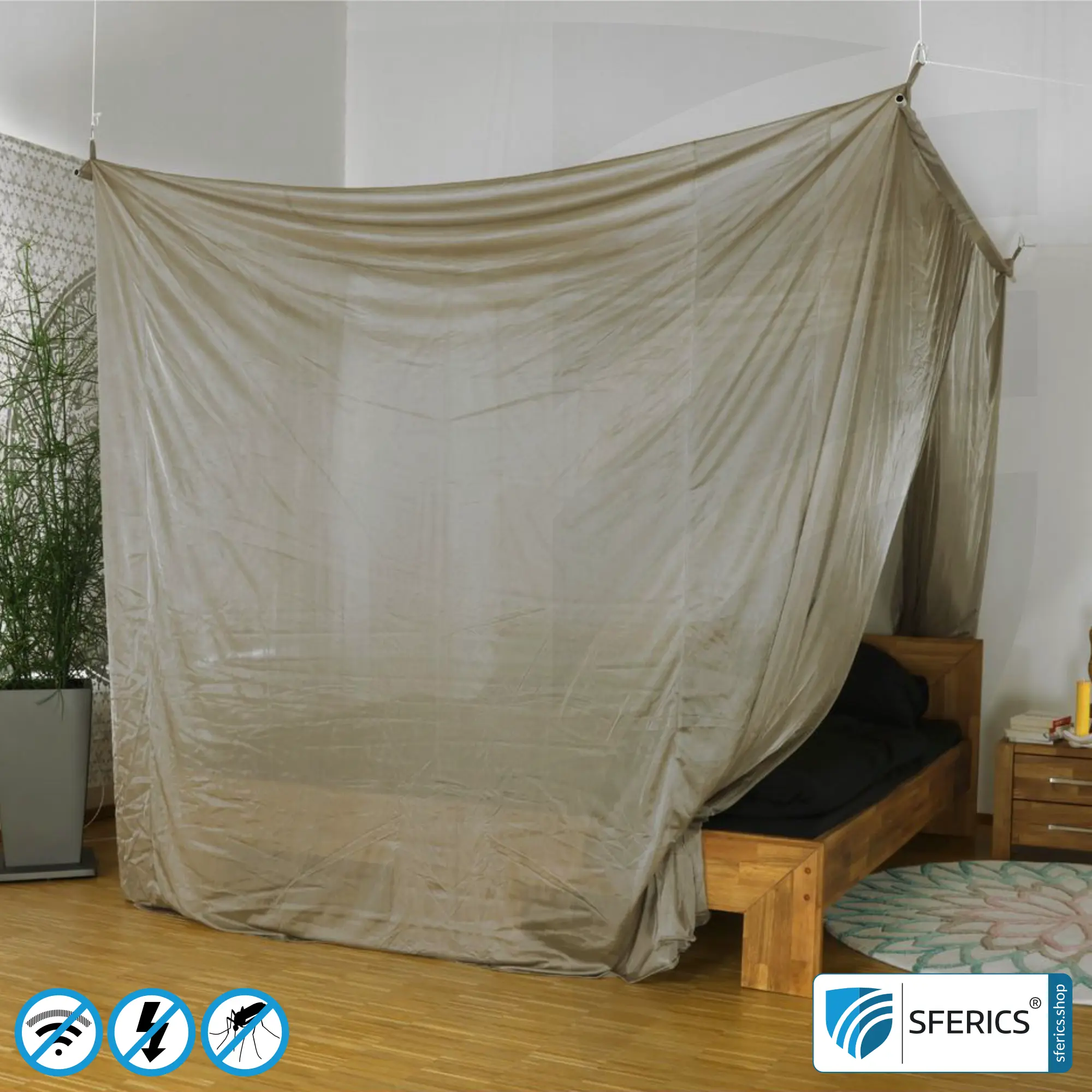 CANOPY ELECTROSMOG BUDGET. Ideal for a DOUBLE BED resp. GRAND KING SIZE with a size of 180 x 200 cm. All-round protection against HF and LF electrosmog. Up to 44 dB screening attenuation RF (efficiency screening EMF over 99,99%). Groundable.
With this canopy from our BUDGET series, we are expanding our canopy electrosmogElectrosmog is a colloquial term for all emissions from electric, magnetic, and electromagnetic fields. More PRO range with a price-reduced alternative. With 44 dB shieldingShielding is the protection from the effects of external fault zones and environmental influences (on a person's health most of the time). More effectiveness, this canopy has half the protective effect compared to the PRO series with 48 dB; and yet this shielding effectiveness of 99.99 percent is one of the high performances in building biology. Moreover, this high shielding effectiveness of 44 dB is unique in this price range.
The focus of the Electrosmog Budget canopy is on effective anti-electrosmog help for people in rented flats, as no dismantling is necessary when moving out and the investment is retained. The name BUDGET says it all and literally means the safe cave for protection against electromagnetic fields.
This canopy is intended for single beds up to a width of 180 cm and a length of 200 cm. The box shape offers the best feeling of space, but cannot be hung on sloping roofs. Sewn from a high-quality silver fabric with high light and air permeability. Sewn from a high-quality silver fabric with high light and air permeability.
Entrance: Through one overlapping opening.
Mounting: Mounting at four points in the ceiling. To stabilize the box shape, you can insert bars in the two upper flaps (not included in scope of delivery).
CANOPY ELECTROSMOG BUDGET. An effective, price-reduced aid in rented flats!
With this canopy, we are expanding our range with an effective and yet price-reduced alternative. Protecting yourself effectively from electrosmog is a complex requirement, especially when the focus is on costs – we are convinced that we have realised a high-quality compromise with the BUDGET series. Another special feature is the technical preparation for groundingGrounding is an electrically conductive connection with the electric potential of the ground. More, i.e. it is possible to protect against alternating electric fields from domestic electricity in a few easy steps. For price reasons, we do not offer this as a set, but the necessary grounding components can be ordered here.
BUDGET DOUBLE BED
Box shape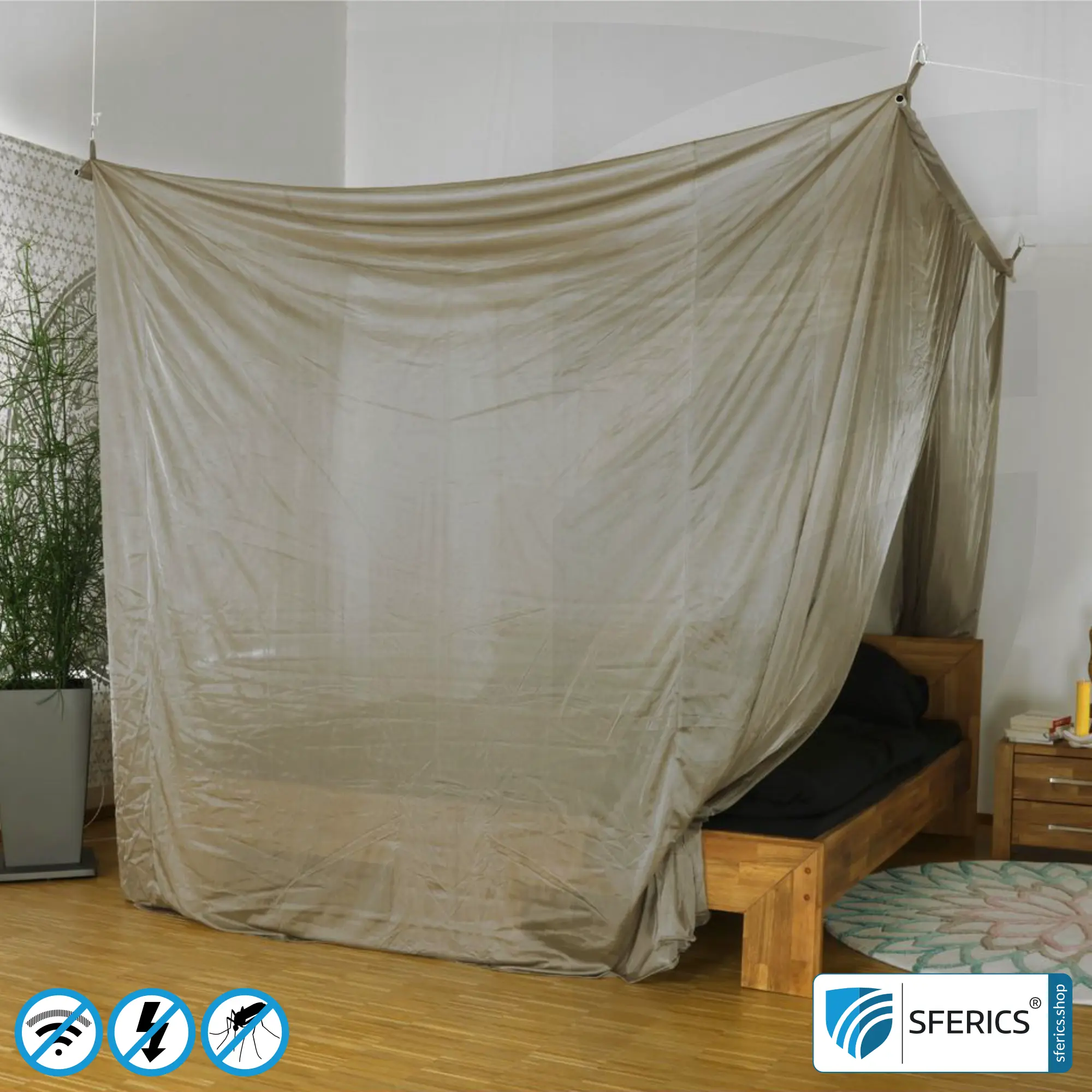 Width 220 cm | Depth 220 cm | Height 220 cm
Maximum protection of the CANOPY ELECTROSMOG BUDGET series with full features
Cell phones, smartphones, cordless telephones (DECT, GSM, EDGE, UMTS, LTE…)
mobile Internet (3G, 4G (LTE), 5G, …)
WIFI (from neighbour), Bluetooth
Powerline PLC / DLAN (=Internet via the socket) Loads in the power supply system (without PLC load on the grounding cable)
Please note: Powerline PLC loads on the ground cable can only be effectively attenuated with the optionally available PLC filter
electric fields from the power supply (alternating current, 230 V, 16 A)
electric fields from the photovoltaic system (direct current)
electric fields from high-voltage lines and railway lines, but not their magnetic fields
If you need to deal with stress caused by magnetic fields, please use our building biology hotline for a personal consultation!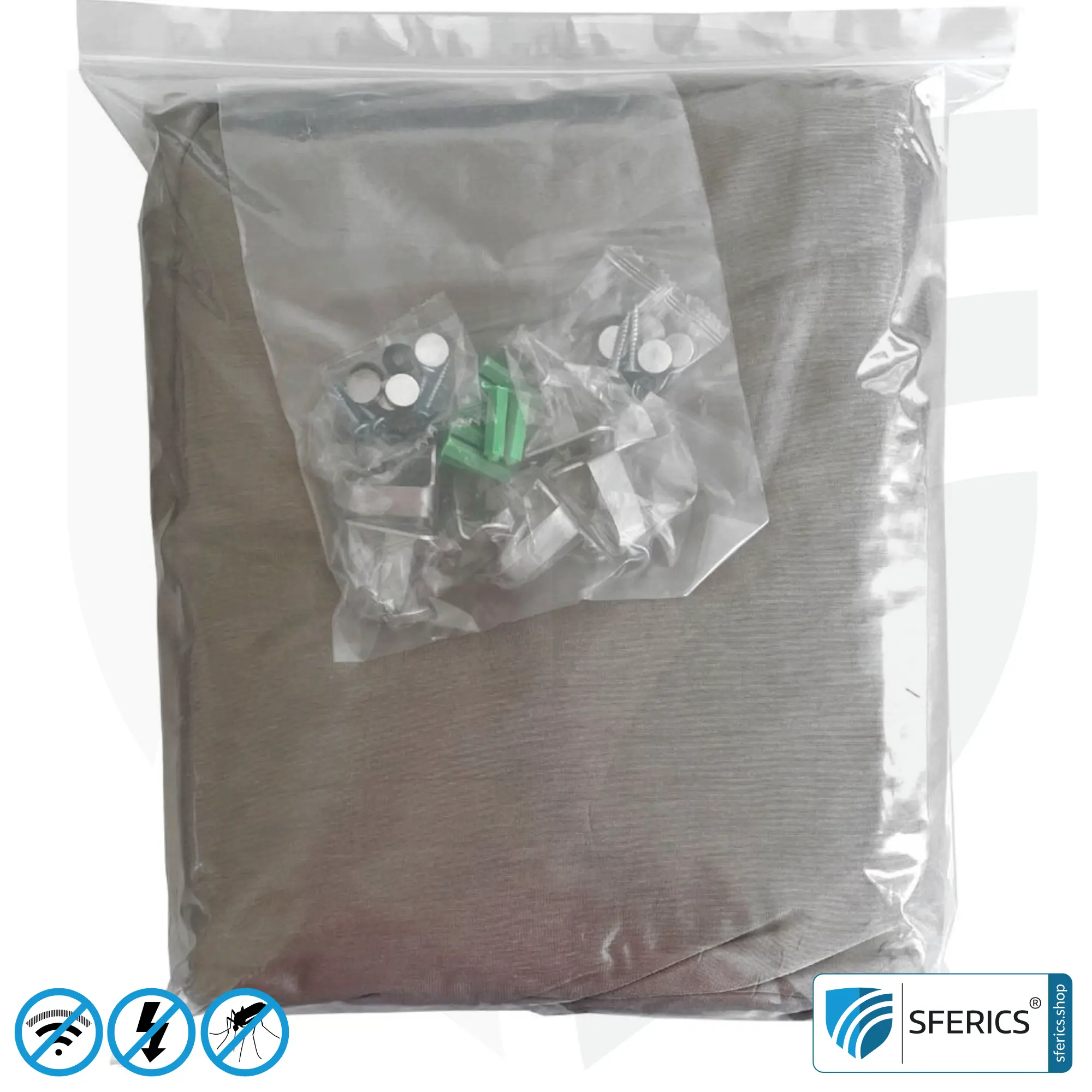 Attenuation | Grounding
This product shields high frequencyFrequency is the number of occurrences of a repeating event per unit of time. It is a physical measurement that is important for describing periodic processes, such as vibrations. More electromagnetic fields (HF). The indicated dB-values apply to 1 GHz, view chart for other frequencies. Laboratory report ranging from 40/600 MHz to 40 GHz according to standards ASTM D4935-10 or IEEE Std 299-2006, view report above.
This product with an electrically conductive surface shields low-frequency alternating electric fields (LF). For this purpose a grounding is necessary, i.e. an integration into the functional-equipotential bonding (FEB), please find suitable grounding accessories under "Grounding".
Care instructions
Gentle cycle at 30°C exclusively with our TEXCARE detergents
No ironing
No drying in tumble dryers
No bleaching
No chemical dry-cleaning
Technical data
Dimensions: Width: 220 cm; depth: 220 cm; height: 220 cm (+/- 5% tolerance)
Attenuation: 44 dB
Color: Silver-beige
Raw materials: 80 % nylon, 20 % silver
Scope of delivery: Canopy, mounting material, sewn in ring 50 cm
Silver products
Silver products discolour with time and often already have discolorations right from the start. If you don't want to accept discolorations, please choose Swiss-Shield® fabrics.
Silver fabrics have a limited durability, depending on the frequency of movement.
Our silver fabrics do not contain any nano silver, but a thick metallic silver coating.
Silver products change color as time goes by and very often have stains from the factory, which is neither a lack of quality nor grounds for complaint. Especially if the used silver does not have a protective coating and has been in contact with air, causing oxidation. If stains or discolorations are unacceptable, we recommend choosing the Electrosmog WIFI canopy.
Please note that silver products have a limited shelf life. This lifespan depends on the frequency of upsets (hanging / dangling, moving, traveling) and the number of washes.
Washing the canopy is the most damaging process and it starts with the detergent. Recommendation: Use the detergent recommended by us without exception, for the longest possible service life.
The canopy changes color!
Borrow for familiarity / Cancelling orders
This canopy is a hygiene product. Therefore, there is no possibility to cancel the order. Nevertheless, it is important to us that the customer only buys a canopy if he wants to keep it. For this reason, we offer the possibility of renting the canopy for testing and getting to know it for a flat rate of € 298 for up to 14 days.
This rental option allows the customer to see the effect of the canopy for themselves without risk.
If a purchased canopy is returned contrary to these cancellation conditions, we are forced to offer it at a reduced price as a "used canopy" in the shop. This means that we will reduce the refund amount by at least € 300 to cover loss of value, cleaning costs and handling expenses; any damage to the canopy will automatically lead to an increase in this price reduction.
Documentation for the shielding canopy Budget (.pdf)
Technical details canopy
Laboratory report screening attenuation
Expert report EMF Test Lab Bavaria