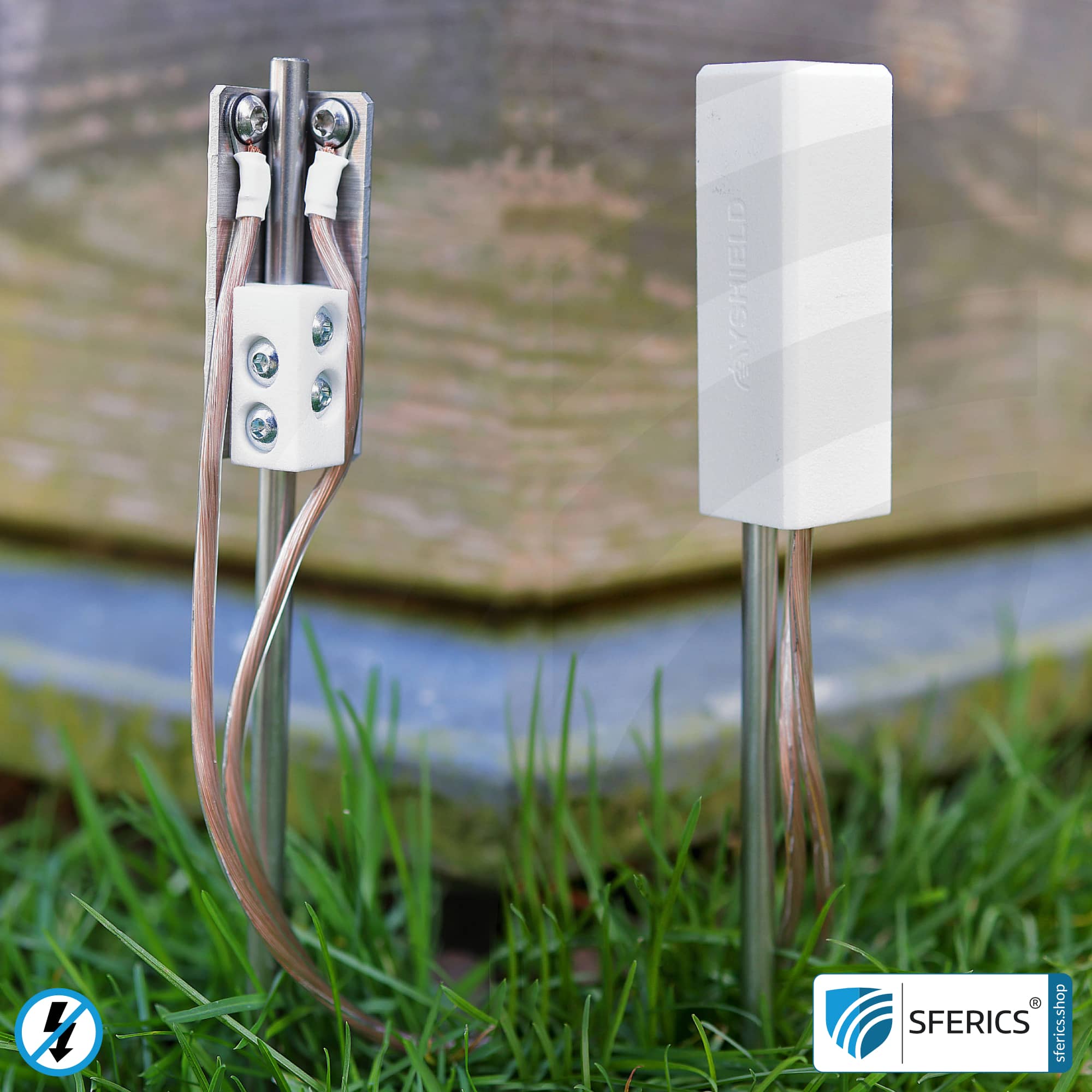 Grounding connection rod made of stainless steel for mobile connection of grounding components. This grounding rod is also ideal for Earth Connect*.
This mobile groundingGrounding is an electrically conductive connection with the electric potential of the ground. More rod mobile made of stainless steel is 43cm long and intended for grounding fabric products. Exclusively for mobile products such as canopies, shieldingShielding is the protection from the effects of external fault zones and environmental influences (on a person's health most of the time). More tents, sleeping bags, bedding or Earth Connect* products.
Stationary, stationary shielding products (paints, fabrics, fleeces, plasters, reinforcing fabrics, etc.) must NOT be grounded with it!
Connectivity: 2 cable connections
Scope of delivery: Stainless steel grounding connection rod 43cm with cover cap (25x25x73mm), all necessary screws, washers, cable lugs and a screw tool with Torx® bits.
No cable included in the scope of delivery.
For grounding, an additional grounding cable is required. Suitable ready-made grounding cables GL in various lengths are conveniently available in the shop.
This new model of grounding connection rod replaces our previous models with up to 1 meter length with plug-in connections for grounding.

Documentation for stainless steel grounding connection rod (.pdf)
Technical details
Technical details grounding
EARTH CONNECT*
INGENIOUS AND RISKY IF APPLIED INCORRECTLY!
Earth Connect is a new trend or science from the USA, with research into the positive effects of conjunction the body with the earth. This connection we called "Earth Connect", meaning to ground yourself. For the layman, this can best be described as walking barefoot through the meadow and its positive effect on personal well-being.
Many people spend the whole day in closed shoes with rubber soles and plastic soles, sleep on insulated mattresses and live in insulated houses, i.e. modern man lives his life disconnected from the earth. In building biology, the 80% share is generally spoken of - we spend 80 percent of our lifetime in closed rooms, far from nature. By means of a high-quality connection to earth, i.e. Earth Connect, this topic is changed and increased to a more optimal connect level.
As a technical company, we will not comment on the health aspects of Earth Connect. If you are interested, we recommend the EARTHING specialist literature by Clinton Ober, Stephen Sinatra or Martin Zucker.
EXPRESS WARNING FOR EARTH CONNECT WITHOUT MEASUREMENT

This is the moment when the LF meter becomes a true friend. The topic here is the entire electrosmogElectrosmog is a colloquial term for all emissions from electric, magnetic, and electromagnetic fields. More within the room through the electrical wiring in the wall and the device power cable. The resulting electrical alternating field NF expands from every unshielded electric cable up to two meters in all directions. Electric field strengths and thus loads of well over 1,000 V/M are not uncommon.
If an Earth Connect product is used in this field, there is a real danger that the alternating electrical field NF will also couple to this Earth Connect product and thus have an even more direct, even more intense effect on the body.
In order to avoid this deterioration of the field situation, an LF measurement must be carried out prior to the application to the Earth Connect for reasons of building biology and measurement technology.
For professional reasons, we recommend using an Earth Connect product exclusively in EMF shielded and earthed rooms and, if at all possible, not connecting it to the socket but directly to a separate grounding rod in the ground in front of the house (garden).