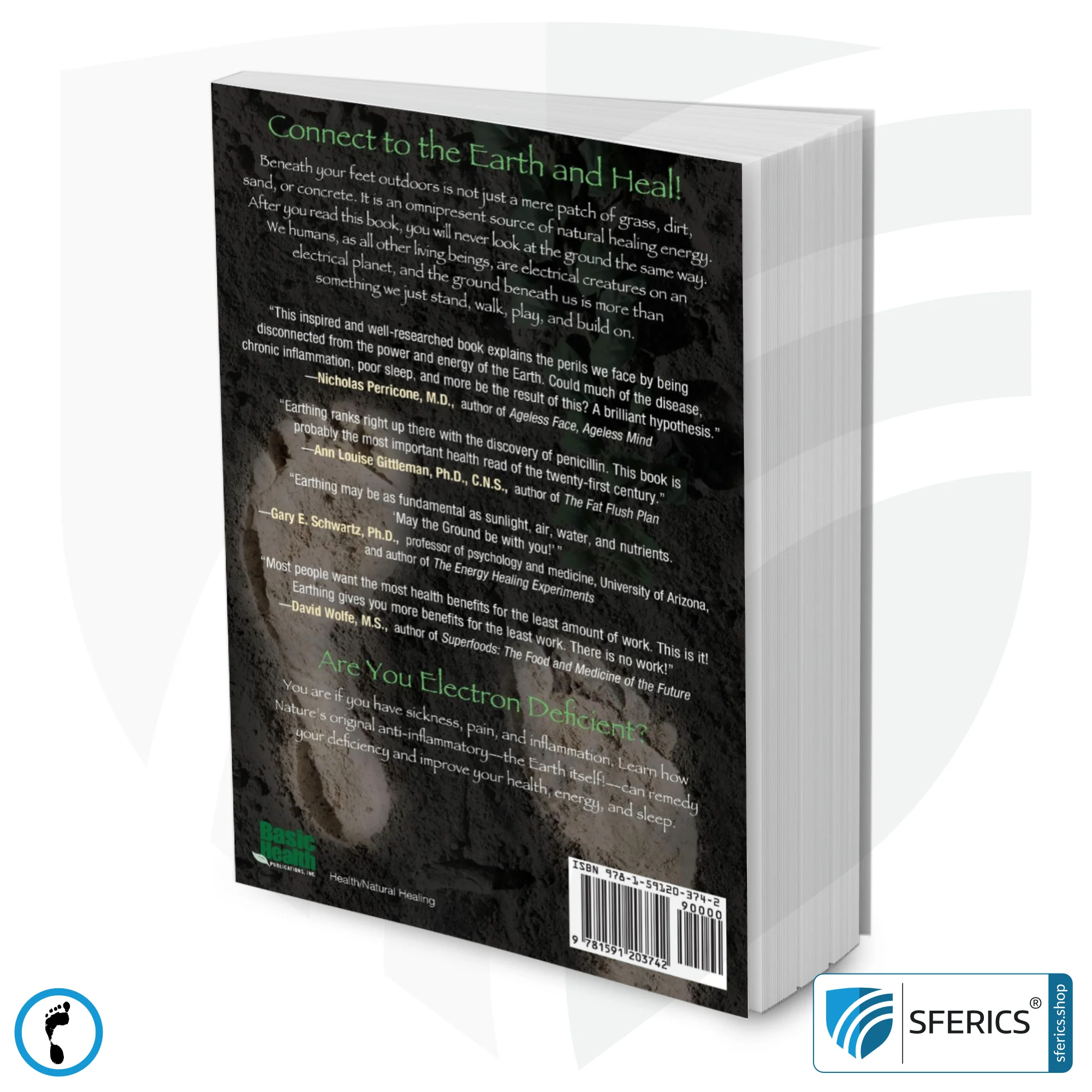 EARTHING: The Most Important Health Discovery Ever! A reference book that provides information about direct connect with the earth and its positive effects on health. Paperback from Clinton Ober, Stephen Sinatra and Martin Zucker.
Clinton Ober and his co-authors show you how you can use the electromagnetic quality of the earth's surface for your health. He describes it as groundingGrounding is an electrically conductive connection with the electric potential of the ground. More when we sit on the ground or stand or walk barefoot on the ground and the natural bioelectrical basic state of our body is restored through this connection.
Because this healthy, natural basic state is thrown off balance over the course of a day by various life and environmental influences, e.g. when we stay in closed rooms, work on and with electrical devices or are exposed to electrical fields. Connection with the earth outdoors restores this balance. Grounding means walking barefoot on the ground, preferably in the damp grass or on the beach.
If that doesn't work, we can also ground ourselves by sitting or sleeping on a special conductive pad that is connected to the ground wire of an electrical outlet.

To the Earth Connect* products
Ground yourself – Earth Connect* improves your health!
'Earthing' introduces readers to the landmark discovery that living in contact with the Earth's natural surface charge – being grounded – naturally discharges and prevents chronic inflammation in the body. This effect has massive health implications because of the well-established link between chronic inflammation and all chronic diseases, including the diseases of aging and the aging process itself
Discover how direct connect with the earth has a positive effect on your health and increases your well-being without any effort! If we lack direct connect with the earth, our body becomes susceptible to malfunctions and illnesses and we age faster. This discovery, which is as spectacular as it is simple, is scientifically proven and has already helped thousands of people.
Everything you need to know about the health benefits of direct connection with the earth Practical tips for implementation in everyday life Quick help for many complaints and illnesses. Earthen achieves amazing effects: it eliminates inflammation and chronic pain, improves sleep, increases energy levels, accelerates wound healing and regeneration after intense exercise, and protects the body.
Everything you need to know about the health benefits of direct connection with the earth
Practical tips for implementation in everyday life
Quick help for many complaints and illnesses
Earthing* is a new, brilliantly simple way for everyone to be energized and stay healthy! A "method" as natural, as simple and effective as drinking water!
EARTH CONNECT*
INGENIOUS AND RISKY IF APPLIED INCORRECTLY!
Earth Connect is a new trend or science from the USA, with research into the positive effects of conjunction the body with the earth. This connection we called "Earth Connect", meaning to ground yourself. For the layman, this can best be described as walking barefoot through the meadow and its positive effect on personal well-being.
Many people spend the whole day in closed shoes with rubber soles and plastic soles, sleep on insulated mattresses and live in insulated houses, i.e. modern man lives his life disconnected from the earth. In building biology, the 80% share is generally spoken of - we spend 80 percent of our lifetime in closed rooms, far from nature. By means of a high-quality connection to earth, i.e. Earth Connect, this topic is changed and increased to a more optimal connect level.
As a technical company, we will not comment on the health aspects of Earth Connect. If you are interested, we recommend the EARTHING specialist literature by Clinton Ober, Stephen Sinatra or Martin Zucker.
EXPRESS WARNING FOR EARTH CONNECT WITHOUT MEASUREMENT

This is the moment when the LF meter becomes a true friend. The topic here is the entire electrosmogElectrosmog is a colloquial term for all emissions from electric, magnetic, and electromagnetic fields. More within the room through the electrical wiring in the wall and the device power cable. The resulting electrical alternating field NF expands from every unshielded electric cable up to two meters in all directions. Electric field strengths and thus loads of well over 1,000 V/M are not uncommon.
If an Earth Connect product is used in this field, there is a real danger that the alternating electrical field NF will also couple to this Earth Connect product and thus have an even more direct, even more intense effect on the body.
In order to avoid this deterioration of the field situation, an LF measurement must be carried out prior to the application to the Earth Connect for reasons of building biology and measurement technology.
For professional reasons, we recommend using an Earth Connect product exclusively in EMF shielded and earthed rooms and, if at all possible, not connecting it to the socket but directly to a separate grounding rod in the ground in front of the house (garden).