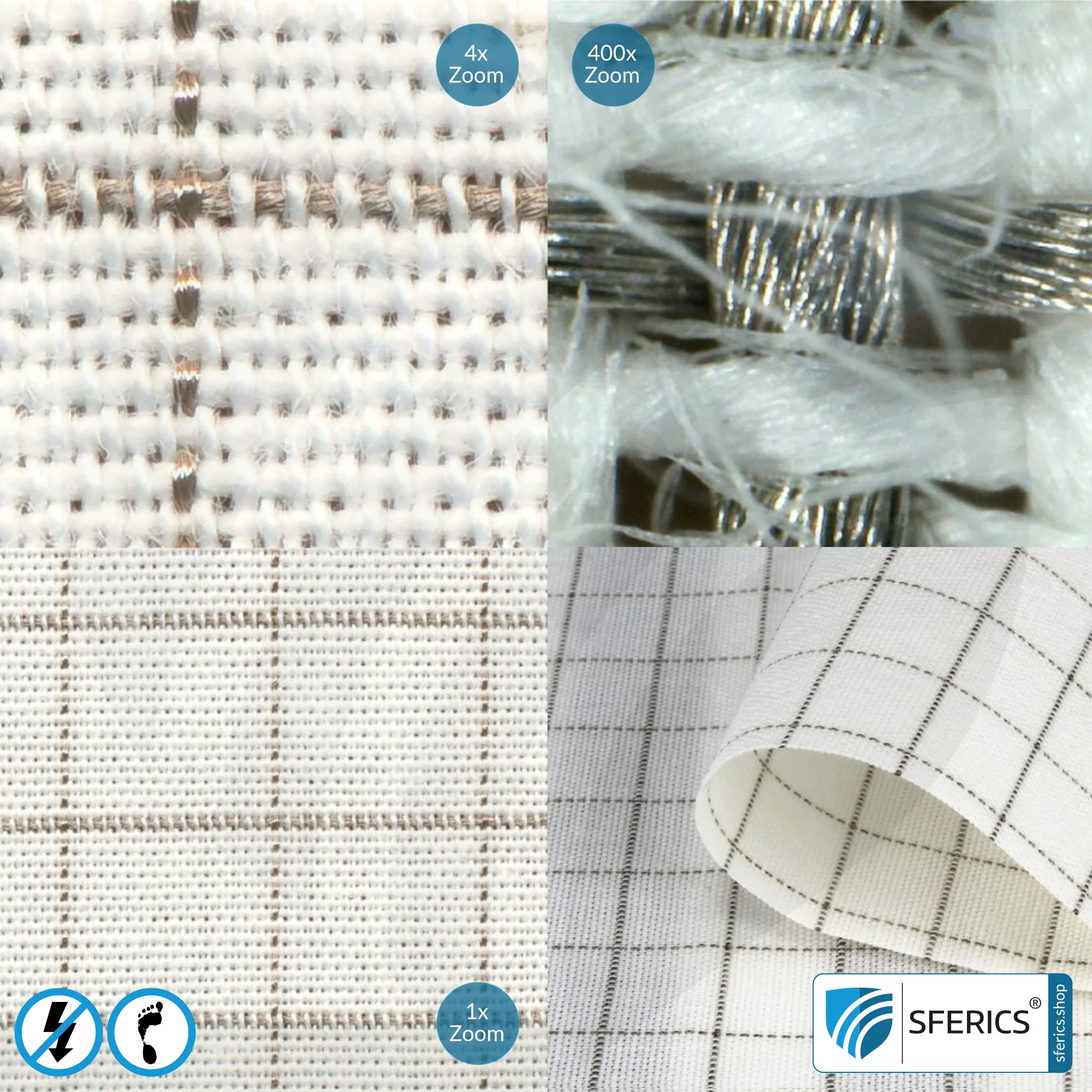 SILVER GRID is a shielding fabric for shielding and grounding of low-frequency electrical alternating fields LF. This semi-transparent cotton fabric with a silver grid is also ideal for Earth Connect* applications. Not suitable for shielding wireless technologies such as WIFI, LTE or 5G.
SILVER GRID is a semi-transparent cotton fabric enriched with silver threads with the aim of optimally shieldingShielding is the protection from the effects of external fault zones and environmental influences (on a person's health most of the time). More low-frequency alternating electrical fields. Such electrical fields are derived by means of groundingGrounding is an electrically conductive connection with the electric potential of the ground. More and to enable this to be as effective as possible, we use silver threads for this shielding material.
This has the wonderful side effect that this substance is also ideally suited for all applications involving Earth Connect*.
Application of the shielding fabric SILVER GRID
Even if this SILVER GRID basically also has a shielding effect against wireless technologies such as WIFI or mobile phone radiation, with 13 dB screening attenuation, this is definitely negligible in terms of measurements or can only be used to a very limited extent. The goal of SILVER GRID is clearly the groundability of textile products such as bed linen, bed sheets, mattress covers, blankets or chair pads.
The integrated close-meshed silver network achieves a low resistance and thus better grounding. Thanks to the width of 150 cm, the shielding fabric is easy to work with.
Special features of the SILVER GRID shielding fabric
Enables high-quality grounding LF
Compatible for Earth Connect* applications
Textile properties: washable, ironable, sewable
Quality Rating: Very High
Compared to alternative Earth Connect fabrics, our SILVER GRID shielding fabric contains a tighter silver mesh with lower resistance, which is why the earthing is better. SILVER GRID is made of 95% unbleached cotton, 4 % polyester and 5% silver thread.

HIGH QUALITY GROUNDING FOR MAXIMUM EARTH CONNECT* EFFECT
You will achieve the best and "most natural connect to earth" by inserting the grounding rod into the ground, in front of your house. Alternatively use a grounding plug for socket outlets.
Rod or plug are connected with grounding cables. Most suitable for grounding plug are short cables, for exterior use with grounding rod GCR you will have to use 1–2 longer cables plus cable distributor.
Our Earth Connect* products have two silver-plated Velcro fasteners sewn on.For connecting cables with the hook and loop fastener, you will need the Velcro plate.
Important: Under bad conditions electrical fields (bedside lamp, clock radio, etc.) will couple on and will worse the situation. We recommend a measurement analysis with a LF meter. More information in the following information block.
The matching components can be found in the product category "Grounding".
EARTH CONNECT*
INGENIOUS AND RISKY IF APPLIED INCORRECTLY!
Earth Connect is a new trend or science from the USA, with research into the positive effects of conjunction the body with the earth. This connection we called "Earth Connect", meaning to ground yourself. For the layman, this can best be described as walking barefoot through the meadow and its positive effect on personal well-being.
Many people spend the whole day in closed shoes with rubber soles and plastic soles, sleep on insulated mattresses and live in insulated houses, i.e. modern man lives his life disconnected from the earth. In building biology, the 80% share is generally spoken of - we spend 80 percent of our lifetime in closed rooms, far from nature. By means of a high-quality connection to earth, i.e. Earth Connect, this topic is changed and increased to a more optimal connect level.
As a technical company, we will not comment on the health aspects of Earth Connect. If you are interested, we recommend the EARTHING specialist literature by Clinton Ober, Stephen Sinatra or Martin Zucker.
EXPRESS WARNING FOR EARTH CONNECT WITHOUT MEASUREMENT

This is the moment when the LF meter becomes a true friend. The topic here is the entire electrosmogElectrosmog is a colloquial term for all emissions from electric, magnetic, and electromagnetic fields. More within the room through the electrical wiring in the wall and the device power cable. The resulting electrical alternating field NF expands from every unshielded electric cable up to two meters in all directions. Electric field strengths and thus loads of well over 1,000 V/M are not uncommon.
If an Earth Connect product is used in this field, there is a real danger that the alternating electrical field NF will also couple to this Earth Connect product and thus have an even more direct, even more intense effect on the body.
In order to avoid this deterioration of the field situation, an LF measurement must be carried out prior to the application to the Earth Connect for reasons of building biology and measurement technology.
For professional reasons, we recommend using an Earth Connect product exclusively in EMF shielded and earthed rooms and, if at all possible, not connecting it to the socket but directly to a separate grounding rod in the ground in front of the house (garden).
Technical data of SILVER GRID against LF electrosmog
Width: 150 cm, +/- 2 cm
Length: by the meter
Attenuation LF: 40 dB (99 %)
Attenuation HF: 13 dB
Color: White
Raw materials: 95 % cotton, 4 % polyester, 1 % silver
Weight: 130 g/m²
Conductivity: 15 ohm / 100 cm
This product with an electrically conductive surface shields low-frequency alternating electric fields (LF). Products with an electrically conductive surface has to be integrated into the functional-equipotential bonding (FEB).
Care instructions about shielding fabric SILVER COTTON
Gentle cycle at 30°C 
Iron without steam at degree 1
No drying in tumble dryers
No bleaching
No chemical dry-cleaning
Wash only with our special washing detergent TEXCARE, without enzymes or bleaching agents
No revocation for FABRICS
Like for cuts, there is no right to return shielding fabrics.
Please note that revocations do not apply to these products, because they were cut to the customer's specifications. Reselling a tailored item is no longer possible. For this reason, it is possible to request a free sample. By ordering pre-finished products, waiving the statutory right to return goods is accepted.
We only sell the highest-quality fabrics! Because of the high production costs and a favorable price, small flaws are not grounds for complaint.
Documentation of the SILVER GRID shielding fabric (.pdf)
Technical details
Laboratory report screening attenuation
Expert report EMF Test Lab Bavaria