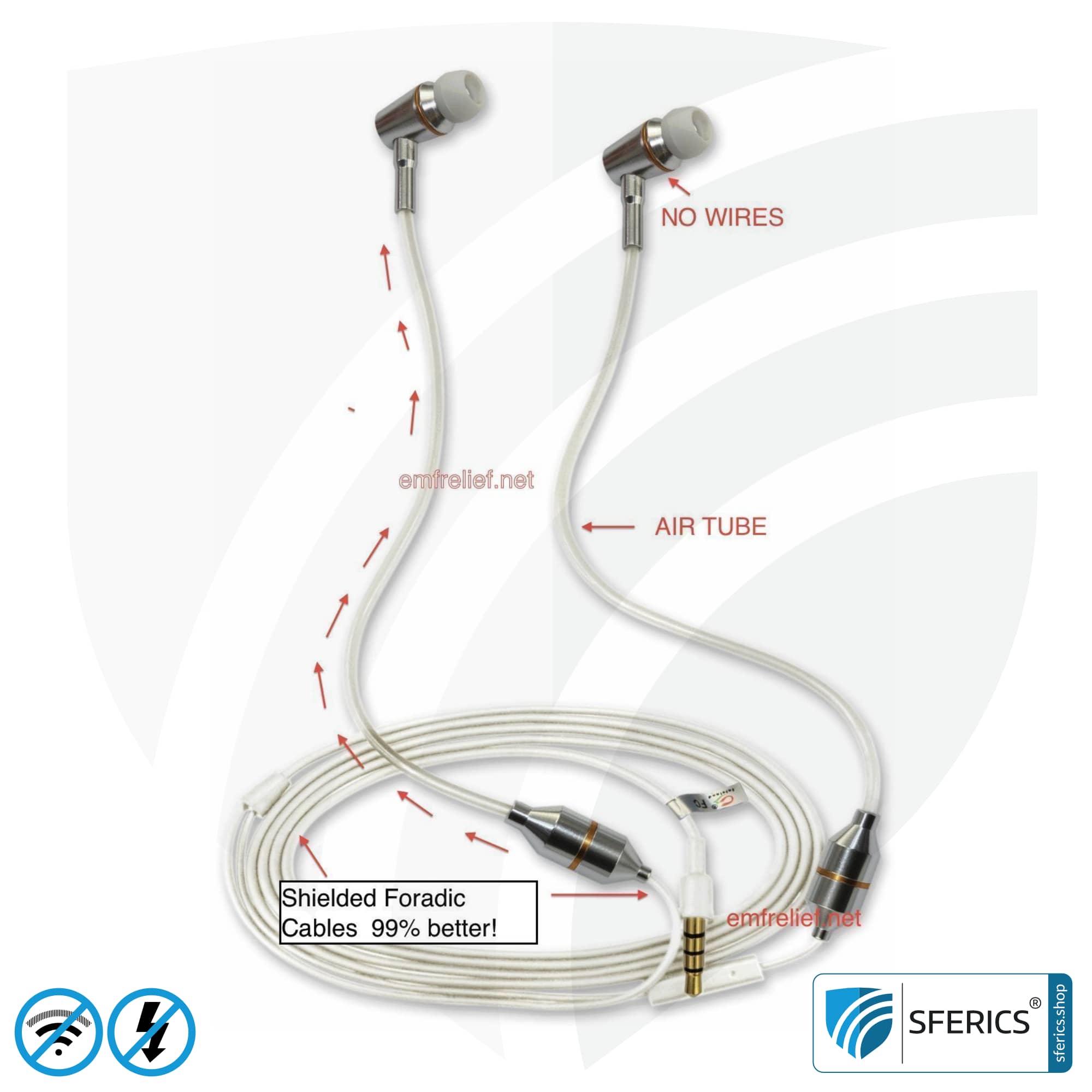 KINDEN AirTube anti-electrosmog stereo headset with jack plug for mobile everyday life with reduced EMR exposure on the head. An adapter may be required for connection to a smartphone.
Anti-Radiation Headphones by KINDEN: High quality chrome AirTube headset with microphone and a 3.5 mm jack plug. The unique air tube technology reduces radiation around the head by 98% and delivers clear sound. Especially in direct comparison with standard headsets or Bluetooth headphones, the reduction is significant.
The earplugs have a noise-isolating effect and thus offer the best possible audio experience. In addition to the pure AirTube air cable, the safety distance to the ear also brings about this radiation reduction. The control integrated in the cable makes it easy to use the KINDEN AirTube in-ear headset in combination with a smartphone.
♬ KINDEN AIR TUBE PATENT ANTI-RADIATION TECHNOLOGY
The Air Tube transmits pure sound instead of the electrical signal. This reduces the EMR radiation produced at the head by 98%. Conclusion: With the air tube technology there is hardly any radiation and at the same time good audio quality.
♬ PROTECTIVE JACKET AND 3.5 MM GOLD-PLATED CONNECTORS
The cable up to the transducer in the cable contains a protective sheath to shield external stressing signals (antenna effect). A 3.5 mm gold-plated jack plug ensures perfect contact and thus the prerequisite for the best possible audio experience.
♬ DIFFERENT SIZES OF EARPLUGS
3 sizes (S/M/L) of soft silica gel earplugs are included and are very comfortable to wear. Size M is already mounted on the AirTube headset. Also included is a small storage box with a zip.
♬ COMPATIBILITY
Compatible with all iOS and Android devices. If the end device (e.g. smartphone) no longer has a jack plug input, a jack adapter is necessary.
♬ WARRANTY
This product comes with a 6 month money back guarantee. If you are not satisfied with the headset or it does not work properly, you can return it for 6 months for a replacement or a refund.
EXCERPT OF RATINGS FROM BUYERS
5,0 von 5 Sternen
Very good sound (strong bass)
These anti-radiation headphones have a very good sound and give the good feeling that no microwaves from the mobile phone reach directly into the ear or brain. Attention: The brain does not feel pain! Therefore, tumours are not felt when they are triggered by microwaves from mobile phones. The brain can withstand a lot, but years of mobile phone use increase the risk of tumours in the brain enormously. Smart people avoid this risk with these headphones or by using a hands-free device.
5,0 von 5 Sternen
very surprised, super product!
I didn't expect so much from these headphones, as you always read negative comments about them. But I was surprised, the sound quality is good. Not high-end, of course, but you wouldn't expect that from headphones of this type. The volume suffers a little, I actually always listen and make phone calls at full volume (currently with iPhone 6), but then they are really loud enough.
I have got into the habit of only making phone calls with these headphones. The voice quality is great, and so is the quality of the microphone, as far as I've checked. So I can only report good things. Of course, the tangled cables are a pain, but you have to get used to them. I'm already thinking about ordering another pair of these headphones and cutting off one speaker to reduce the cable clutter.
In any case, full recommendation for all those who want to curb the effects of radiation on their head!
5,0 von 5 Sternen
super
Superb sound, treble and bass … much better than the original headphones from the iPhone 6. Sits very well in the ear, does not press and also absorbs the noise from the outside to a certain extent. I'll buy them again for my next iPhone.
Video about AirTube headsets or air tube headphones