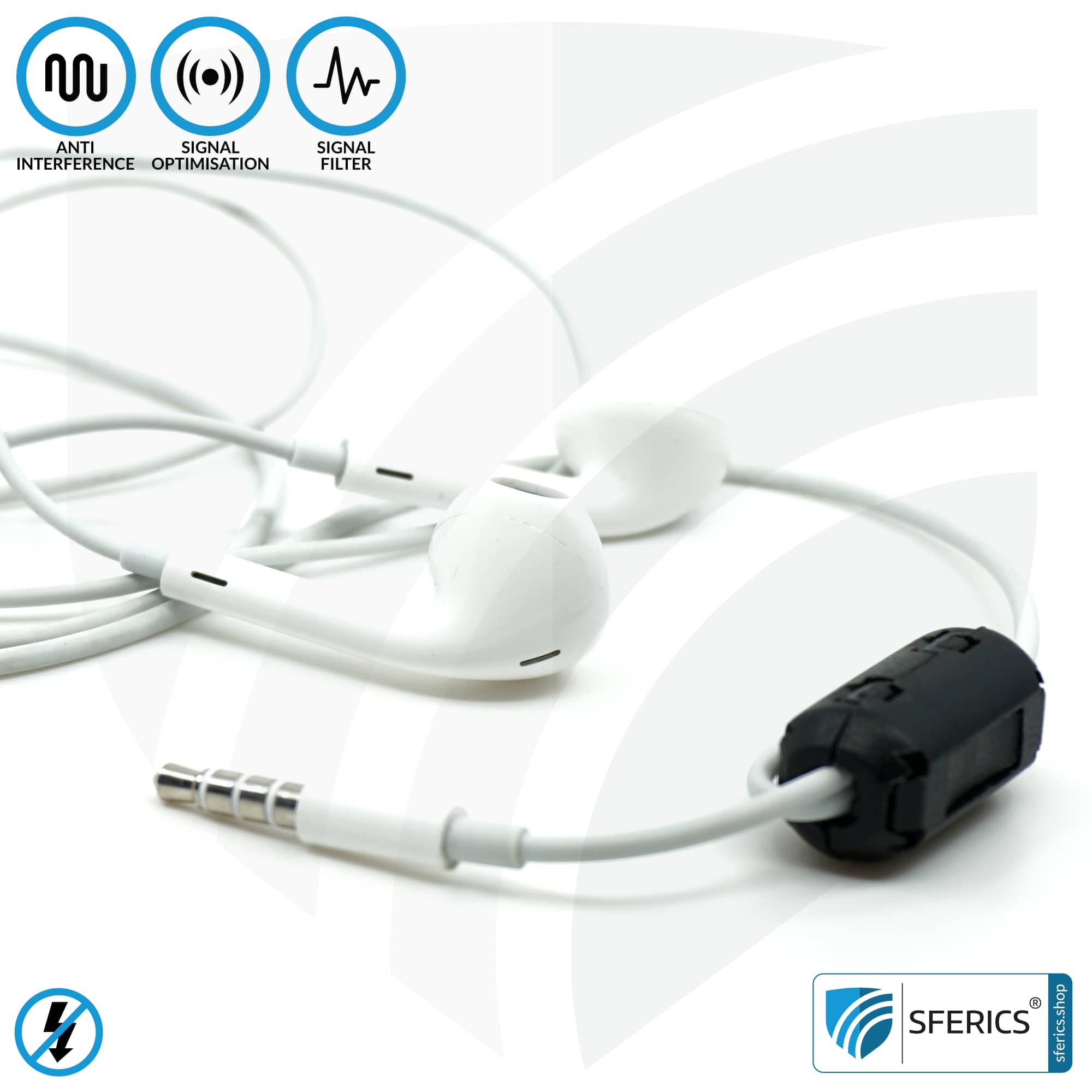 WE GIVE YOU A FERRITE CORE, GREY, FOR YOUR HEADSET FROM THE SMARTPHONE. FOR FREE!
Ferrite cores are made of ferrite (a ceramic compound) and have been used for years in computers and multimedia devices to avoid interferenceInterference describes the superposition of two or more waves based on the principle of superposition - therefore the addition of their individual amplitudes. More in the network. These ferrite cores are integrated directly into electrical cables, HDMI cables, USB cables, etc. as protection against EMI (electromagnetic interference) and RF interference (radio frequencyFrequency is the number of occurrences of a repeating event per unit of time. It is a physical measurement that is important for describing periodic processes, such as vibrations. More interference). Ferrite cores prevent interference from entering a device or emitting interference through the device.
How does a ferrite core work?
Ferrite toroidal cores can suppress interference without groundingGrounding is an electrically conductive connection with the electric potential of the ground. More, which can lead to malfunction and failure of connected equipment. Ferrites are also capable of attracting magnetic flux. When a cable is passed through the ring, the magnetic fields generated by the cable are concentrated within the ferrite toroid. This magnetic energy is converted into heat and the ferrite releases it by magnetic loss.
How are ferrite cores used?
Ferrite toroidal cores are often found with cables passed through them. They are often used in electronics for interference suppression. The cable can also be wound several times around the ferrite toroid. Ferrite toroidal cores can be integrated in broadband transformers, pulse transformers and common mode chokes.
Even a mobile device such as a smartphone or music player produces such electromagnetic interference and there is a possibility that these waves are transmitted to the head through the connected headset cable. So why not use the same protection technology for the headset, we thought.
EMI and HF interference, which affect sensitive electronics, could also have a physical and biological effect on the brain and nervous system, i.e. our health!
If you walk through the city with your eyes open or watch people on buses and trains, you will quickly realize that modern people often walk around with their headset or headphones plugged in. Although the topic of mobile phone radiation and its effects on health is increasingly being discussed in the media, the headset included with the mobile phone is not mentioned.
Compared to strong mobile phone radiation, the EMI and HF exposure via surface waves (Goubau line) of course significantly lower due to the headset cable, but this also has to be taken into account when it comes to the electrosmogElectrosmog is a colloquial term for all emissions from electric, magnetic, and electromagnetic fields. More topic around mobile phones. And also completely independent of EMI and HF signals due to the operation of the smartphone itself or the antenna effect for mobile phone radiation due to the headset cable containing metal.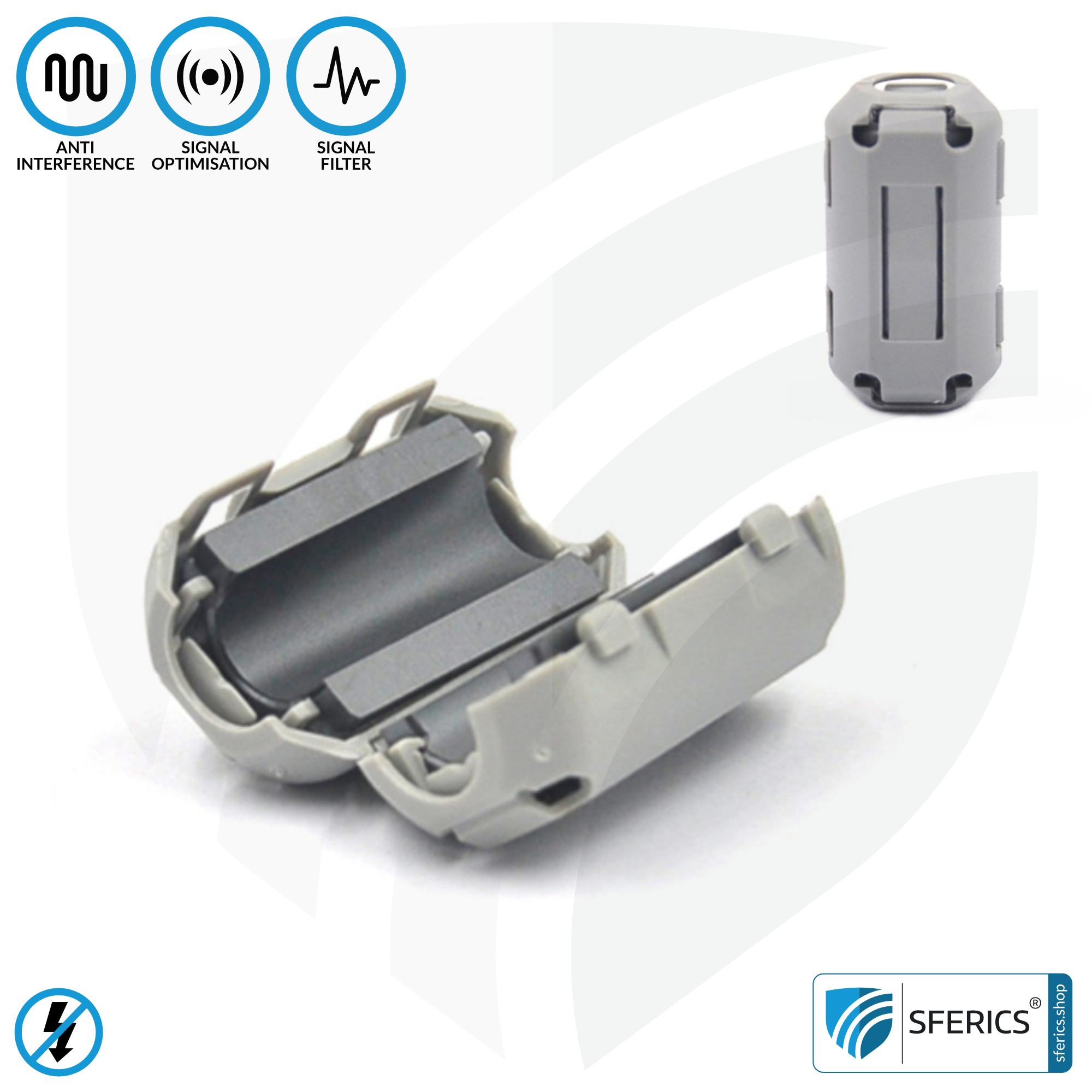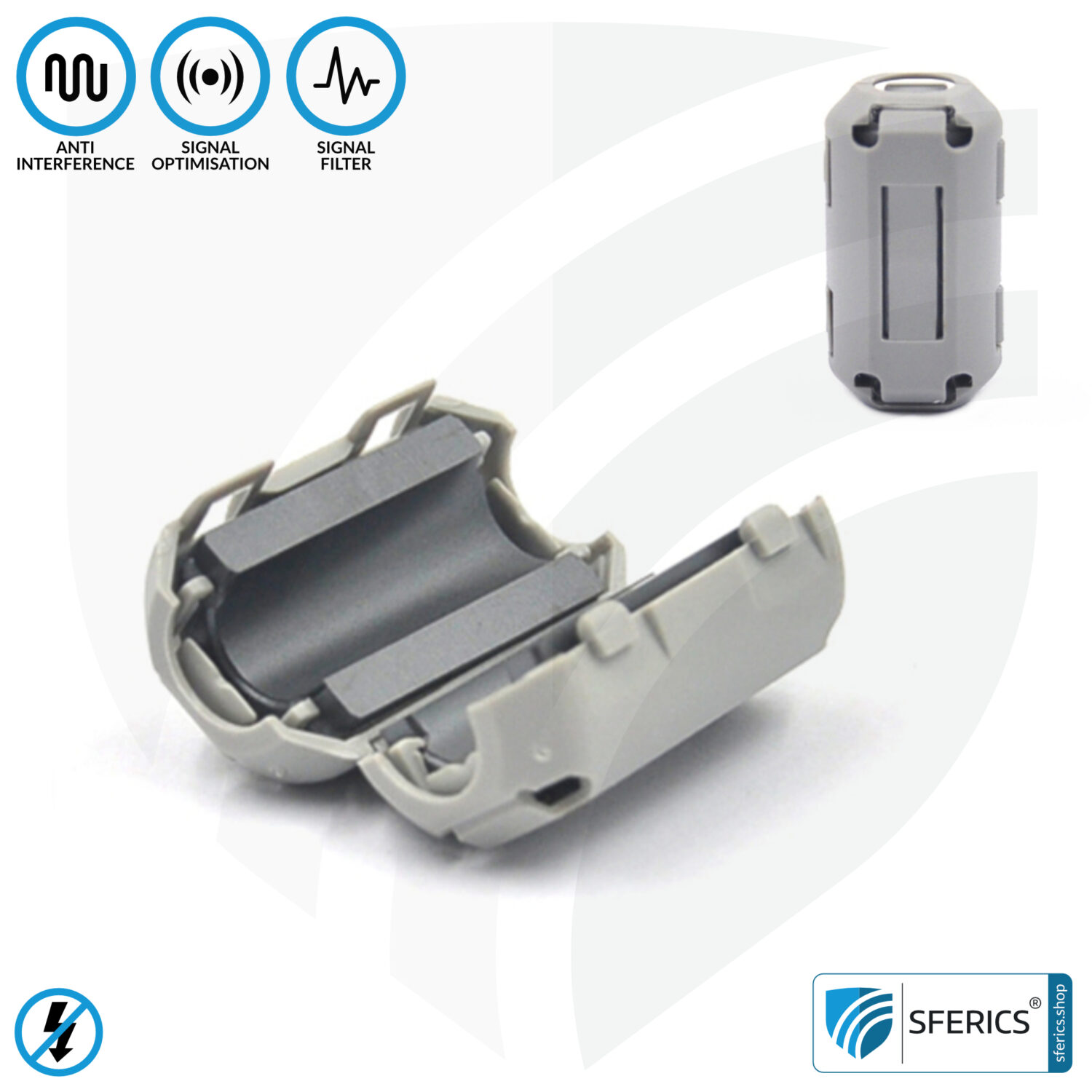 FERRITE CORE, the simple solution against electrosmog in the headset cable
This ferrite core is small enough not to interfere greatly with the headset cable and best of all – one is FREE and while stocks last. The only cost is the postage of € 3,10. Just one ferrite core makes a difference.
For optimal protection, 3 ferrite cores are necessary, one each connected to the left and right headphones. We send 3 ferrite cores incl. postage for a total of below € 7. And as a friends set in total even cheaper.
This promotion "FERRITKERN FÜRS HEADSET" is limited to Austria and Germany due to the postage costs.
| | | | |
| --- | --- | --- | --- |
| Initial Permeability | 850 | Relative Loss Factor | 16 (0,1 MHz) |
| Relative Temperature Coefficient | 5~10 | Saturation Magnetic Flux Density | 350 (1600 A/m) |
| Remanence | 200 | Coercivity | 20 |
| Curie Temperature | >110 | Electrical Resistivity | 10 to the fifth power |
| Applied Frequency Range | 1-1000 | Density | 4,7 |
⊘A: 13 ±1 mm
B: 12 ±1 mm
⊘C: 5 ±0,8 mm
D: 25,2 ±1 mm
E: 2,5 ±1 mm
Impedance at 25 MHz: 90 Ω min
Impedance at 100 MHz: 190 Ω min

The crux with the strong magnetic field from the headphones!
Using a ferrite core is a great idea, an improvement and definitely worth a try. However, what remains is just the resulting magnetic field in the headphones themselves ie. two times per headset while listening to music. We were surprised when we were able to directly measure the load of 250 nT directly on the headphone with the simple fast measurement without a large experimental setup – range up to 2 cm. Considering that in ear headphones plug directly into the ear, such magnetic field strengths are definitely an issue.
So if you generally get earache while wearing headphones and especially in the variants that are worn in the ear, this may well be in addition to the electromagnetic field on the magnetic field of the headphones themselves. In order to shield this, special headphones with mu-metal must be used which cause a massive reduction in the magnetic field.
Through the use of mu-metal this reduction of up to 98% can be measured. By all means, values ​​of a few thousand nT can be generated directly on the headphones and, thanks to Mu-Metall, these can be reduced to less than 5 nT. With commercial headphones, such a consideration can not be expected, but in the professional field, however, this change
For example, offers. The manufacturer Ultrasone the model 880 and has thanks Mu-Metall actively addressed this problem. This headphone is designed specifically for those who use their headphones for musical enjoyment for many hours. You will never regret the grip to such a thoughtful headphone.
But back to the favorite application "listening to music" with the smartphone. Are there any solutions that both remove electromagnetic fields and at the same time prevent magnetic fields on the ear? YES, they exist!
AirTube headsets. With the air hose air tube against electrosmog!
Designed for use on smartphones or MP3 players, the Air Tube Headset creates sensational results in terms of electrosmog. Simply put, there is no more electrosmog on the ear.
The functional principle of these AirTube headsets is quite simple. Somewhere in the headset cable, the conversion of the electrical music signal into sound waves takes place. From this point, the sound is passed through an air hose to the ear instead of the usual copper cable. Electromagnetic fields and magnetic fields are therefore sought in vain on the ear.
"And what about the musical quality?", asks the music enthusiast. 
Let's say so. Anyone who was musically satisfied with a standard stereo heatset will enjoy the Air Tube Headset. However, the AirTubes can not match the audio quality of a modern Apple Airpod headset.
As so often, the ultimate truth is the priority of the topic. AirTube headsets have been developed as Priority 1 to protect against electrosmog on the ear and head. Next comes sound quality, comfort, microphone and compatibility with smartphone control.
However, if the priority is 1 in the music enjoyment and protective measures below either remains an upgrade with ferrite cores or the handle to a headphone with mu metal such as the Ultrasone 880 was designed for electrosmog protected music enjoyment or a mu-metal headset for use with a smartphone.