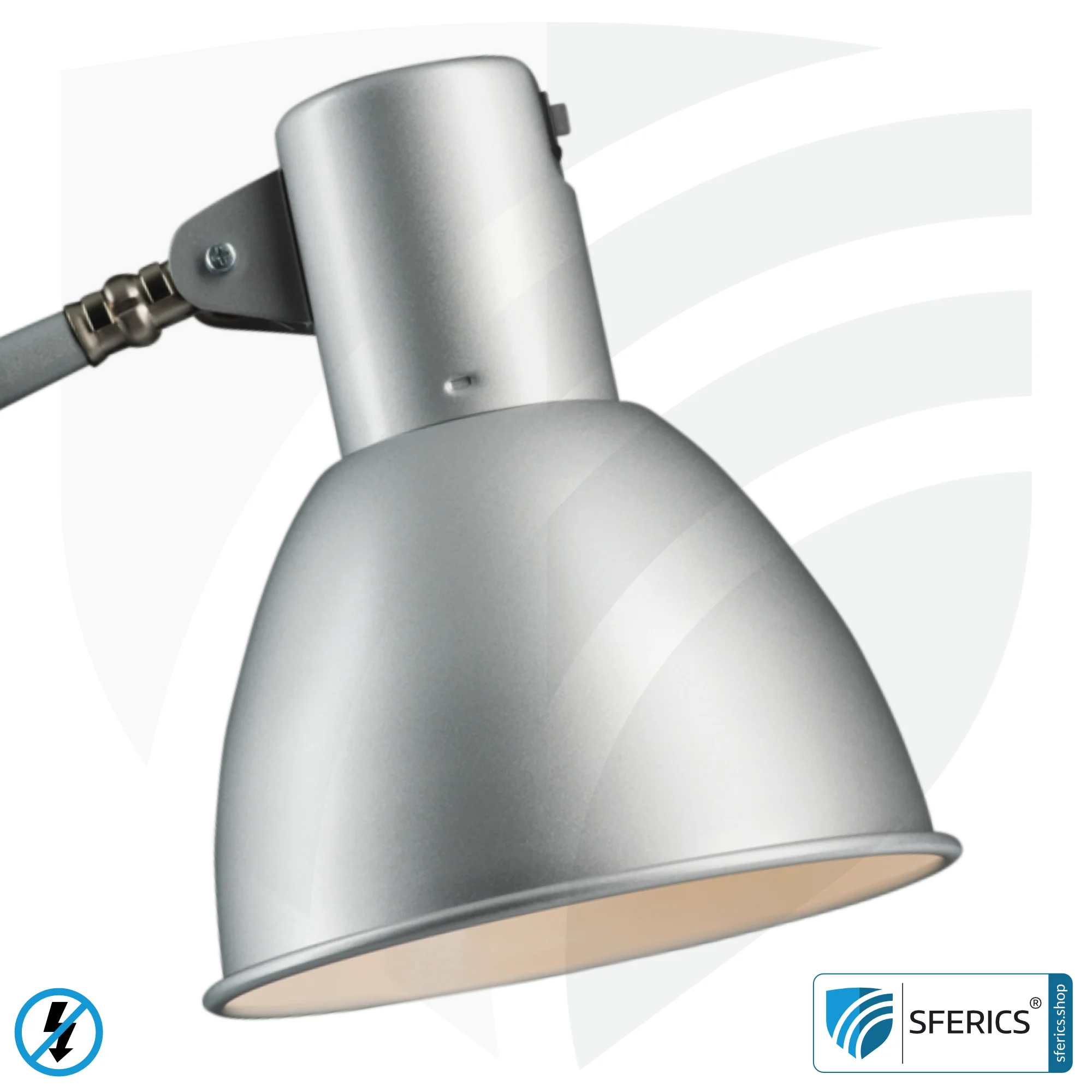 Shielded lamp in SILVER design for the desk or home office and a bright workplace. If you choose a clamp base, it is also perfectly suited as a work light.
In contrast to commercially available lights, this solid lamp is handcrafted and labor-intensive. The choice of color SILVER combines flexible use with a modern design. This lamp was developed as a reliable work lamp, i.e. for continuous use over many years.
The friction joint with a wing nut at the bottom and middle joint keeps the lamp arm reliably and stably in the selected position. Thanks to these integrated joints, the position of the high-quality light from this lamp can be changed quickly if required.
Desk lamp for the reduction of low-frequency electric and magnetic alternating fields
High-quality and stable workplace luminaire made of 18 mm round aluminium profiles
Ideal for the desk, workstation and as a work light
Protection class 1 (with protective conductor) acc. to DIN / VDE
Flexible lamp with E27 socket and bulbs up to max. 60 watts
This silver lamp is shielded against alternating electric fields and has an E27 socket. The power class of the illuminant used is designed for a maximum of 60 watts. This lamp also comes with a universal adapter for G9 bulbs, which is ideal for using G9 halogen bulbs.
In addition to our bio-light LED lamps, these halogen lamps convince with high lumen values ​​for more light output, with lower wattage and thus lower power consumption. Alternatively, it can also be operated with our BIO light filament LED light source.
These lights are manufactured in Germany, which affects both production and assembly. The high-quality lamp parts are the result of the craftsmanship of people with many years of experience in their craft. This local production allows the replacement of individual parts, such as e.g. the power cord or the lampshade.
Ecological motto: create durable products. Don't throw away, redesign or repair.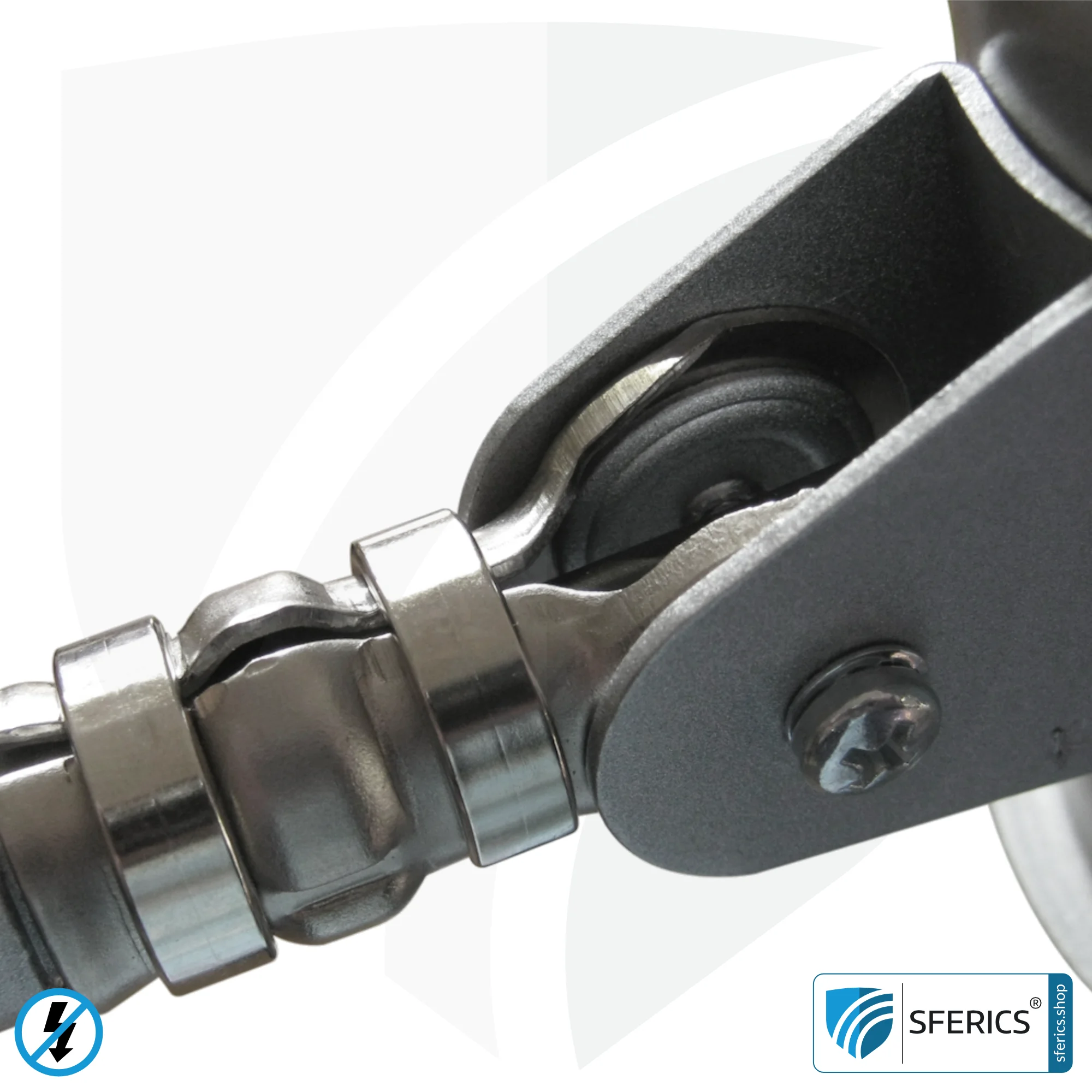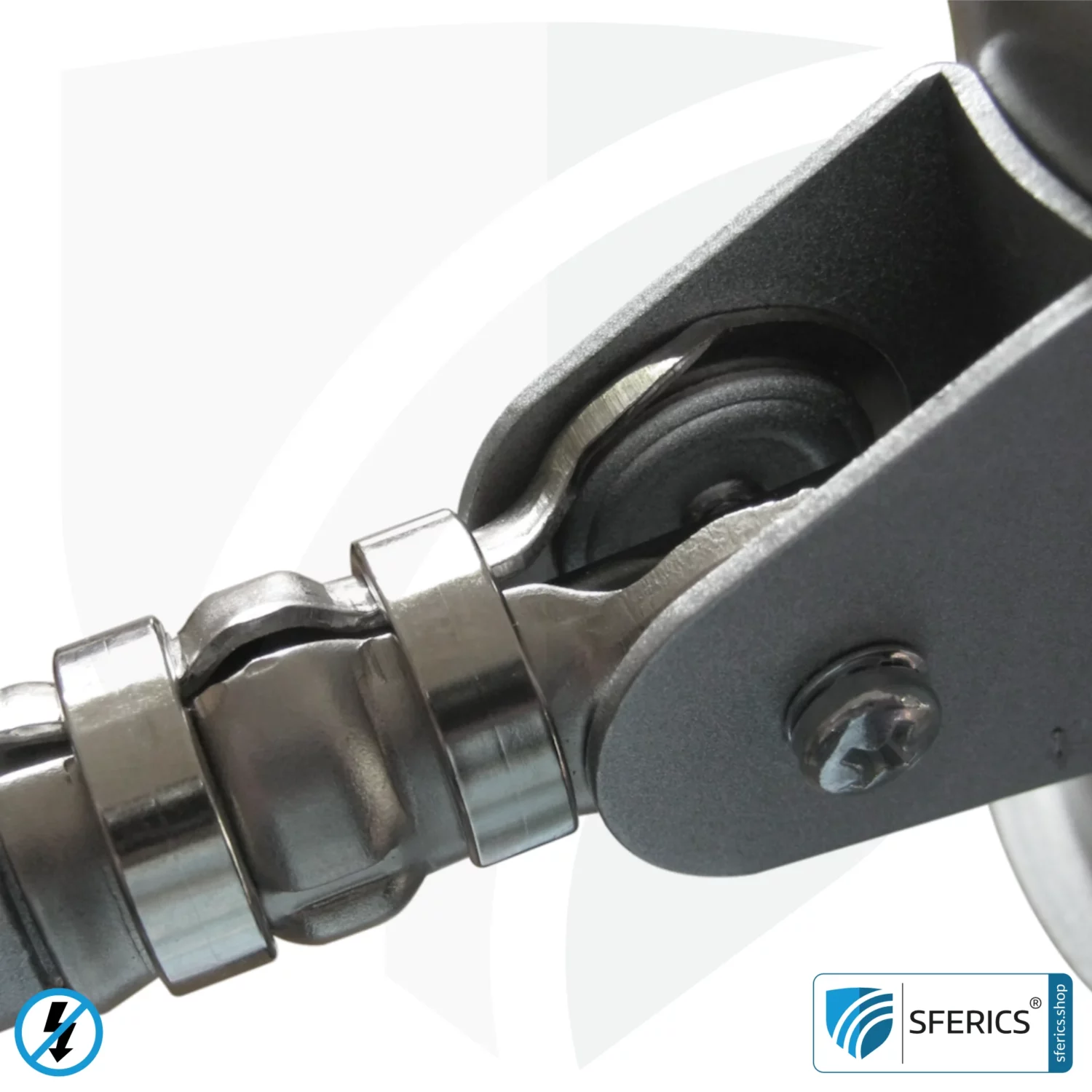 Suitable bulbs for this lamp:
General bulbs with E27 socket
All bulbs with G9 socket (due to the included adapter)
Maximum 60 watts
In these countries this shielded lamp can be used:
CEE-7/4 (German System) and CEE-7/7 (French System): Afghanistan, Algeria, Andorra, Belgium, Bosnia-Herzegovina, Bulgaria, Croatia, Czech Republic, Estonia, Finland, France, Germany, Greece, Hungary, Iceland, Indonesia, Italy, Korea, Latvia, Lithuania, Luxembourg, Morocco, Macedonia, Monaco, Montenegro, Moldova, Netherlands, Norway, Poland, Portugal, Romania, Russia, Serbia, Slovakia, Slovenia, South Korea, Spain, Sweden, Tunisia, Turkey, Ukraine, Yugoslavia, Iceland.
Documentation for this lamp (.pdf)
Technical data sheet