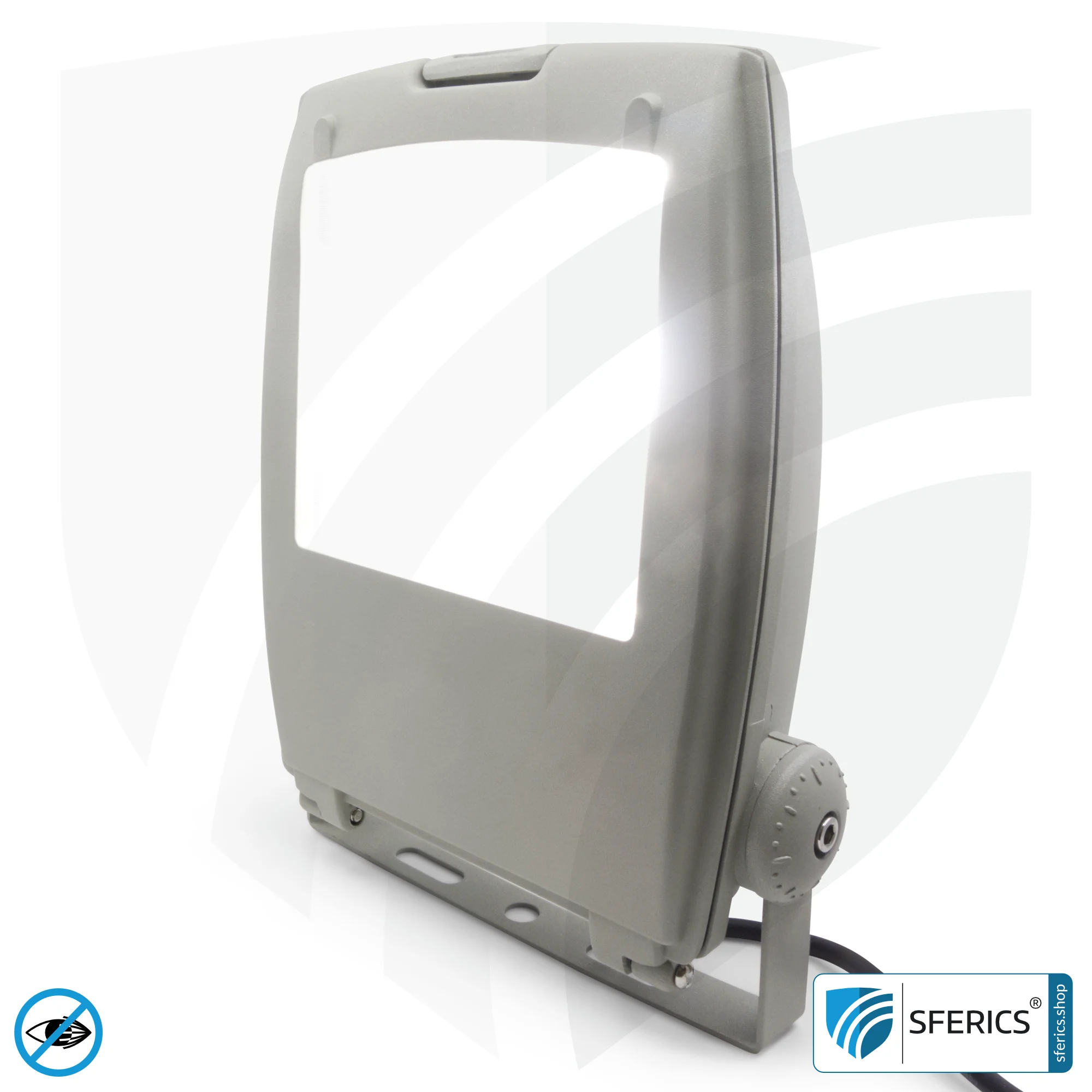 Powerful LED floodlight with a gray case for continuous use. Full spectrum daylight with 3000 lumens and a consumption of 35 watts. The spotlight is weatherproof, IP65 certified and therefore ideal for outdoor use. Easy to install, also as an indirect uplighter.
This impressive LED floodlight is simply fun. This high-intensity LED light produces and emits great natural brightness on a grand scale. A pleasant, natural and high-contrast light is important for error-free and safe work, especially in commercial applications, especially in the warehouse or in shipping. This is where this movable LED spotlight literally "flexes its muscles" and shows its strengths – in continuous operation.
However, this very bright LED light is also a hit as an indirect uplighter – indoors and outdoors. Due to the high-quality construction in the stable metal housing, this LED floodlight achieves the IP65 classification, i.e. "tight against dust" and "protected against water jets". The quality of the light speaks for itself – 3000 lumen luminous flux, flicker-free light with 5,500 Kelvin and a color rendering CRI 95.
Anyone looking for flexible, outdoor-safe and powerful light – we'll finally found it here.
When flexibility and light quality are completely convincing!
The ideal mounting height of this LED floodlight is between 3 and 8 meters. Thanks to the integrated and very stable bracket, it can be fixed practically anywhere, whether on walls, ceilings or masts. And thanks to the electric cable with Schuko plug, it can also be used immediately. The fact that this LED light is not NF shielded is a negligible disadvantage due to the recommended mounting height.
Consumption: 35 watts
Color temperature: 5500 Kelvin
Not dimmable!
Housing: metal
Color: gray
Weight: 3,1 kg
Connection: cable with Schuko plug
grounded
Energy class F (previously energy class A+)
Full spectrum daylight, explained by the natur-nah® expert (german)

Benefits and ideal areas of application of the LED floodlight
As already described in the introduction, we see an ideal area of ​​application in commercial use, if only because of the design of the LED spotlight for continuous operation. The manufacturer specifies a service life of over 23 years, with daily use of 4 hours.
However, the performance data is so convincing that there are countless other areas of application – at home, in a club, in the alpine hut, in the allotment garden and much more. Indoors and outdoors.
Full spectrum light also ensures high contrast!
Scope of delivery of the LED floodlight
LED floodlight with connection cable and safety plug
Mounting bracket
FULL SPECTRUM LAMPS – THE HEALTHIER LIGHT
Our near-sun full spectrum daylight lamps support your natural vision and health in many ways. This is because their spectrum is very similar to sunlight. They therefore achieve similar supporting effects as the sun. The most important advantages for you are:
More well-being
High contrast viewing of small fonts
See and distinguish natural colours
Fewer eye problems
Less tired
Concentrate longer
More capacity
FOR THEIR ILLUMINATED EVERYDAY LIFE THIS MEANS:
Awake longer
Feel better
More concentrated
More relaxed eyes
Documentation (.pdf)
Manual
Technical data sheet
The new EU energy label since 2021
The new EU energy label for light sources, which will apply from September 1st, 2021, not only looks different, it is also based on new, stricter classification criteria. As a result, lamps and lights are classified in lower energy classes. However, nothing has changed in terms of the power consumption of the lamp.
Details on the new EU energy label 2021