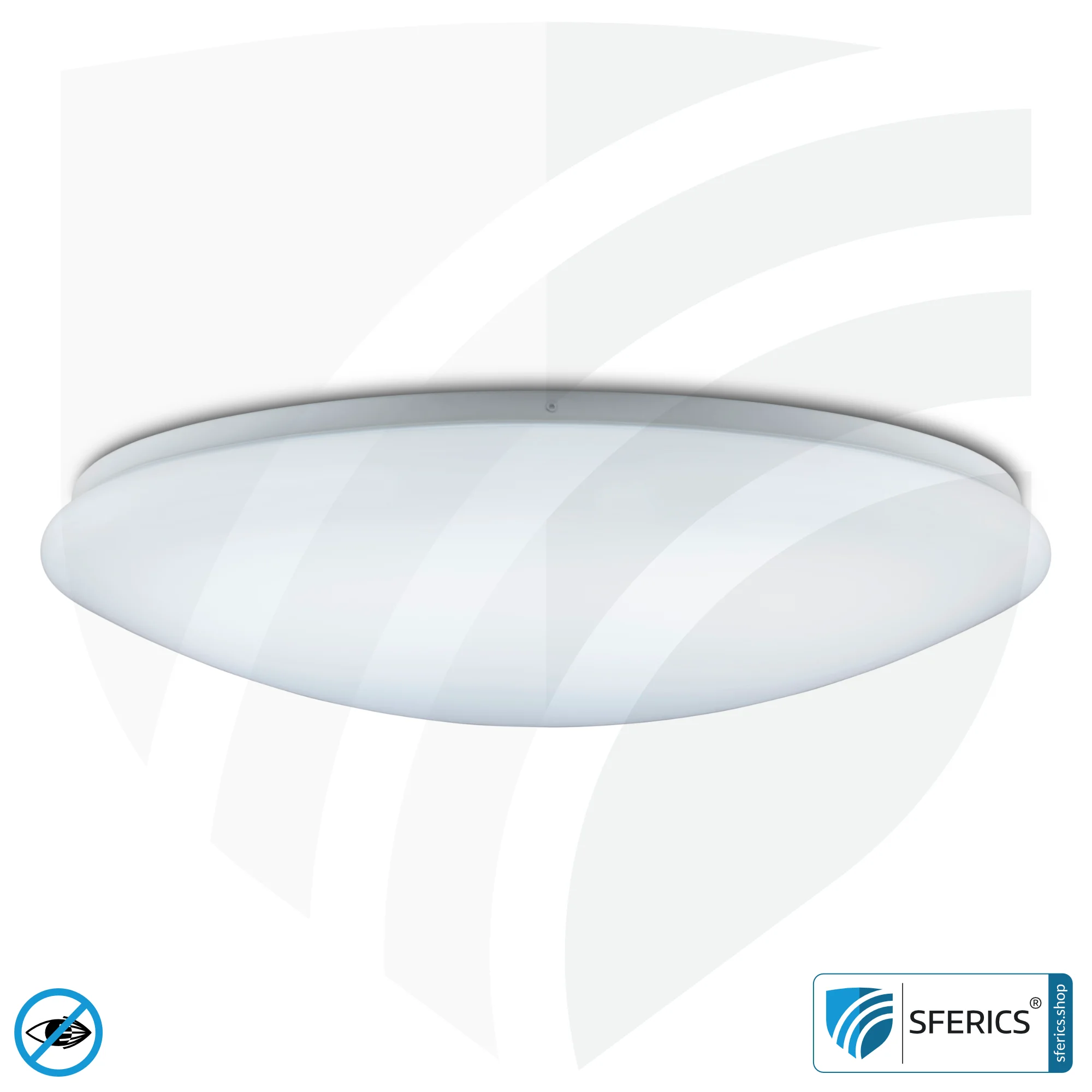 The LED full spectrum ceiling light SUNNY is fantastic and for us a sensation for every home office. The light intensity and light color can be infinitely adjusted using the remote control. Maximum brightness with four 100 watt bulbs comparable to up to CRI 95.
With our focus on building biology requirements, the most important information for us comes right at the beginning. This wonderful ceiling light is metrologically a compromise between quality idealism and luxury of lighting comfort. "… finally LIGHT in the house!" were the words of an enthusiastic customer and yes, that's exactly how it is. Flexibility and luxury in terms of variable color temperature (warm light to daylight) and dimmability (up to 4000 lumens) does not meet our metrological requirement for flicker-free light quality.
In order to experience this biological compromise in everyday life, we have had the SUNNY in practical use for many hours a day in our biologically optimized and EMF-shielded office for over a year. And now, in April 2022, the SFERICS® team has decided in favor of the SUNNY, enabling our customers to order this sensational ceiling light.
We are still looking for a flicker-free driver for this ceiling light in order to then convert the SUNNY into a flicker-free lamp sensation. If this succeeds, there will be a conversion kit for a flicker-free upgrade. The electrical alternating field NF is limited to a few centimeters and is still justifiable in terms of building biology.
Until then, we wish you a lot of fun with the all-in-one SUNNY, which plays almost all the pieces that can be described as ideal in the living room, at work and in the home office. 
Full spectrum daylight, explained by the natur-nah® expert (german)

Visually appealing. Available in 2 variants!

SUNNY is a strikingly bright ceiling light, either neutral or with a flower of life decor, equipped with countless high-quality LEDs. With the included remote control, this special ceiling light becomes a jack of all trades because everything you want for room lighting or workplace lighting can be adjusted and changed.
The light intensity can be selected directly using the buttons on the remote control in steps between 25% and 100%, or alternatively continuously for fine adjustment. The same applies to the color temperature. Direct change of the light color between 2700 Kelvin (warm light bulbs) up to 5900 Kelvin (full spectrum daylight) in four stages or stepless for fine adjustment.
In practice, the SUNNY never ceases to amaze with its unbelievable brightness, which at the same time is not unpleasantly dazzling. The room simply becomes bright in general – felt as bright as four 100 watt light bulbs, which distribute the full spectrum list produced on the ceiling and in the room.

Precise LED light color at the push of a button!
With the SUNNY ceiling light, a new level of light begins in your life too, geared to the respective need and time of day.
Natural light comparable to the midday sun for alertness and high contrast or extremely pleasant warm light for a cozy evening and preparation for a restful night (melatonin release with red warm light).
Goodbye dimmer switch, remote control yeah!
Gone are the days of depending on a dimmable light switch. With the remote control, this is no longer needed and the well-known defect of the flush-mounted inner part of the dimmer due to wear and tear is history.
Comparison to standard LED lamps and modern LED lighting systems with smartphone control
It is self-explanatory that the SUNNY LED ceiling light can effectively replace any energy-saving lamp and standard LED of a comparable performance class in terms of light quality and performance. The full spectrum daylight produced here is of high quality although not flicker free and of course this LED is 100% mercury free. However, strictly speaking, this direct comparison is unfair, as this ceiling light is much more than just a high-quality LED light source. Despite all the details in the picture, video and text on this product description, this ceiling light has to be experienced for yourself to believe this light result.
Recommendation: read a book by the light of such a full-spectrum daylight LED. It is difficult for us to describe the difference in the contrast of the typeface and, in general, this pleasant reading – only experience it for yourself helps here!
We omit the comparison with smart lighting technology with control of light color and brightness via smartphone at this point . Yes, we have analyzed this LED metrologically and know the quality of light produced here, but this is not the reason for this missing comparison. These modern LED lighting systems are certainly cool and smart, but they also significantly increase the exposure of your own body to electrosmog or electromagnetic radiation through wireless technologies such as Bluetooth, WLAN and bridges, which are necessary for the operation of this LED lighting technology. For health reasons, we can still ignore light flickering, but with increasing EMF stress on the nervous system or the human body, we draw the healthy red line for measurement reasons.
Facts about using the LED full-spectrum ceiling light SUNNY

The SUNNY is a simple but decorative ceiling light. It is subjectively brighter than four 100 watt light bulbs and brings a lot of brightness into the room. Warm light for a cozy atmosphere in convivial gatherings or fresh daylight close to the sun for natural lighting. The light color of the SUNNY can be continuously changed from a warm tone to daylight white using the remote control, and the brightness can be changed at the same time in every setting. This full-spectrum LED ceiling light is an ingenious and wonderful solution for rooms that are used in a variety of ways, including home offices.
SUNNY and the room sizes
up to 20 m² – optimal brightness with a SUNNY
from 20 to 30 m² – still sufficiently bright
over 30 m² – two and more SUNNY ceiling lights
Variations
The SUNNY is available with 2 different hoods, which also differ slightly in shape. The white hood is a little rounder and the hood with the "Flower of Life" decor is a little flatter. Choose between the variations:
Hood white
Hood with Flower of Life decor
Die wichtigsten technischen Infos
max. 4000 lumens
Color temperature: 2700 to 5900 Kelvin
Color rendering index: CRI 95
Control: remote control (2.4GHz)
Lifetime: up to 30,000 hours
Consumption: maximum 45 watts
Housing: metal base plate, hood made of impact-resistant polycarbonate (PC)
Weight: 2.6 kg
Business quality = suitable for continuous operation
3 year warranty
SUNNY ceiling light in the limelight at a glance
FULL SPECTRUM LAMPS – THE HEALTHIER LIGHT
Our near-sun full spectrum daylight lamps support your natural vision and health in many ways. This is because their spectrum is very similar to sunlight. They therefore achieve similar supporting effects as the sun. The most important advantages for you are:
More well-being
High contrast viewing of small fonts
See and distinguish natural colours
Fewer eye problems
Less tired
Concentrate longer
More capacity
FOR THEIR ILLUMINATED EVERYDAY LIFE THIS MEANS:
Awake longer
Feel better
More concentrated
More relaxed eyes
Optimal application examples for the SUNNY ceiling light
The SUNNY is a large round ceiling light with a diameter of 60 cm and the living area and work area. If you are looking for lighting for the living room, office or home office that can create not only a fresh daylight atmosphere but also a warm and cozy light, then the SUNNY is the perfect solution. The warm light for a cozy get-together or fresh and clear full-spectrum daylight for good vision and natural lighting – like outside in the sun.
Self-explanatory, the ceiling light is also very well suited for use in the kitchen, children's room, bedroom, hallway – simply put, wherever good light is needed. Particularly practical for one-room apartments and eat-in kitchens.
Easy assembly of the SUNNY
The tools required for this are a drill and Phillips screwdriver. The SUNNY ceiling light is attached to the ceiling with 4 screws and connected to the connection cable. Then attach the white hood and turn to fix it. Finished.
Scope of delivery
1x LED ceiling light with full spectrum light
1x remote control
4x screws
4x dowels
1x user manual
More information and tips
The SUNNY ceiling light is fully controlled with the remote control. Switching on and off as well as infinitely variable dimming of the light intensity. The light color can also be continuously changed from a warm tone to daylight white. In addition, there are 4 direct selection buttons for a targeted selection of light intensity and light color. If several ceiling lights are used, these can also be controlled with just one remote control – individually or in groups. Due to its low weight, the SUNNY can also be easily mounted on suspended ceilings.
Documentation (.pdf)
Technical data sheet
The new EU energy label since 2021
The new EU energy label for light sources, which will apply from September 1st, 2021, not only looks different, it is also based on new, stricter classification criteria. As a result, lamps and lights are classified in lower energy classes. However, nothing has changed in terms of the power consumption of the lamp.
Details on the new EU energy label 2021