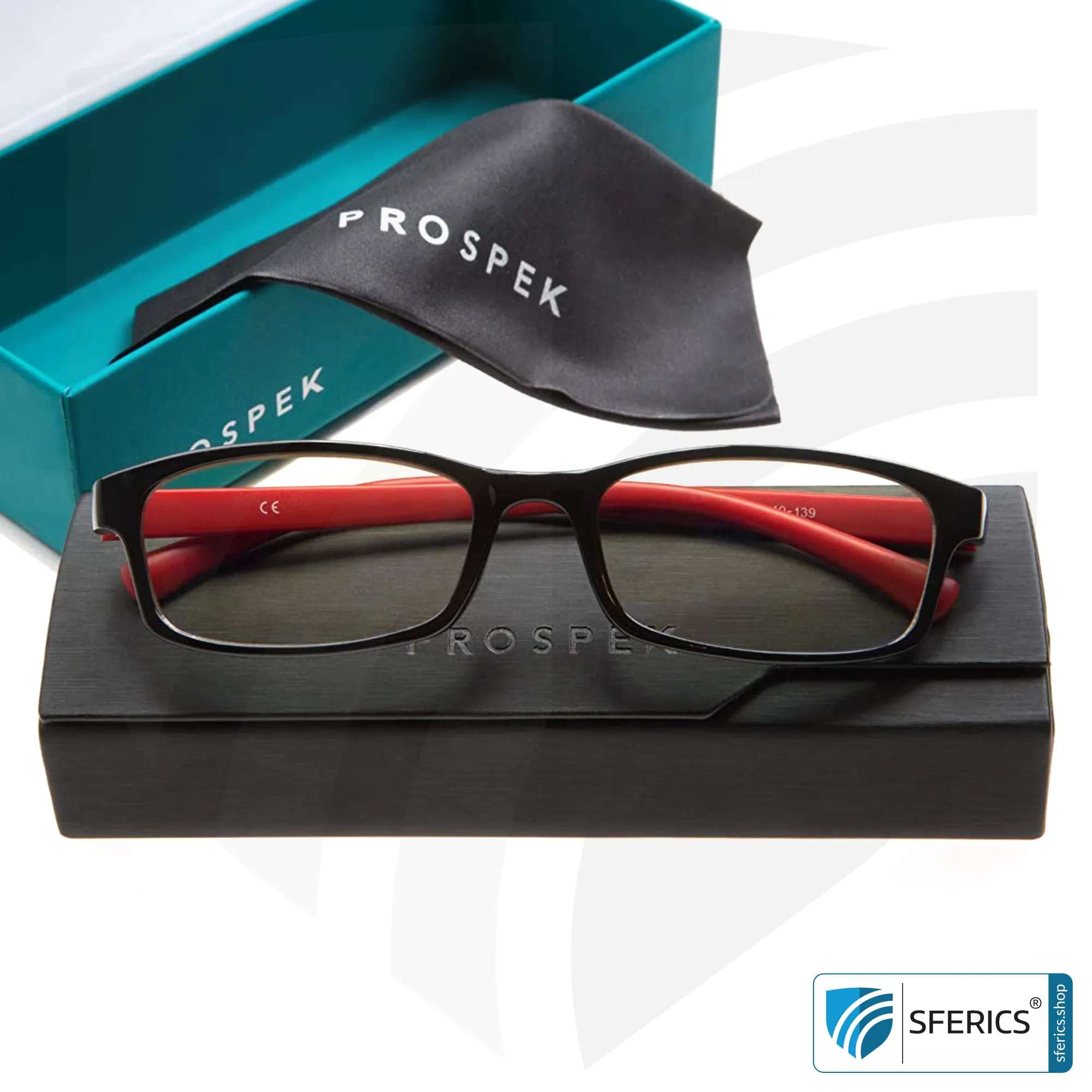 Anti-blue light computer glasses PRO – when protecting your eyes is the target. Against rapid eye fatigue due to too much blue light, due to our modern smart way of life with PC, smartphone, tablet, TV, LED light, etc.
Regardless of whether you are looking for glasses for the office or late night streaming. Anti-blue light and anti-glare computer glasses from PROSPEK offer first-class help with rapid eye fatigue.
All lenses feature a patented, multi-layer coating specifically designed to reduce glare, reflect blue light away from the wearer and reduce long-term eye strain caused by excessive electronic device use. This special coating offers:
Anti UV (ultraviolet) light
Anti veil
Comfortable, lightweight and extremely durable TR-90 frame
Reduced glare
Reduction of blue light
All electronic devices emit excessive amounts of blue light (smartphones, tablets, laptops and desktop computers). This blue-tinged light confuses the internal clock and stops the body from naturally producing melatonin, the hormone that helps us fall asleep at night.
50 percent reduction in blue light as soon as you put it on – and without yellow lenses!
PROSPEK glasses block 50 percent of harmful blue light and thus indirectly help the body to keep to the natural rhythm of time. This allows for an optimal viewing experience without the annoying yellow glare that can occur with other glasses.
PROSPEK glasses are essential for anyone who uses electronic devices on a daily basis. If you use your cell phone or computer late into the night and have trouble falling asleep afterwards, you'll notice the difference the moment you try your PROSPEK computer glasses for the first time.

Blue light filtering computer glasses presented by PROSPEK
✅ A DIFFERENCE IN JUST A FEW DAYS
With these glasses you will experience a better picture experience and better sharpness within just a few days.
✅ NEVER AGAIN TIRED EYES
Reducing eye strain, eye fatigue and sensitivity to light during long periods of computer use. Let your eyes naturally blink and work. Great for office workers or someone who has to look at a screen all day. Designed for all-day comfort with a durable yet flexible frame.
✅ WORKS WITH ALL TYPES OF SCREENS
The average American spends more than 7 hours a day looking at a screen. Whether it's laptops, desktops, tablets or smartphones, our glasses will help you reduce harmful blue light that can cause eye problems and prevent or impair optimal sleep. Also effective against sensitivity to fluorescent tubes.
✅ NO COLOR DISTORTION
Unlike other glasses, spectrum lenses do not distort screen colors or have an annoying yellow tint. Our glasses only block the harmful 50% of blue light and let the other, harmless 50% through, giving you the best possible viewing experience without any color distortion.
✅ IMPROVED PICTURE EXPERIENCE OR YOUR MONEY BACK
We're so confident you'll have a better viewing experience with our glasses that we offer a full 90-day money-back guarantee. Your purchase is completely RISK-FREE. If for any reason you are not completely satisfied, simply contact us for a full refund – no strings attached.
SFERICS® RECOMMENDATION:
Prevent age-related macular degeneration in good time!
Quite frankly: seen on its own, the blue light produced by modern displays does not pose such a great danger to our eyes, which make protection against it imperative. At least in direct comparison to natural sunlight with a multiple of the strength of blue light – in direct comparison. However, this is only theory and probably only half the truth, because as so often the dose makes the difference. Because of our gadgets, smart helpers and modern way of life, we have literally flooded our entire lives with blue light, far from sunlight.
The red light of the lightbulb was replaced with the blue light of the LED, followed by hours of staring at the blue light-producing displays of PCs, smartphones, tablets and televisions. And this, logically, in addition to natural sunlight. In total, we expose our eyes to blue light for up to 16 hours a day – many more hours compared to previous generations and ancestors.
It is no coincidence that the well-known age-related macular degeneration begins many years, if not decades, earlier. Quite a worrying development. There are several ways to prevent this – these anti blue light computer glasses are one option. Another possibility is prevention from the inside, i.e. nourishing the macula itself with a healthy diet or directly supplementing it with lutein. Another option is to replace the LED bulbs at home with biologically healthy, flicker-free LED bulbs with a reduced proportion of blue light. There is also the ingenious software f.lux for the monitor, which automatically calibrates the color according to the time of day.
And then there would also be the issue of reduced melatonin production in the body when exposed to blue light instead of red light (sunset = red light = getting tired), which can directly lead to sleep problems. But beware of taking melatonin directly – it is imperative to consult a doctor you trust beforehand. The topic of melatonin is too complex to be able to deal with it here briefly.
Explanatory video on the topic "BLUE LIGHT" (german)
In addition to the content of the video, it is imperative that we point out the issue of "damage to the eye caused by the blue light part of the light spectrum". Consistently high doses of blue light can damage the eye to the point of incurable macular degeneration, which inevitably leads to loss of vision and even blindness. The modern world of LEDs, xenon light and displays of all sizes is making the issue increasingly worse due to the significantly higher proportion of blue light.