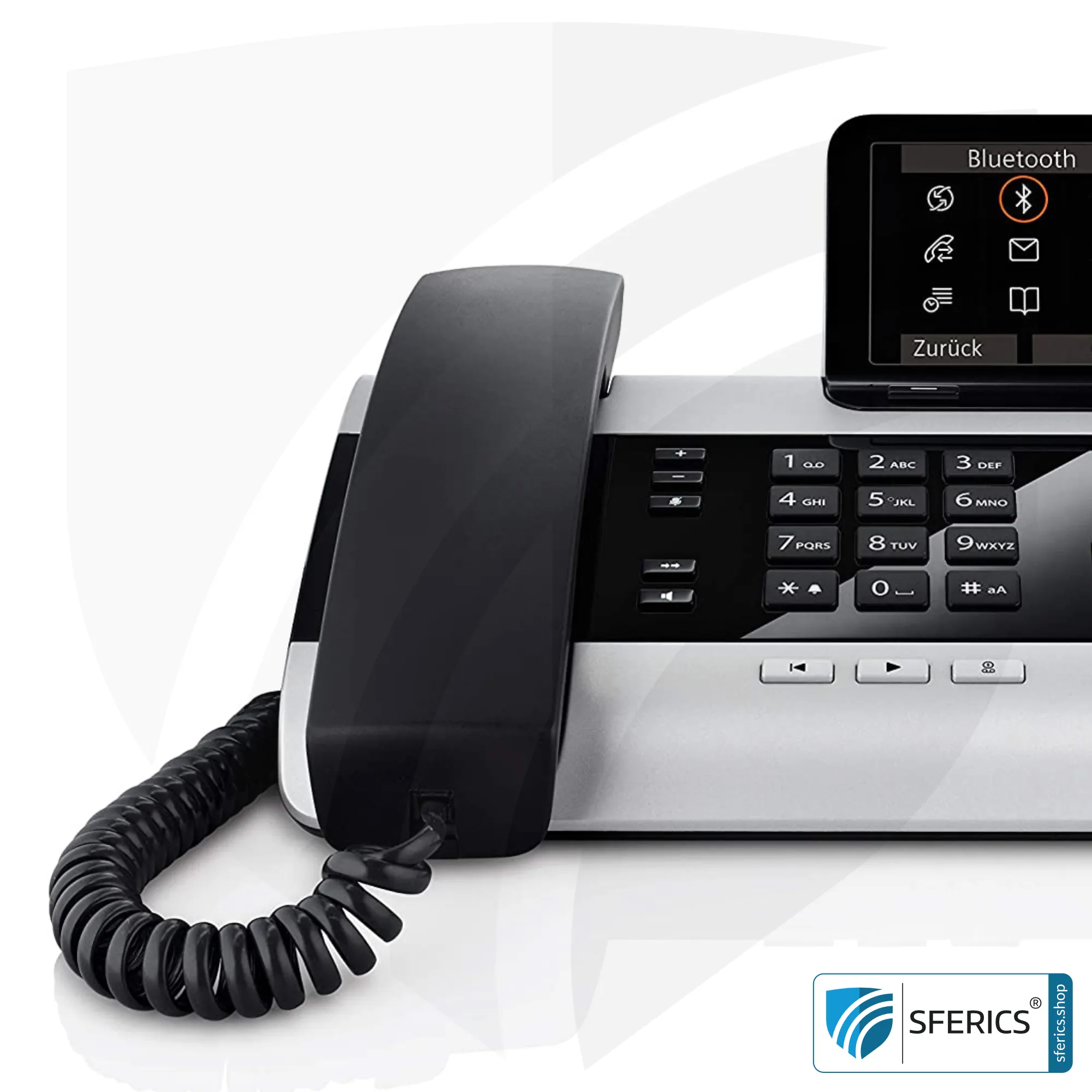 GIGASET DX800A. A corded and low-radiation telephone convinces with performance over the entire length. Prepared for analogue, digital and VoIP (SIP) with answering machine.
The Gigaset DX800A is a desk phone for professional use in small companies, in the office at home, or for people who are simply looking for a great telephone with the lowest amount of electromagnetic radio pollution possible.
The innovative equipment and modern, clear design make the Gigaset DX800A the first choice for small companies that value a modern and appropriate office environment. It is operated with a spacious 5-channel navigation button and the big, lighted 3.5" TFT color display shows all information with excellent sharpness and color quality. The flexible Gigaset DX800A can be converted into a cordless telephone system by registering up to 6 mobile parts. It is possible to hold 4 conversations simultaneously with its multi-line ability.
Up to 1,000 contacts can be saved in the vCard format and synchronized with the PC. The HDSP (High Definition Sound Performance), which allows an excellent broadband-quality voice transmission in VoIP and internal conversations, ensures a brilliant sound quality in the Gigaset DX800A. Three answering machines with a total recording time of up to 55 minutes can be split between three numbers and configured individually. The Gigaset DX800A was equipped with the most modern ECO-DECT technology and developed and produced according to the highest quality and environmental standards.
The future calls with the DX800 A
The Gigaset DX800A meets all connectivity requirements with a multitude of interfaces and offers full flexibility for telephony. It can be run on the analog or ISDN main connection or connected to an ISDN/VoIP router or a TK system on the internal S0-Bus. Up to 10 MSN numbers and 6 SIP accounts can be assigned and an analog fax machine can be connected. The Gigaset DX800A is equipped with Link2Mobile. With these functions, calls made for the mobile phone or outgoing discussions on the Gigaset DX800A's mobile network can be made, while the mobile phone that is connected to Bluetooth is being charged or in a place with good reception.
Environmentally-friendly features of the DX800 A
The Gigaset DX800A's energy-saving power supply consumes less power and is therefore environmentally friendly and relieves your wallet. The display can be turned off via the time-controlled Night Mode. If no mobile devices are registered to the Gigaset DX800A, the DECT radio part is automatically deactivated. In the case of mobile parts, the transmission power is lowered depending on the distance to the base station. By activating the ECO Mode, the transmission power is lowered by 80%. When it is not being used, the Gigaset DX800A with active ECO+ Mode is completely radiation-free.
The Gigaset DX800A desk telephone is excellently equipped for the requirements of day-to-day business with analog and ISDN landline telephony.

GIGASET DX800A – our clear recommendation!
There are several reasons that we HIGHLY recommend this telephone:
ECO DECT+
ECO DECT (ECO DECT+) means low-radiation or radiation-free in standby mode. We have obviously verified this – several times. After hanging up, the radio radiation and consequently, the pollution, remain for a few seconds, then they are switched off completely. No control radio signals are carried out either. This saves us from the danger of the mobile part becoming unrecognizable if the maximum range has been exceeded and a telephone can no longer be received. RADIATION-FREE should still be the focus.
Warning: The ECO DECT mode is not pre-activated. This must be manually actively – ideally after registering the mobile part. The radio shutdown only concerns the DECT function. Consequently, the integrated Bluetooth function is not equipped as we do not use it.
CONNECTION TO LAN / ETHERNET
The DX800A is more than just a telephonic device with answering machine. It is a small, independent computer with gateway management with extensive software and functions. In any case, connect the DX800A directly to your CABLE or DSL modem. The independent software update will be carried out and you will be ready to use VoIP (Voice over IP) and SIP.
Call with VoIP TO SAVE CASH
With VoIP (Voice over IP – voice telephony over IP addresses and Internet), you save more than just a bit of money. It is possible to save 50%, sometimes 90% or even 100%. The only thing that you need for that is to register with a VoIP or SIP provider. After activating your access and establishment on the DX800A, you will immediately start using completely new charges for telephoning WORLDWIDE.