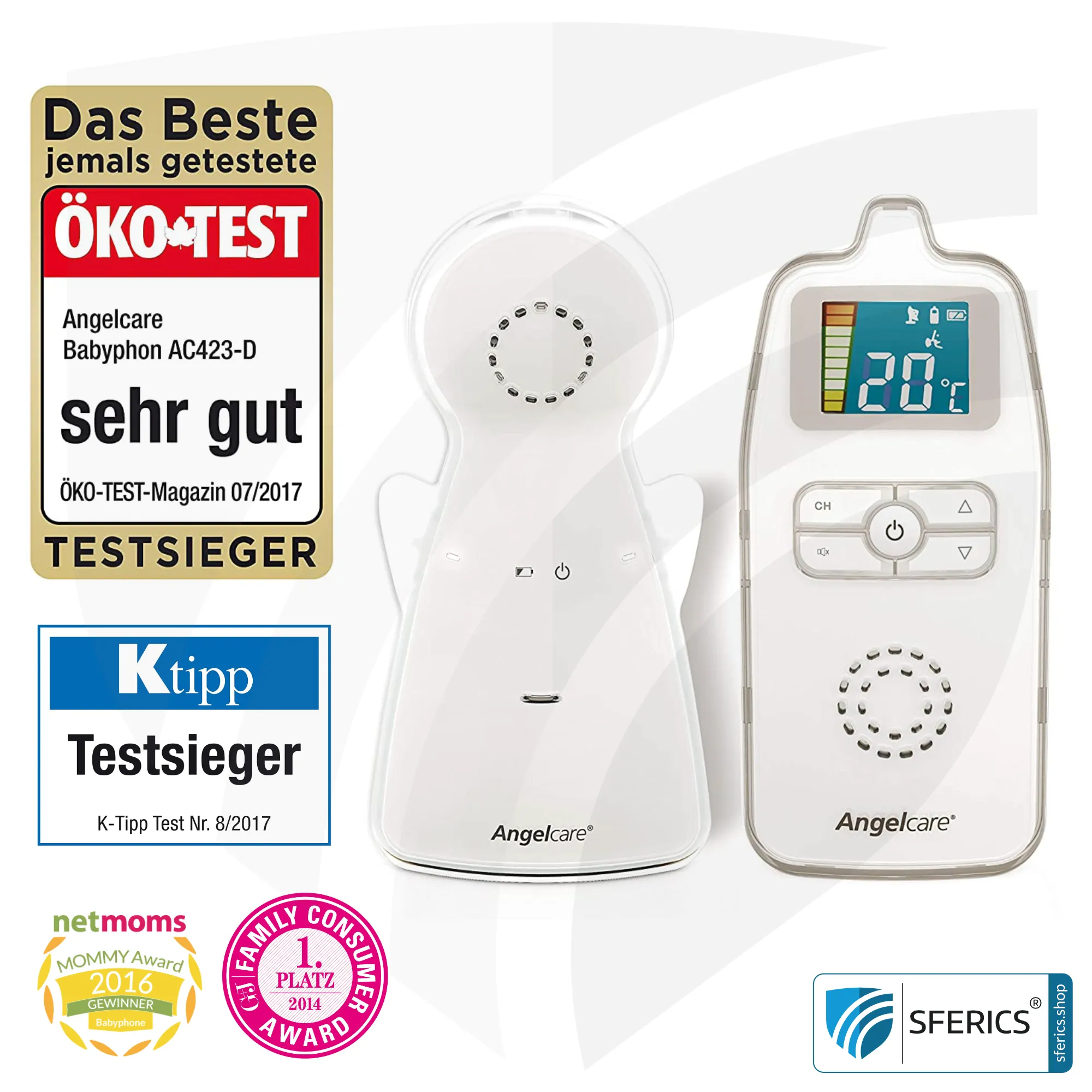 Angelcare 423-D is one of the lowest-radiation baby monitors on the market. In order to prevent massive EMF stress for babies and toddlers, we recommend audio baby monitors without exception!
The Angelcare 423-D audio baby-monitor has extensive equipment and is comfortable to use.
The Angelcare® baby monitor was developed in close cooperation with a german electrosmogElectrosmog is a colloquial term for all emissions from electric, magnetic, and electromagnetic fields. More expert. As a result, transmitters, receivers and cables are reduced in terms of low-frequency electrical and magnetic alternating fields. The radio intensity was reduced to a minimum in the course of development.
The AC 423-D baby monitor has a noise-activated automatic switch-on, so no continuous transmission is necessary. This makes it one of the devices with the lowest electrosmog on the market, if not the best. With a range of up to 250 meters, eight channels and many useful functions, the Angelcare® AC 423-D baby monitor meets all the requirements placed on a modern baby monitor.
SFERICS® belief in baby monitors
Even if Angelcare has now adapted to the market for modern baby monitors, we still only recommend the audio baby monitor 423-D for this brand. One thing applies to all manufacturers of baby monitors: functions such as video transmission, sensor mats, room monitoring or extended range are very tempting. But only for the parents. All of these wirelessly functioning features inevitably lead to an unbelievable increase in electrosmog exposure for babies and toddlers. From 100x, 10,000x and even more everything is possible in direct comparison to the 423-D. A measuring device is required for the actual detection of the immission load on the little people.

Angelcare 423-D functional details
864 MHz transmission frequencyFrequency is the number of occurrences of a repeating event per unit of time. It is a physical measurement that is important for describing periodic processes, such as vibrations. More
8 channels to choose from
Automatic noise activation
Adjustable microphone sensitivity
Muting possible
Range controls that can be switched off
Range of up to 250 meters (free field)
Receiver with LCD screen
Room temperature display
Noise level display
Battery check display
Night light
Belt clip on the receiver
Automatic change to battery mode in case of power outage
Includes 3 rechargeable AAA batteries for the receiver (the transmitters needs 4 AAA 1.5 V batteries – not included in the delivery)
Scope of delivery of the Angelcare 423-D
1 transmitter
1 receiver
2 power supplies
3 rechargeable AAA batteries for the receiver
1 manual
Technical details of the Angelcare 423-D audio baby-monitor
Weight: 780 g
Dimensions: 22 x 17.2 x 8 cm
Color: white
Material: Plastic