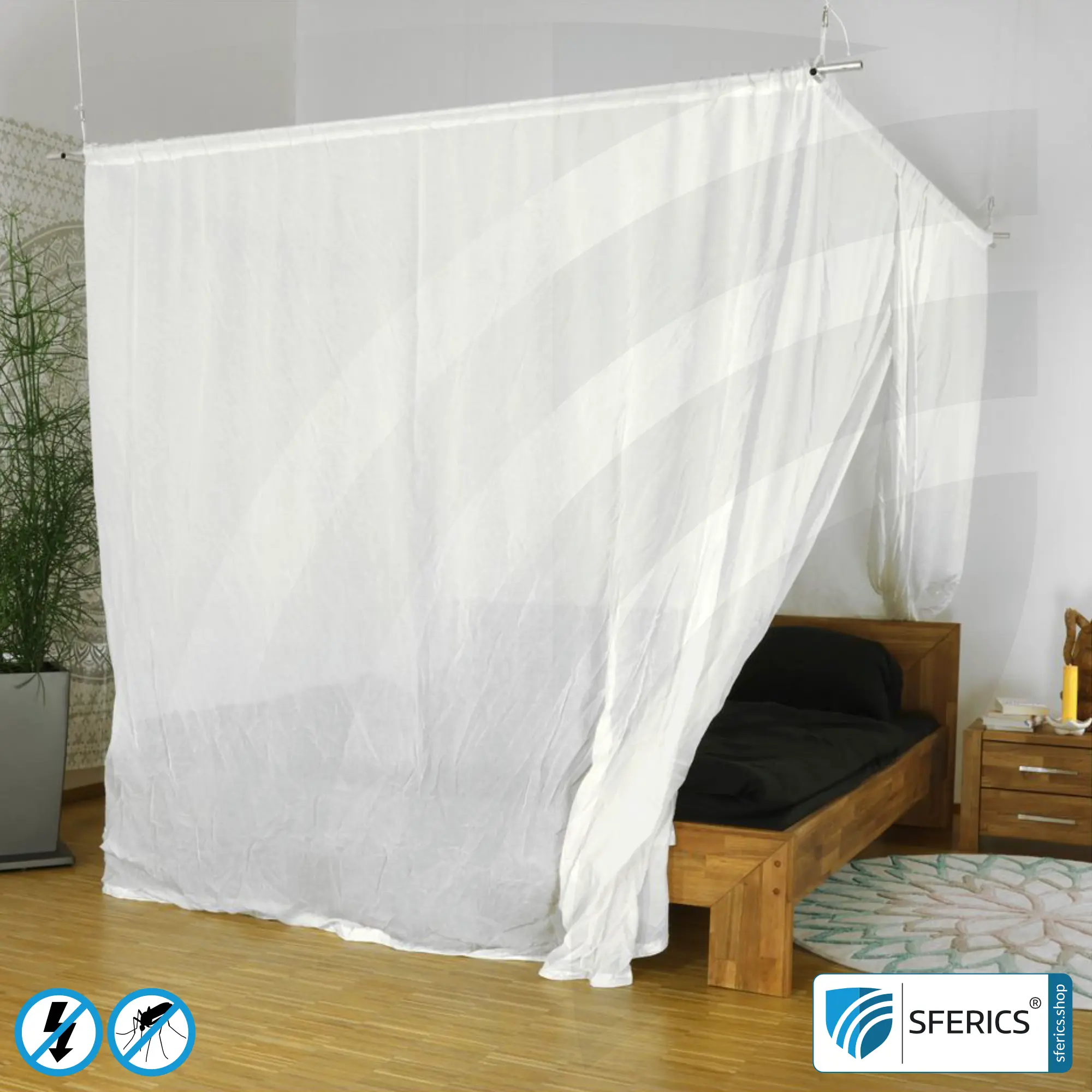 CANOPY ELECTROSMOG EMF TO GET TO KNOW. Choose your set from 3 available variants. Experience risk-free relaxation on your own body for 14 days and 14 nights against electrosmog. Up to 40 dB shielding attenuation RF (efficiency shielding EMF up to 99,99%).
We have been asked very often why we even offer our canopy to try out, as the system has been proven to work. Answer: "Yes, we know that. The interested person doesn't. Trust is great, but experiencing it yourself is always better and also dramatically more sustainable. That's right, we don't have to offer this option, but that's not the point. We like this product so convinced that we don't shy away from a single test. Wrong, we even welcome it very much! "
You have already made your decision – you want to gift your body with healthy sleep. Free from the countless WLAN, mobile phones and smartphones that your neighbors have and that you can't control. If electrosmogElectrosmog is a colloquial term for all emissions from electric, magnetic, and electromagnetic fields. More from the power supply is not a problem for you, then this is the right canopy for you. Would you now like to test the canopy electrosmog EMF, sleep in it a few times and get used to it before buying it?
We send the Electrosmog EMF canopy with shieldingShielding is the protection from the effects of external fault zones and environmental influences (on a person's health most of the time). More flooring underlays. In other words, we ship it with the full equipment for optimal protection against mobile radiation from above, underneath, and all around caused by WIFI, DECT, mobile phones, LTE, etc. Below are the contents of the canopy electrosmog EMF set for rental:
Renting and buying the Electrosmog EMF canopy
The most important thing first – YES, the rental fees are paid in full when buying the canopy. You can also choose to keep the canopy you receive, which makes taking it down and putting it back up unnecessary. If the canopy was already rented out several times, you will get a price reduction reflecting this.
CANOPY ELECTROSMOG EMF
… all details and variants at a glance!

Rental fees: lump sum of €298 for 14 days and 14 nights, extra charge for longer rentals
You order the rental canopy for the full purchase price. Included in that price is the lump sum rental fee of €298 including shipping and return – the price added to the full price is the deposit that you get back on your bank account minus possible extra rental days. Please provide us with your bank details when ordering – use the comment section. If you want to keep the canopy, there will be no extra charges – everything is already paid for.
Rental begins when you receive the parcel from the parcel service at your address. Rental time is automatically prolonged by 14 further days for an extra €250 if the canopy is not handed over to the parcel service after the 15th at the latest – Sundays and bank holidays excluded. If the canopy is not returned after 4 weeks of rent (base rent + 14-day extension), it automatically becomes the client's property. Rental will be over and you will not be able to return the canopy. Please take good care of the canopy. You are liable for losing or damaging the rented goods and will pay for repair costs or the purchase of a new canopy. You receive a functional canopy that is in good condition – in most cases, a new canopy.
We recommend 4 wooden bars to mount and straighten the canopy. They are not needed for rental, but they need to be bought at the DIY store and installed when you buy the canopy. That way, you will get more space in the canopy and the fabric will be spared because it will no longer be "sagging".
Note on the box-shaped canopy
A box-shaped canopy offers a spacious feel to the room. Two lateral overlapping entries. Making the bed is easy without having to move the canopy.
Drawback: Cannot be hung onto sloping rooves. All measurements depend on the fabric with +/- 10 % tolerance!
Entry: Two overlapping openings.
Mounting: Hang to four points of the ceiling. To stabilize the box shape, poles (do not come with the delivery) can be slid in to the flaps sewn above.
Scope of delivery: Canopy, fixing material.
Note on the pyramid-shaped canopy
A pyramid makes sense if you want to hang it up quickly or if there is a sloping roof. Only suitable and sensible for single beds up to 100 cm in width because otherwise, the slope will be too big. The pyramid canopy has a significant drawback: the canopy only offers limited space, therefore "making the bed" is only possible after moving it. This constant movement of the fabric leads to a shortened lifespan of the Silver Tulle shielding fabric's maximum screening effectiveness and therefore of that of the canopy.
Documentation of the canopy electrosmog EMF (.pdf)
Technical details canopy double bed
Technical details canopy single bed
Technical details canopy pyramid
Screening attenuation
Expert report EMF Test Lab Bavaria