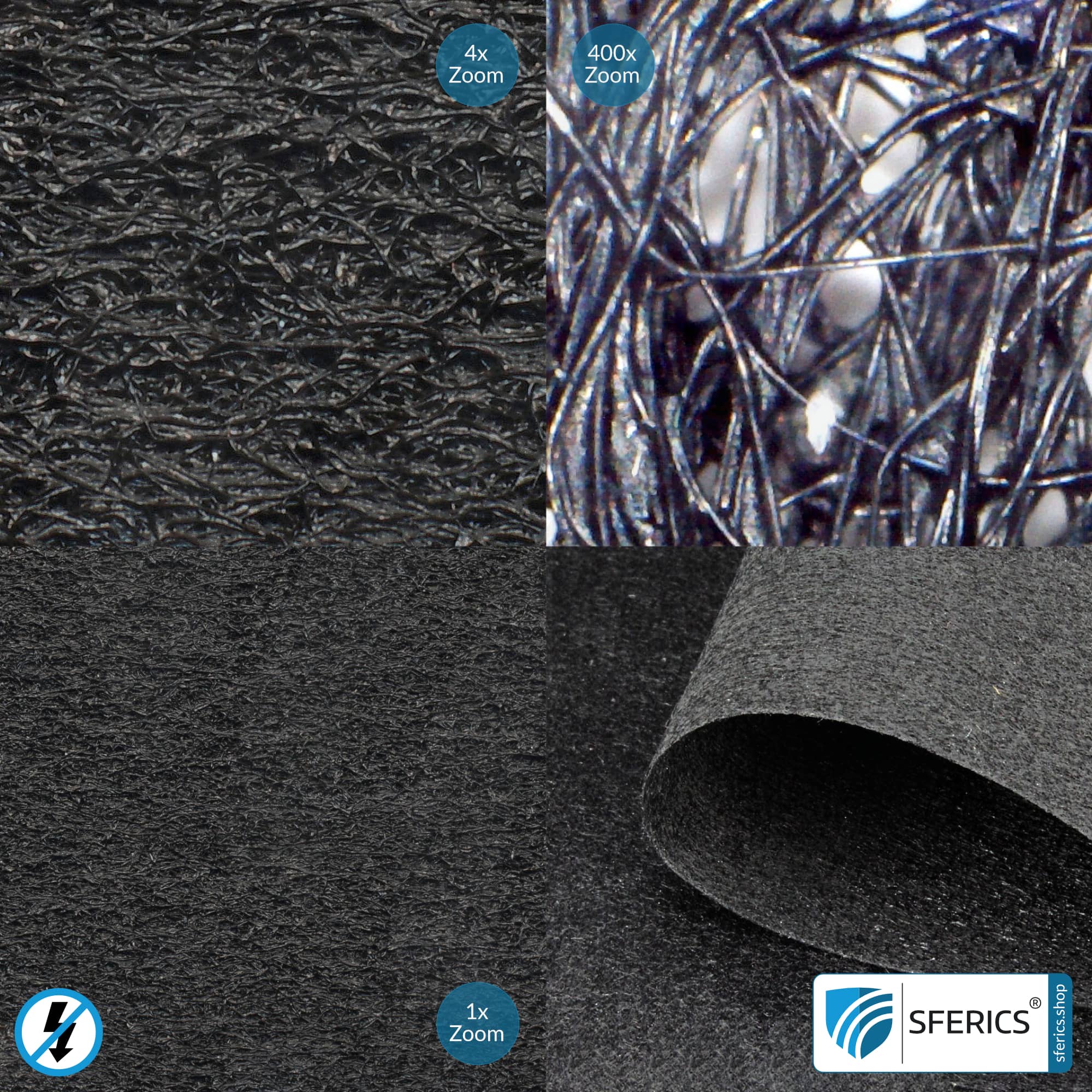 NCV95 shielding fleece is a carbonized polyester fleece. The NCV95 makes effective protection from low-frequency electric fields possible. Shielding efficiency 99% (40 dB). Usable as grounded mattress pad.
According to Faraday, effective shieldingShielding is the protection from the effects of external fault zones and environmental influences (on a person's health most of the time). More needs to be on 6 sides – 4 walls, the ceiling, and the floor. Most of the time, the walls and ceiling are quickly and effectively protected, the floor with the laid power lines is generally the biggest "construction site". Depending on the existing load, removing flooring might be necessary, which is either financially damaging or simply not possible in a flat or parquet floor.
With our meshes and fleeces, we now have a solution to this problem. This NCV95 shielding fleece is ideal for large surfaces as well as for local use as an earth carrier in bed. An additional thin floor (ex: click laminate) can be laid on top of the existing flooring.
The NCV95 is also ideal as a groundable mattress pad between the slat frame and the mattress to protect from low-frequency electric fields and to ground it before a person can go to sleep on it. If the fleece is laid on an even larger surface, the whole bed can be put on the grounded shielding fleece.
The screening attenuation is a sensational 40 dB which is equal to 99% protection against LF.
NCV95 shielding fleece technical information
Screening attenuation: up to 40 dB

Length: by the meter / 20 m roll
Width: 95 cm
Length: Yard goods / 20 m roll
Grammage: 90 g/m²
Thickness: 0.55 mm
Tear resistance: 260 N/mm lengthwise, 35 N/mm laterally
Materials: Polyester, carbon layer
GroundingGrounding is an electrically conductive connection with the electric potential of the ground. More: Electrically conductive. Can be contacted and grounded to shield against alternating fields (LF)! You can find the corresponding components under "Grounding". It is difficult to recommend anything because it depends on the usage. Please ask us!
Application: Floors, indoor walls, ceilings
Field type: LF (low-frequency alternating fields)
Ecology: Normal
Color: Black

Processing the NCV95 shielding fleece
In case of processing NCV95 as an intermediate layer we recommend using a commercially available dispersion glue for adhesion. The wall and the backside of NCV95 should be coated with a paint roller. Insert the material wet on wet. Fix it manually (with disposable gloves) and press a gummed roller against the fleece to get a crease-free surface. Work quickly and strip by strip only so that the dispersion glue does not dry.
You can only apply the fleece crease-free on smooth surfaces! Structured surfaces (wood-chip wallpaper, structural plaster, roller structure of paints) must be smoothed. If this is not possible, we recommend using the NSF34 shielding paint. If using it as a "grounded mattress pad", the strip has to be grounded with a GD grounding plug or GP grounding plug. In this case, the earth checker should not be forgotten in order to be sure that the earth also works.
Order quantity, revocation of the order and small quantity surcharge
If the fleece has been cut in pieces of 1.0 running meter as requested by the customer, it is not possible to cancel or revoke the order. For this reason, it is possible to request a free sample of the shielding fleece. By ordering pre-finished products, waiving the statutory right to return goods is accepted.
Small quantity surcharges for small quantities up to 3 running meters have been removed for reasons of transparency and fairness. The individual linear meter therefore always has the same price or price advantage for larger quantities. To refinance expenses and packaging, we charge a flat rate of € 6,90 per cut.
Documentation (.pdf)
Technical details