This shielding hoodie impresses with its durability and high wearing comfort. The thin long-sleeve T-shirt with a hood protects against radio frequency radiation (mobile phone radiation, WIFI, LTE) with a shielding attenuation of up to 40 dB (99,99%). Classic cut in neutral black. 5G ready!
This shieldingShielding is the protection from the effects of external fault zones and environmental influences (on a person's health most of the time). More hoodie or long-sleeve T-shirt with a hood, made from the high-quality Black-Jersey shielding fabric, is a versatile piece of clothing that can be worn as a light pullover over a shirt or directly on the skin. It is perfect as a pajama top in combination with the corresponding long underwear. Each hoodie is made with great care by hand in Germany and is not a mass-produced off-the-shelf product. The high performance of the Black-Jersey shielding fabric makes this long-sleeve T-shirt the ideal companion, at home, on vacation, or on business trips.
Black-Jersey is a densely woven cotton fabric characterized by a high silver content and is considered our currently best and most stable clothing fabric. The shielding fabric produced in Germany is characterized by an exceptionally high shielding attenuation for a fabric with such a high cotton content.
We place great emphasis on the production of high-quality individual pieces that stand out for their uniqueness and quality. With our long-sleeve T-shirt with a hood made of Black-Jersey, we have a product in our range that is both comfortable and functional. The high-quality workmanship and the use of first-class materials guarantee both high wearing comfort and durability.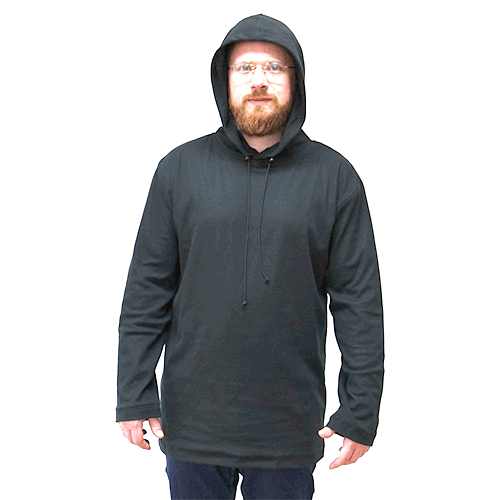 The Hoodie / Hooded Shirt / Pajamas is above all: FLEXIBLE!
Our hoodie is a universal piece of clothing that is suitable for almost any occasion. Whether at home, on vacation or on business trips, the shielding long-sleeve shirt is always appropriate. It can be worn as a light pullover "over" or "under", for example under a shirt. Its versatility makes it an excellent choice. It is even ideal for bedtime. As the top of a pair of pajamas or a sleep suit, worn directly on the skin, it ensures high wearing comfort. Our hoodie is remarkably flexible and is one of the highest quality individual pieces that are produced in our sewing shop.
Technical data for shielding hoodie against electrosmog
European sizes: S, M, L, XL, XXL
Attenuation: 40 dB. All values provided apply for 1 GHz. Measurement from 40/600 MHz to 40 GHz according to standards ASTM D4935-10 or IEEE Std 299-2006.
Color: Black with a metallic shimmer on one side
Weight: 350 g
Raw materials: 83 % cotton, 17 % silver thread
Surface conductivity: 3 ohm (square resistance)
To ensure long-lasting enjoyment, here are a few important rules:
Every "regular" detergent destroys the shielding effect in no time. We have an ideal detergent available in the shop.
The sleeves of the hoodie are long, possibly too long. This is done intentionally, as longer means a radiation advantage when the sleeve reaches up to the fingertips. If the hoodie sleeves are much too long, simply roll them up to fit.
The shielding hoodie, like the shielding pants, is intended as a mobile extension to the shielded bedroom, bed in the shielded canopy, or shielded apartment. For staying in the garden, for shopping, for vacation, or for business trips.
Länge Schultersaum: 70 cm
Länge Schultersaum: 75 cm
Brustumfang: 102 – 110 cm
Länge Schultersaum: 78 cm
Brustumfang: 111 – 118 cm
Länge Schultersaum: 80 cm
Brustumfang: 119 – 133 cm
Länge Schultersaum: 85 cm
BLACK-JERSEY | a versatile fabric creates the possibility for protective clothing
With this hoodie or hooded shirt, we also want to show what can be produced with a high-quality shielding fabric like BLACK-JERSEY. Therefore, there is nothing to prevent sewing your own shielding garments from it. However, if the shielded inside of a jacket or blazer becomes a topic, we recommend using the SILVER SILK shielding fabric.
The properties of BLACK-JERSEY convince along the full length:
Due to the high cotton content of 83 percent and the jersey-typical elasticity, incredibly soft on the skin = high wearing comfort
Very high shielding attenuation for a fabric with so much cotton content
High durability guarantees a long lifespan
Care of the shielding hoodie made of BLACK-JERSEY
The normal "shrinkage" that happens after the first wash should not happen with SILVER ELASTIC as long as the washing temperature stays at 30 °C. Wash gently at 30°C.
Gentle cycle at 30°C
Iron without steam at degree 1
No drying in tumble dryers
No bleaching
No chemical dry-cleaning
Wash only with our special washing detergent TEXCARE, without enzymes or bleaching agents
For allergy sufferers: every new fabric smells, wash before first use! We recommend TEXCARE or our ecological, vegan UNI SAPON detergent.
No right of withdrawal for textile shielding products
Please note that shielding hygiene products such as clothing, blankets, bedding, sleeping bags, canopies, etc. cannot be returned or exchanged once used. The basis for this are applicable hygiene regulations, any one-off production as well as time-consuming and cost-intensive metrological testing in the EMF laboratory for quality testing of the returned textile products.
Documentation on shielding hoodie made of BLACK-JERSEY (.pdf)
Technical details
Laboratory report screening attenuation
Expert report EMF Test Lab Bavaria (soon)