Cap, black and shielding | Effective against RF electromagnetic pollution from radio waves (cell phone radiation, WIFI, LTE, …) with an efficiency of 99,99% (up to 40 dB). 5G ready!
This shieldingShielding is the protection from the effects of external fault zones and environmental influences (on a person's health most of the time). More cap combines high flexibility, effective protection against radio waves, and a modern, minimalist design.
Made from our BLACK-JERSEY shielding fabric, this thin cap is very comfortable to wear due to its skin-friendly properties and jersey-like elasticity. Combined with a simple design, this cap is perfect for everyday wear. Effective against 5G!
BLACK-JERSEY is a dense cotton fabric with a high silver content and is currently one of our best and most stable clothing fabrics. The fabric is sourced from Germany and has an unusually high shielding attenuation for such a high cotton content of 83 percent.
Like all our mobile EMF products, this cap also extends the protected sleeping area or living space to provide effective protection against electromagnetic radiation. Although it cannot replace an EMF-shielded living space, the cap makes it easier for electro-sensitive individuals to move outside the shielded apartment, for example, on the way to work, shopping, or participating in public life.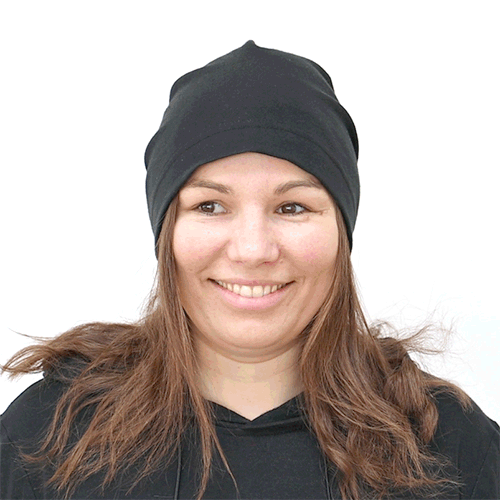 Black Cap | Further Details on Shielding Head Protection
Shielding attenuation at HF: 40 dB. All stated shielding attenuation values apply at 1 GHz. Measurement from 40/600 MHz to 40 GHz according to ASTM D4935-10 or IEEE Std 299-2006 standards.
Color: black with one-sided metallic shimmer
Materials: 83% cotton, 17% silver thread
Circumference: 56 cm
Height: 24 cm
Surface conductivity: 3 Ohm (square resistance)

Fabric Care for the Shielding Cap
Gentle wash at 30°C
Iron without steam at level 1
Do not tumble dry
Do not bleach
Do not dry clean
For Allergy Sufferers:
Every new fabric has a smell, wash before first use! We recommend TEXCARE (without enzymes or bleach) or our eco-friendly, vegan UNI SAPON laundry detergent as a washing agent.
General Information about Silver Products
Silver fabrics have a limited durability, and their lifespan depends on the frequencyFrequency is the number of occurrences of a repeating event per unit of time. It is a physical measurement that is important for describing periodic processes, such as vibrations. More of movement.
Our silver fabrics do not contain nano-silver but a thick metallic silver layer or silver thread.
No Right of Withdrawal for Textile Shielding Products
Please note that shielding hygiene products such as clothing, blankets, bedding, sleeping bags, canopies, etc., cannot be returned or exchanged if used. The basis for this includes applicable hygiene regulations, any custom-made items, and the time-consuming and costly electromagnetic field (EMF) laboratory testing required for quality control of returned textile products. If necessary, a fabric sample can be requested.
Documentation for the shielding cap (.pdf)
Technical details
Screening attenuation
Expert report EMF Test Lab Bavaria (soon)