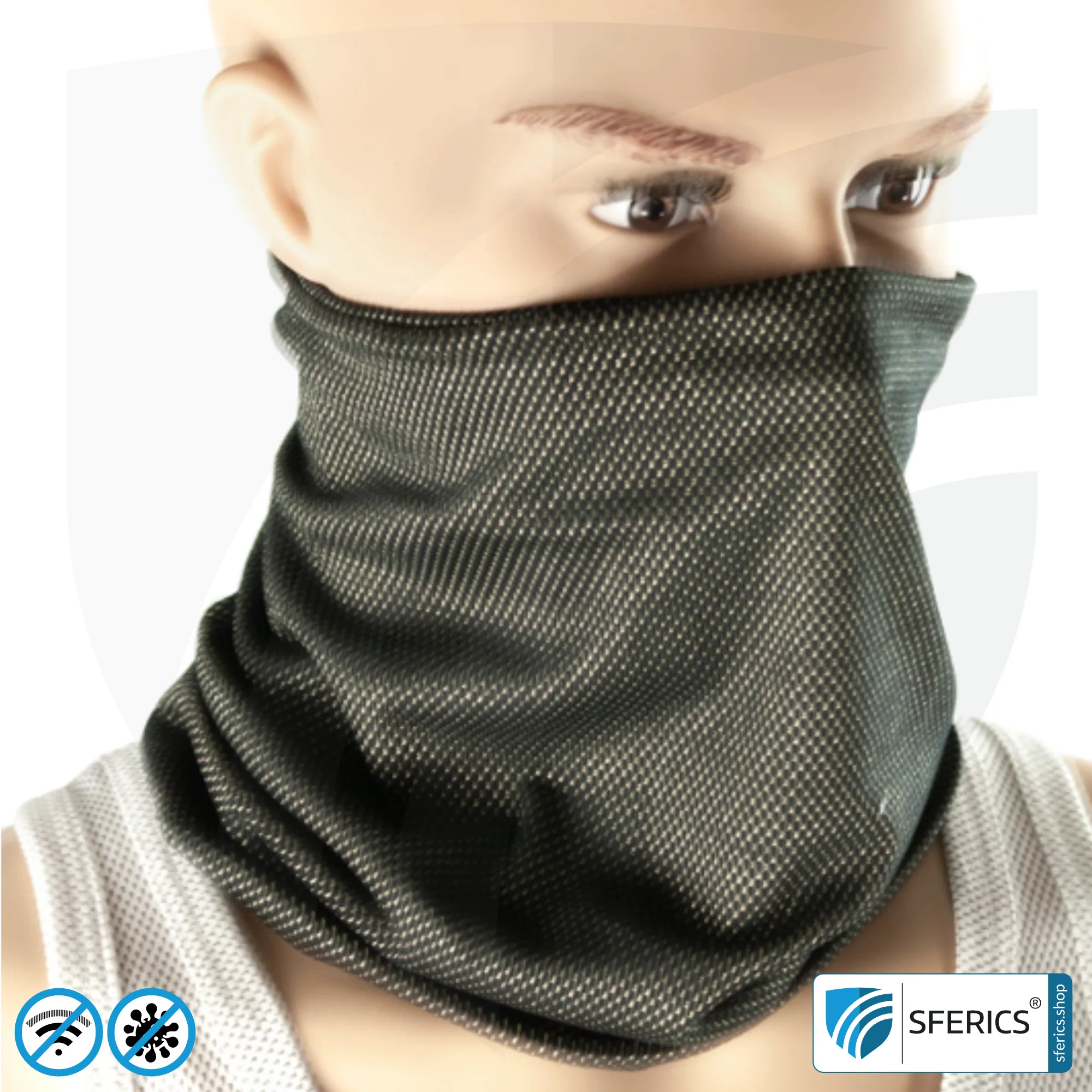 ANTIWAVE shielding, elastic tubular scarf. Effective against electrosmog HF through radio radiation (mobile phone radiation, WIFI, LTE, …) with an efficiency up to 99,9% (up to 33 dB). Made from NEW ANTIWAVE shielding fabric with silver for an antibacterial effect through silver ions. Pulled up over the face, it is also suitable as a face mask. Two colors: white and black.
This shieldingShielding is the protection from the effects of external fault zones and environmental influences (on a person's health most of the time). More tube scarf combines high flexibility, effective protection against radio radiation and noble design. Produced from our new shielding fabric New Antiwave, it can be worn comfortably on the neck and, if required, can also be pulled up as a face shield and is therefore also suitable as a mouth-nose protection mask. Due to the elastic shielding material the tubular scarf is comfortable to wear. Combined in a fashionable and high-quality design, this tube scarf is simply perfect for every day. Effective against 5G!
ANTIWAVE is our new generation of underwear and clothing that shields electromagnetic radiation directly on the body. This shielding tube scarf is a garment from this new product series. Completely i.e. 100% produced in Germany.
Like all our mobile EMF products, this tube scarf extends the protected bedroom or apartment by an effective protection against electromagnetic radiation. Even if it cannot be a substitute for an EMF shielded living space, it makes it easier for electrosensitive people to move around outside the shielded apartment, e.g. on the way to work, while shopping or participating in public life.
FROM THE ANTIBACTERIAL EFFECT OF OUR MASKS

In building biology, fungi are of crucial importance because of the danger they pose to health. And this infestation by bacteria and fungi is now also becoming the focus of attention in the protective mask for mouth and nose. Usually, when criticism is voiced about the mask, the CO2 pollution under the mask or the negative effect on the psyche is meant. We are convinced that if the same mask is worn regularly and sometimes for hours on end, this infestation by bacteria and fungi becomes the central theme in the warm and humid mask millieu.
With our masks, we have taken into account the maximum possible technical possibilities: Antibacterial effect, electro-smog shielding, high wearing comfort, highly developed technology fabric without nano-silver, innovative construction for maximum durability, washable without loss of function and much more. Just something completely different from classic or trendy, self-sewn fabric masks.
Confirmed by the laboratory: Bacteria and fungi proliferate on masks!
In the meantime, results from the laboratory are available and these are anything but encouraging. The exact opposite is the case. And no, it is not about CO2, it is about bacterial and fungal infestation in and through masks.
FRIGHTENING HIGHLIGHTS
A laboratory test shows: bacteria were found on masks of Zurich commuters. 20 masks were examined.
The three most important bacteria are staphylococci as well as moulds and yeasts. However, these bacteria do not only collect on the masks.
The disposable masks of commuters are covered with bacteria and fungi.
Many of these commuters claim to have worn the mask for days or weeks.
The test was conducted in Zurich, Switzerland. The consumer magazine "K-Tipp" examined how clean the hygiene masks of commuters were after wearing them.
Bacteria and fungi proliferate on masks!
The findings of the laboratory are alarming. 11 of the 20 masks examined would have contained over 100,000 bacterial colonies, three of which were even over a million. A sample of touch screens from the ticket machines served as a comparison. The value there was between 3 and 69 such colonies.
The microbiologists found staphylococci on 14 of the test objects. These occur mainly on the mucous membranes of humans and animals. Some of the staphylococci species can cause pneumonia or meningitis.
On 15 of the masks, the laboratory technicians discovered moulds and yeast fungi. According to the Swiss Federal Office of Public Health, inhaling the spores could cause respiratory tract and eye irritation. While healthy people need hardly fear any consequences, the situation is different for people with weakened immune systems. Inhaling the spores could lead to allergies, asthma or even bronchitis.
Bacteria and fungi reach the mask via the hands
The masks filter the air flowing through. In addition to corona viruses, bacteria and fungi are also trapped. Bacteria could multiply quickly on the warm, moist masks. Fungi, on the other hand, do not multiply on the mask.Bacteria and fungi could get onto the mask via the hands if the mask wearer touched the mask with unwashed hands.
Effective EMF protection with ANTIWAVE tube scarf
Thanks to the innovative structure of the NEW ANTIWAVE shielding fabric and the use of high-quality materials, this tube scarf protects against electromagnetic radiation in the range from 20 kHz to 10 GHz with a shielding effectiveness of over 99.9 percent. This is also confirmed by an expert opinion from Prof. Pauli of the University of the German Armed Forces in Munich.
ANTIWAVE tube scarf also suitable as protective mask for mouth and nose
For this garment, New Antiwave was combined with another layer of fabric. This woven-in polyamide is coated with pure silver and thus has an antibacterial effect, which in turn further enhances the protection & hygiene function of the mask. This coating consists of 20% pure silver which surrounds the entire polyamide fiber. No nanosilver is used. The metallic silver is absolutely harmless for human health and nature.
Further details about the tube scarf against electrosmog HF
Color: white | black
Maximum shielding effectiveness: 33 dB
Maximum EMF Effective range: >99,9 %
Area of application: can be worn directly on the body
Raw materials: 89% cotton, 9% polyamide, 2% silver
Care of the ANTIWAVE tube scarf
Gentle washing at a maximum of 40°C. Gentle ironing on level 1. Do not tumble dry. Do not bleach. Do not dry clean. For allergy sufferers: Every new fabric smells, wash before first use! We recommend TEXCARE or our ecological, vegan UNI SAPON detergent.
For large area shielding of high-frequency electromagnetic waves
Very good tear resistance with soft quality, antistatic, elastic
100% textile properties
Elastic knitted fabric for various applications
The quality of New Antiwave is a right-left jacquard knit in a combination of combed cotton and silver-coated polyamide.
The coating is not made of controversial nanosilver, but of 20% pure silver, which surrounds the entire polyamide fiber. The metallic silver is absolutely harmless for human health and nature.
Pure silver has a natural antibacterial effect and can also have a positive effect on skin problems as well as excessive sweating and body odor.
No right of withdrawal for textile shielding products
Please note that shielding hygiene products such as clothing, blankets, bedding, sleeping bags, canopies, etc. cannot be returned or exchanged once used. The basis for this are applicable hygiene regulations, any one-off production as well as time-consuming and cost-intensive metrological testing in the EMF laboratory for quality testing of the returned textile products.
Documentation for the tube scarf (.pdf)
Size tube scarf
Technical data sheet