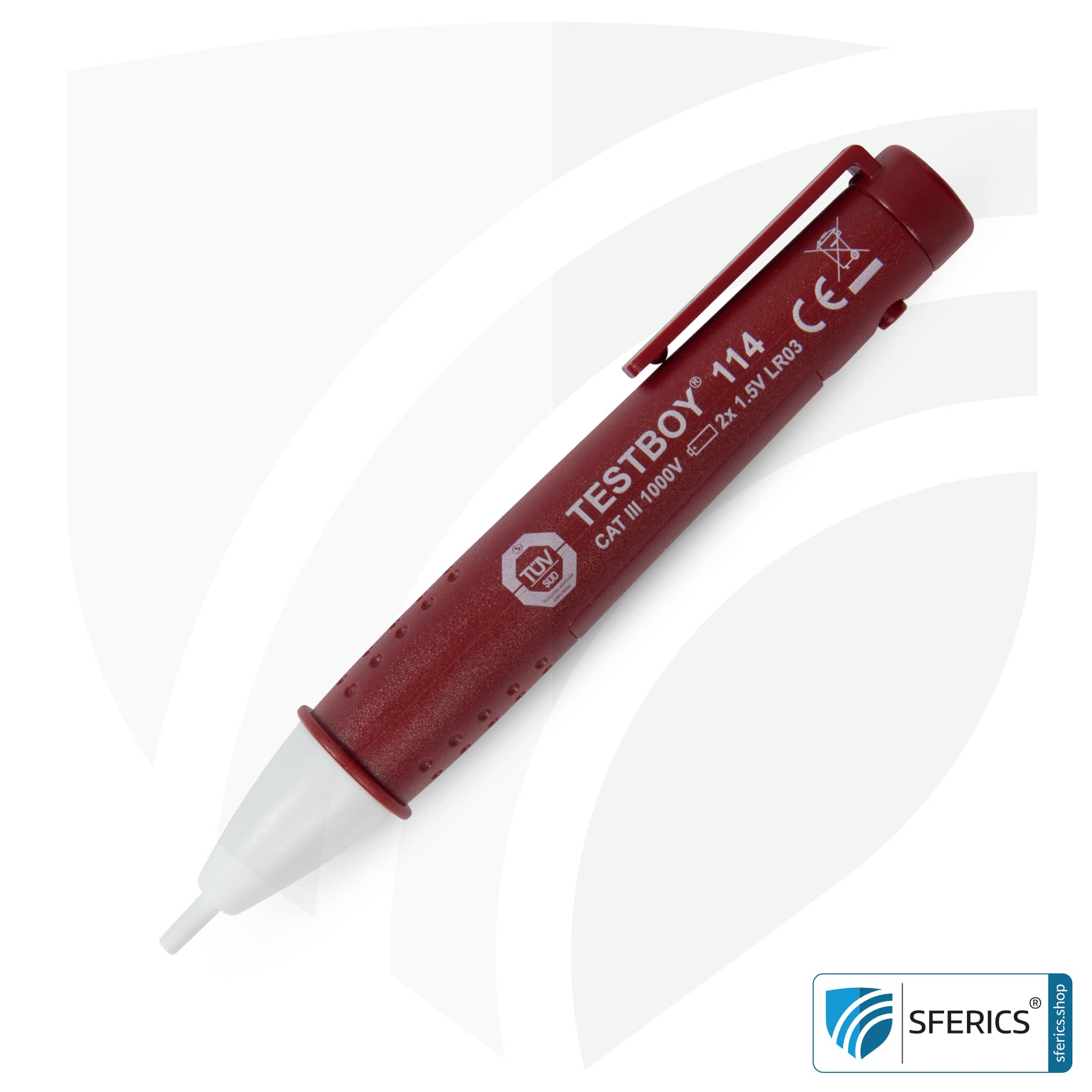 TESTBOY 114 is a voltage tester for detecting cable interruptions. Find the correct insertion direction of the cable?
DETECT ELECTROSMOGElectrosmog is a colloquial term for all emissions from electric, magnetic, and electromagnetic fields. More – REDUCE ELECTROSMOG – AVOID ELECTROSMOG!
The Testboy 114 convinces on the whole length. Both the type of signal message as well as the wide measuring range between 12 and 1000 volts AC (AC) make this a valuable tool in electrical problem detection. We are convinced that such a non-contact voltage tester should not be missing in any household or tool bag, so much so that the Testboy 114 makes everyday life easier when looking for an electrical fault.
There are several models from TESTBOY. We chose a high quality model that has the widest range of application and the optimal signal message upon detection of the error. To detect the TESTBOY 114 uses a capacitive measuring method (measurement based on change in the electric field). The measurement takes place without contact and is therefore simple, fast and effective. An invisible cable breakFault rocks are breaks that can arise from movements in the ground. Earth and rock layers are moved from their original position by fault rocks, which in turn moves minerals and metals. More in the extension cable can be located within a few seconds to the centimeter. The advantages of Testboy 114 are:
capacitive measurement procedure
measurements from 12 V
LED torch
optical indication (red luminous)
vibrating indication

Enormous measuring range of the Testboy 114 allows a wide application
The application can not be simpler. Simply slide along the power cable with the Testboy 114; if the signal is interrupted, the interruption in the electric cable is found. The detection starts at 12 volts and reaches 1,000 volts. Thus, with just this one voltage tester, just about anything electrical in the home can be checked. The Testboy 114 was designed to detect interruptions, but we see a major advantage in detecting and avoiding electric fields with this voltage tester. Thus, the correct insertion of the power plug alone can significantly reduce the automatically produced electric field.
Examples of possible applications of the Testboy 114
A loose contact in the electric cable from the household appliance. Depending on how the cable is twisted or bent, this will work with a connected home appliance. With the Testboy 114 the cable break is found immediately.
An LED in the fairy lights is defective. This leads to the fact that the whole fairy lights no longer work. With the Testboy 114, the spot with the defective LED is found immediately, replace LED, done.
Incorrect plugging the power plug produces an unnecessarily high electric field. With the testboy 114, the optimal insertion direction can be found.
Spezifikationen des TESTBOY 114
Display: Optical + vibrating
Measurement range: 12-1000 V AC
Overload category: CAT III 1000 V
Integrated LED-torch lamp: yes
Standard: IEC/EN 61010-1 (DIN VDE 0411)
Housing: ABS synthetic material, resistant to breaking by impact
Dimension: 160 x 25 mm
Weight: 45 g
Colour: red
Scope of delivery: incl. batteries
Documentation for the voltage tester (.pdf)
Manual instructions
Technical data
Detection of false insertion of the mains plug (german)