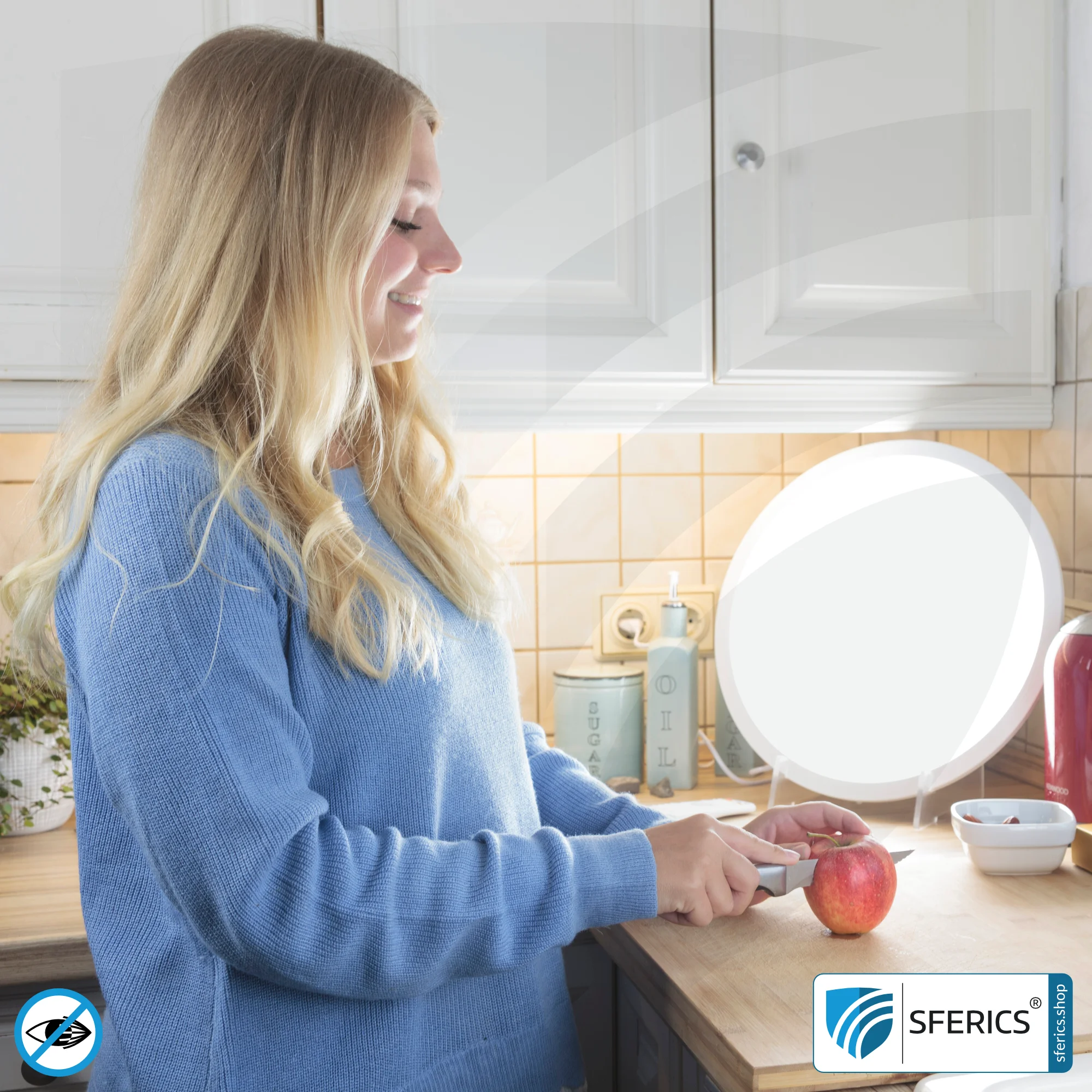 Light is life! Especially in the dark season we notice it when the body craves every ray of sunshine. The LENA 500 is a revitalizing light shower, a feel-good light for the home that is close to the sun. Just a few minutes a day make a difference in your well-being.
Conclusion: Simply a blessing at any time of the year!
The building biology focus in terms of enormous light quality is clearly the top priority with the LENA 500. Due to the shielded electric cable, this LED daylight lamp is partially shielded at low frequency and produces a significantly reduced alternating electric field LF. However, due to the interrupted LF shielding, this lamp is a building biology compromise. Regardless of this, this full-spectrum daylight lamp simply leaves you speechless as a vitalising light shower. The maximum light experience of 10.000 lux is already possible and effective from a distance of 40 cm!
We are all familiar with the cold months of the year, when the sunlight is much lower and, above all, weak. Due to the weather and depending on the region, fog may also appear and that's it for the sunlight that promotes well-being. Thanks to the LENA 500 light bath, this no longer has to be the case.
Speaking of full-spectrum light: This light is currently the best artificial light, which offers all living creatures not only the brightness but also many of the advantages of sunlight. Full-spectrum daylight contains almost the same color components (spectral components) as sunlight. It also contains the 7 colors of the rainbow.
LED light shower LENA 500 is a wonderful solution to a lack of light!
Indulging in this near-sunlight for just 20 minutes a day will change your personal sense of well-being and vitality in everyday life. Especially in the dark winter months of the year. For the full effect of the LENA 500, regularity is decisive and less so duration. There will be days of 20 minutes and days with an hour of light bathing or longer – the only thing that matters is the daily dose of bright caressing from special revitalizing full-spectrum daylight.
The daylight lamp is best set up nearby so that the brightness is perceived as pleasant. Eye contact is crucial. The full-spectrum light should be able to reach the eye directly and unhindered. In between, you can also look directly into the light if you like. When first used as light therapy, it is sometimes surprising that this light pleasure is pleasantly bright, but not warming. Completely in contrast to sunlight and this is exactly what makes this LED feel-good light shower LENA 500 so special: No danger of damaging UV radiation!

Application and assembly of the LED feel-good daylight lamp LENA
The LENA 500 can be used in two ways – standing and hanging. All the necessary accessories are of course included. A high-quality stand made of acrylic with a metal handle gives the LENA a stable stand on the tabletop. And with the hanging accessory for ceiling mounting, the daylight lamp turns into a floodlight for full-spectrum daylight for the whole room.
Our recommendation for the first applications is to approach this experience with an open mind. Each one of us reacts very differently, sensitively and sensitively to the full spectrum light. Therefore, our recommendation is to use the LENA 500 as regularly as possible in the morning or mid-morning. For example, breakfast is ideal for this – simply set up the light shower so close that the brightness is perceived as pleasant. And as a little tip: open the newspaper in the meantime – your eyes will be amazed the first time you look at the newspaper under this quality of light.
Warning notice for a good night's sleep!
Full-spectrum daylight promotes vitality, well-being and alertness. And is therefore "the enemy" for the release of melatonin from the body. Conclusion: No tiredness sets in. Therefore, when using the LENA at an advanced hour, use it very consciously and switch it off in good time, i.e. switch it off 1/2 – 1 hour before going to bed or dim it down as much as possible.
30 days money back guarantee!
We are so enthusiastic about this LENA 500 feel-good LED daylight lamp that we are extending the usual 14-day right of withdrawal to a 30-day test period. We recommend using this time to get to know the effect of full-spectrum daylight. The body needs an average of 7 to 10 days to get used to this new "bright" full-spectrum light and to fully feel and enjoy its effects.
When lighting technology ensures well-being and vitality
This full-spectrum daylight lamp is switched and dimmed with a remote control. At a distance of 40 centimetres, the illuminance is an unbelievable 10.000 lux, which makes the LENA 500 ideal as a light shower when there is a lack of light and for more well-being. However, the flicker-free full spectrum produced is already effective from a distance of 80 cm.
Full spectrum daylight with CRI >95
flicker free
Without UV radiation
Remote control for switching on, off and dimming
light weight: 4,7 kg
Acrylic stand
Energy class F (previously energy class A++)
supported against:
– seasonal mood swings
– Winter blues
– listlessness
– Tiredness
Due to its proximity to sunlight, the LENA 500 has a similar supporting and revitalizing effect as the sun. Even if we see the main use mainly in the low-light months, this LED full-spectrum daylight lamp is of course of great benefit at any time of the year when there are signs of a lack of light.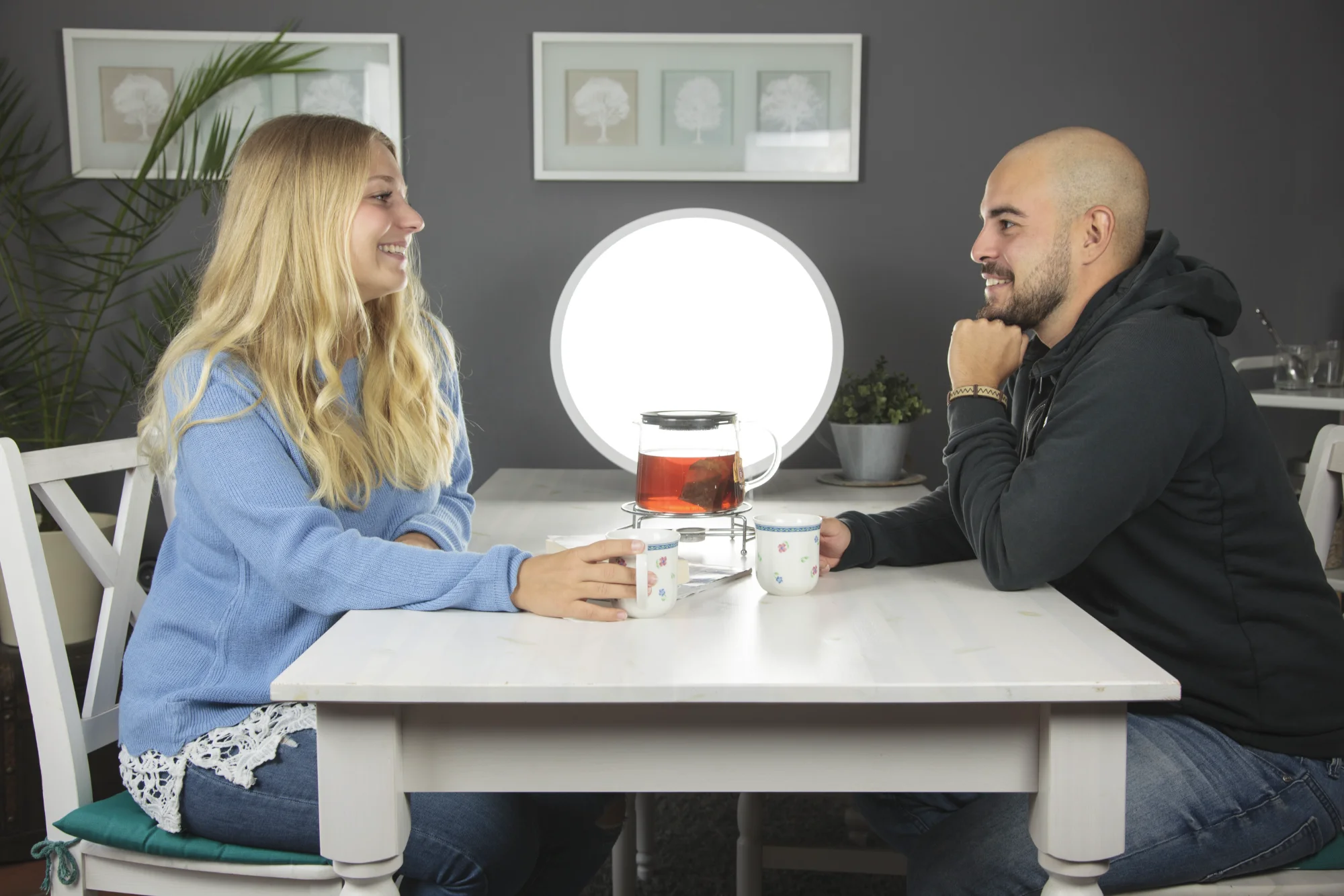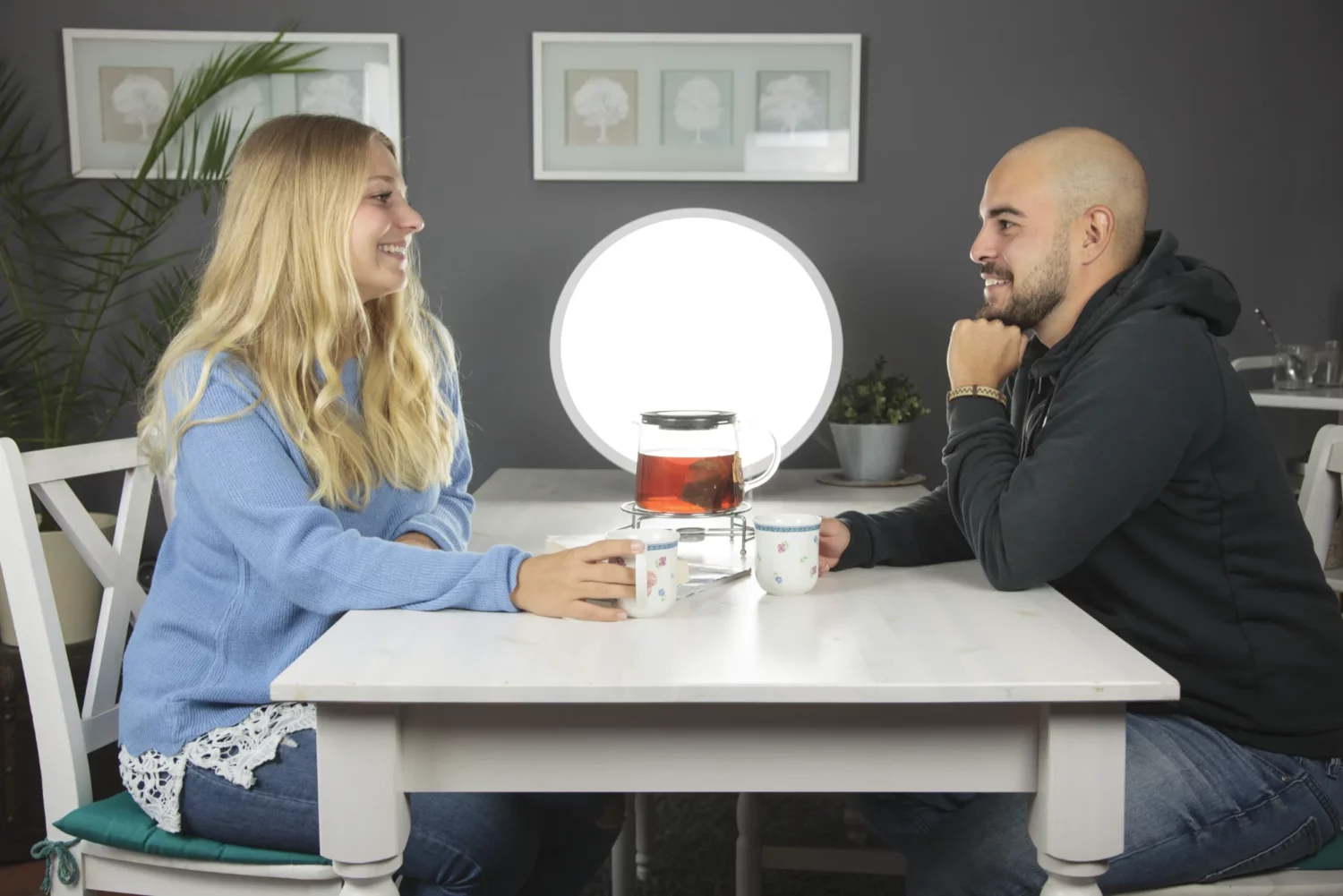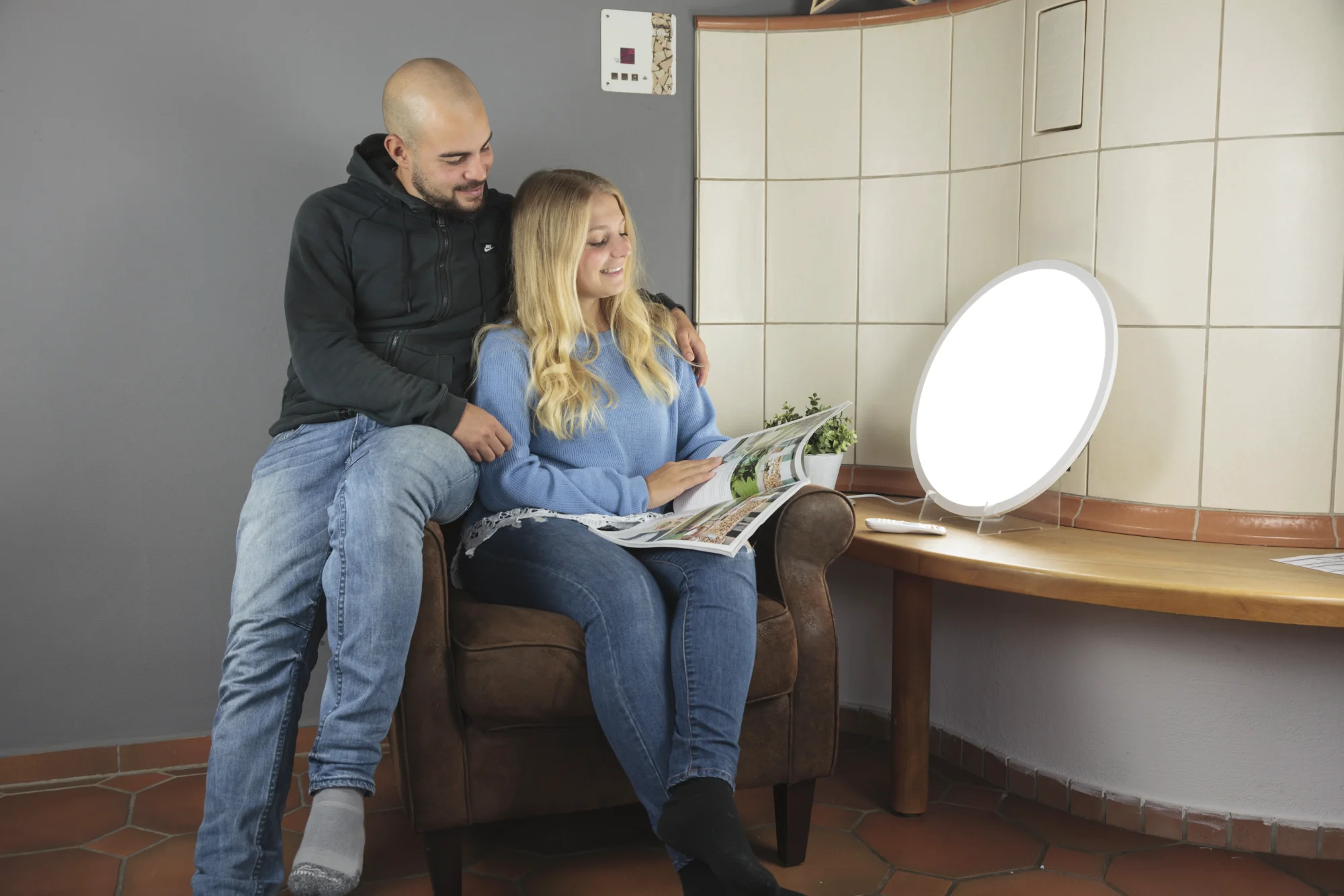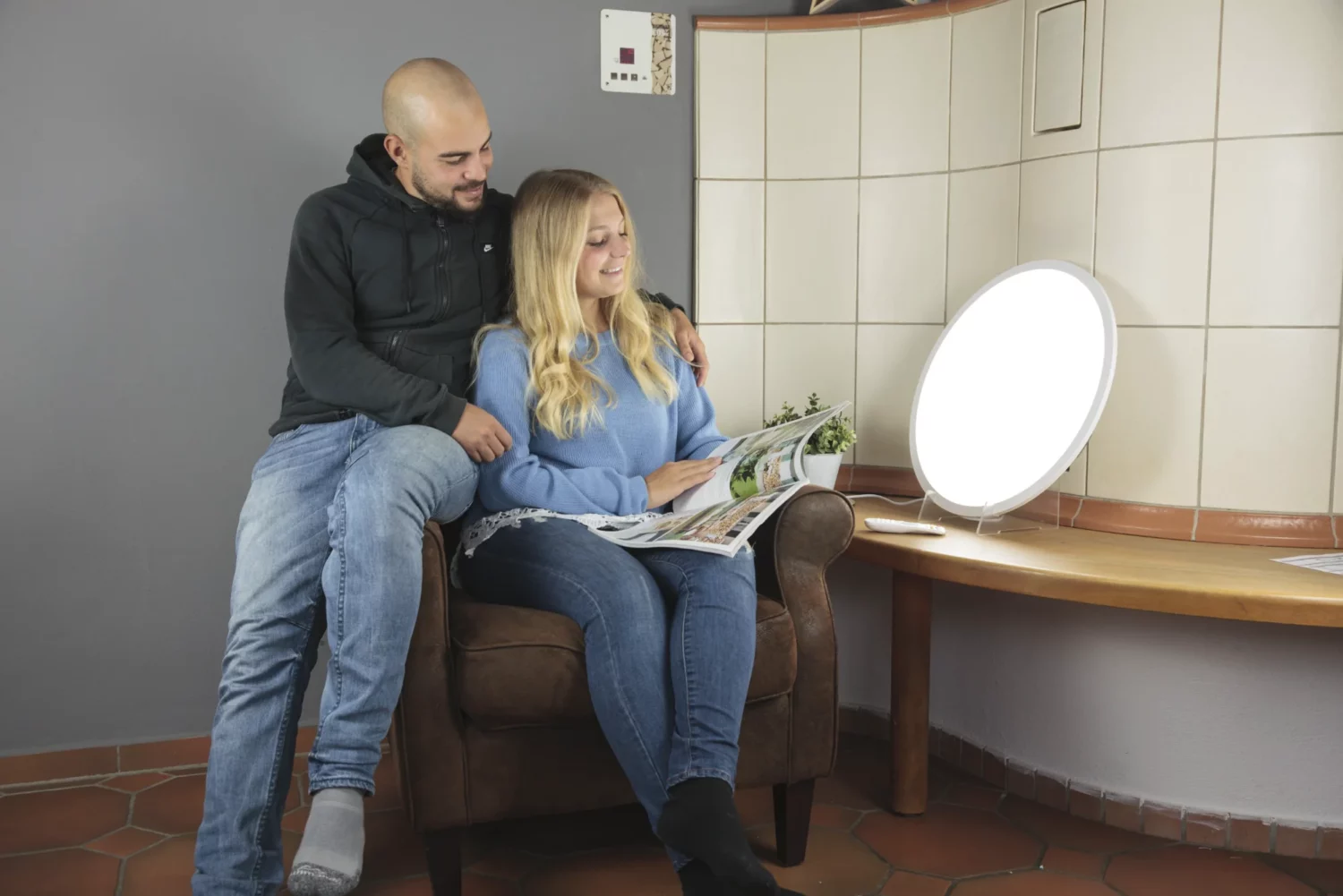 Full spectrum daylight, explained by the natur-nah® expert (german)

Benefits and areas of application of the light shower LENA 500
In addition to the therapeutic effect, the LENA 500 is extremely suitable as a table lamp for reading, handicrafts, painting, handicrafts and much more. Also very suitable as background lighting for various purposes such as watching TV or working in the kitchen when high-contrast light is an advantage.
The LENA is therefore not only an effective full-spectrum daylight lamp on dark days, but also an energy-giving lamp for every day.
Work and study with full-spectrum daylight
Of course, the LENA 500 is an extremely practical support when learning and working at a late hour.
Scope of delivery of an LED daylight lamp LENA 500
LENA LED panel, round
Acrylic stand with metal handle
Mounting accessories for ceiling mounting
Remote control with 2 AAA batteries
technical guide
Application Notes
FULL SPECTRUM LAMPS – THE HEALTHIER LIGHT
Our near-sun full spectrum daylight lamps support your natural vision and health in many ways. This is because their spectrum is very similar to sunlight. They therefore achieve similar supporting effects as the sun. The most important advantages for you are:
More well-being
High contrast viewing of small fonts
See and distinguish natural colours
Fewer eye problems
Less tired
Concentrate longer
More capacity
FOR THEIR ILLUMINATED EVERYDAY LIFE THIS MEANS:
Awake longer
Feel better
More concentrated
More relaxed eyes
Documentation (german / .pdf)
Operating instructions
Technical data sheet
EPREL product data sheet
The new EU energy label since 2021
The new EU energy label for light sources, which will apply from September 1st, 2021, not only looks different, it is also based on new, stricter classification criteria. As a result, lamps and lights are classified in lower energy classes. However, nothing has changed in terms of the power consumption of the lamp.
Details on the new EU energy label 2021