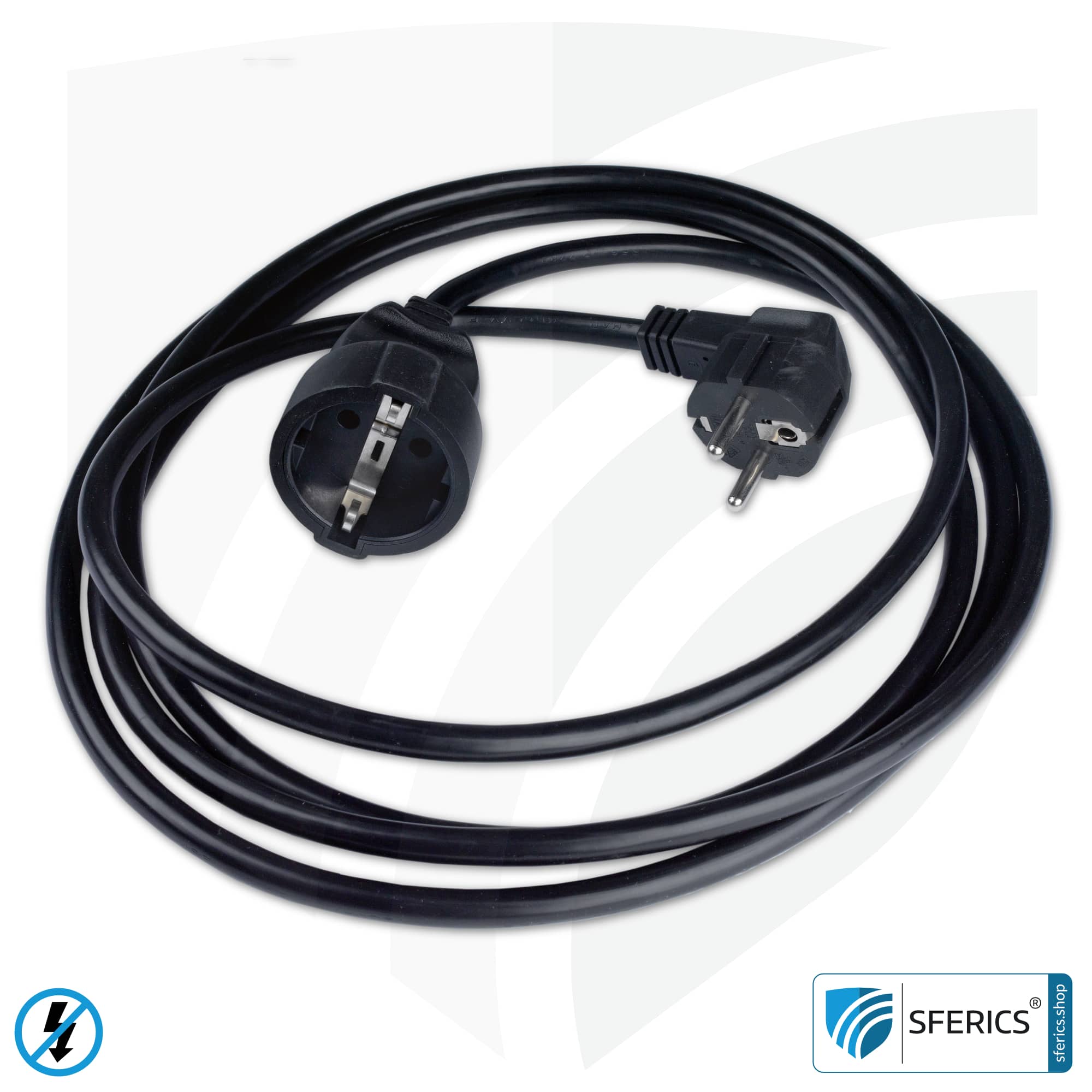 Shielded extension cable, black, to limit low-frequency electrosmog. Available in 2 lengths.
Shielded extension cable for shieldingShielding is the protection from the effects of external fault zones and environmental influences (on a person's health most of the time). More against low-frequency alternating fields. The conductors are twisted 15 times per meter in order to reduce the magnetic field.
Details of the shielded extension cable, black
Length: 3 meters / 5 meters
Wire size: 1.5 mm²
Color: black
Ideal areas of application and use
Bedroom and children's room
Living rooms
Offices / PC workstations
Home office
Guest room
Kitchen
etc.
PC monitors and PC power supplies
Printers, scanners, etc.
Irons
HIFI equipment
Kitchen appliances
Lamps
etc.

This cold appliance connection cable is usable in the following countries
CEE-7/4 (German system) and CEE-7/7 (French system): Afghanistan, Algeria, Andorra, Austria, Belgium, Bosnia-Herzegovina, Bulgaria, Croatia, Czech Republic, Estonia, Finland, France, Germany, Greece, Hungary, Iceland, Indonesia, Italy, Korea, Latvia, Lithuania, Luxembourg, Macedonia, Moldova, Monaco, Montenegro, Morocco, Netherlands, Norway, Poland, Portugal, Romania, Russia, Serbia, Slovakia, Slovenia, South Korea, Spain, Sweden, Tunisia, Turkey, Ukraine
Documentation (.pdf)
Technical data, 3 meters
Technical data, 5 meters