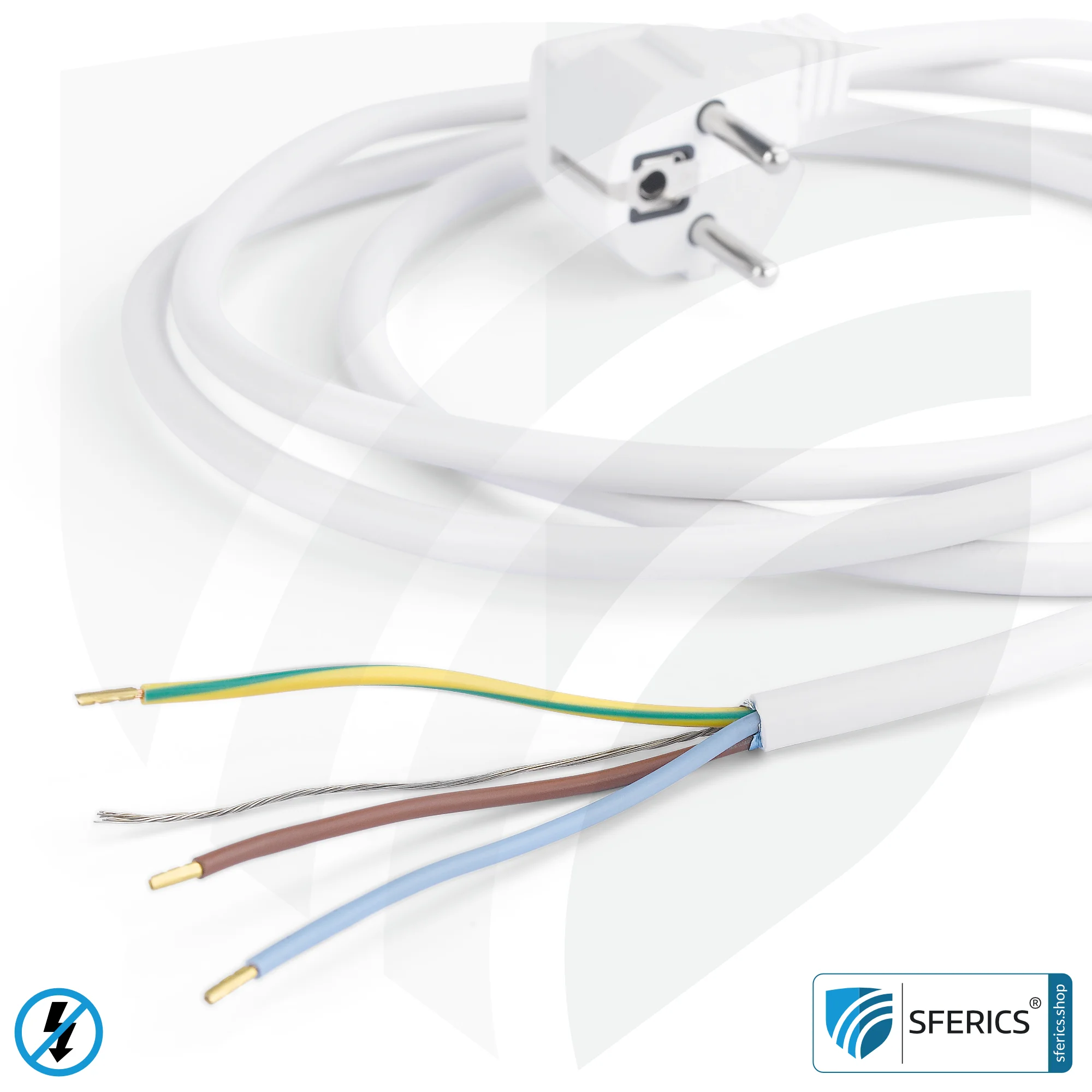 Shielded device connection cable with free end, white, for flexible use
This shielded electric cable with attached plug type EF and free end gifts you healthy freedom when dealing with electric appliances. Even if the device, such as a television, stereo system or SAT receiver, meet modern standards, like TCO, the electric cable used remains the "weakness" for electrosmogElectrosmog is a colloquial term for all emissions from electric, magnetic, and electromagnetic fields. More through low-frequency alternating fields most of the time.
With this shielded cable, an electrician can quickly and effectively change this situation – just by switching one cable.
After the change, the LF electric alternating field from the electric cable is no longer measurable or, in other words, it no longer exists. This shielded cable with free end also manages to lessen the magnetic fields. This is done by twisting the conductors 15 times per meter.
Details of the plug with shielded cable and free end, white
Length: 2 meters / 4 meters
Wire size: 3x 0.75 mm²
Color: white
Ideal areas of application and use
Bedroom and children's room
Living rooms
Offices / PC workstations
Home office
Guest room
Kitchen
etc.
For retrofitting protection class 1 devices (movable devices), e.g.
Lights
Iron
Kitchen appliances
Radio
etc.

This shielded cable is usable in the following countries
CEE-7/4 (German system) and CEE-7/7 (French system): Afghanistan, Algeria, Andorra, Austria, Belgium, Bosnia-Herzegovina, Bulgaria, Croatia, Czech Republic, Estonia, Finland, France, Germany, Greece, Hungary, Iceland, Indonesia, Italy, Korea, Latvia, Lithuania, Luxembourg, Macedonia, Moldova, Monaco, Montenegro, Morocco, Netherlands, Norway, Poland, Portugal, Romania, Russia, Serbia, Slovakia, Slovenia, South Korea, Spain, Sweden, Tunisia, Turkey, Ukraine.
Documentation (.pdf)
Download data sheet
Details on building biology electrical installations