Shielded Table Lamp made of Beechwood, cylindrical. With Natural Cotton / Linen Lampshade. Suitable for E27 Bulbs.
Ecology, renewable natural materials, and comfort are paramount in this shielded lamp series by Biologa Danell. The table lamp is made from the natural product, wood. Thus, each individually turned lamp base differs in color and grain from the next. After manufacturing, the beechwood is treated with natural oil-wax (Auro 129). Combined with various lampshades, it offers flexible use as a lamp in the bedroom, living room, or children's room.
Beyond protection from electric alternating fields, other building biology aspects have been taken into account. For instance, the inner reflector of the lampshade is made from paper-cardboard (instead of PVC plastic). The reason for this is to prevent any off-gassing from the reflector.
Cylindrical table lamp designed to reduce low-frequency electric and magnetic alternating fields | shielded from the bulb to the plug
Turned beech wood, with a lampshade made of natural-colored cotton (nettle fabric)

Waxed dirt-repellent surface that can be cleaned with a damp cloth
Perfectly suited for bedrooms and living areas

Protection class 1 (with protective conductor) according to DIN / VDE standards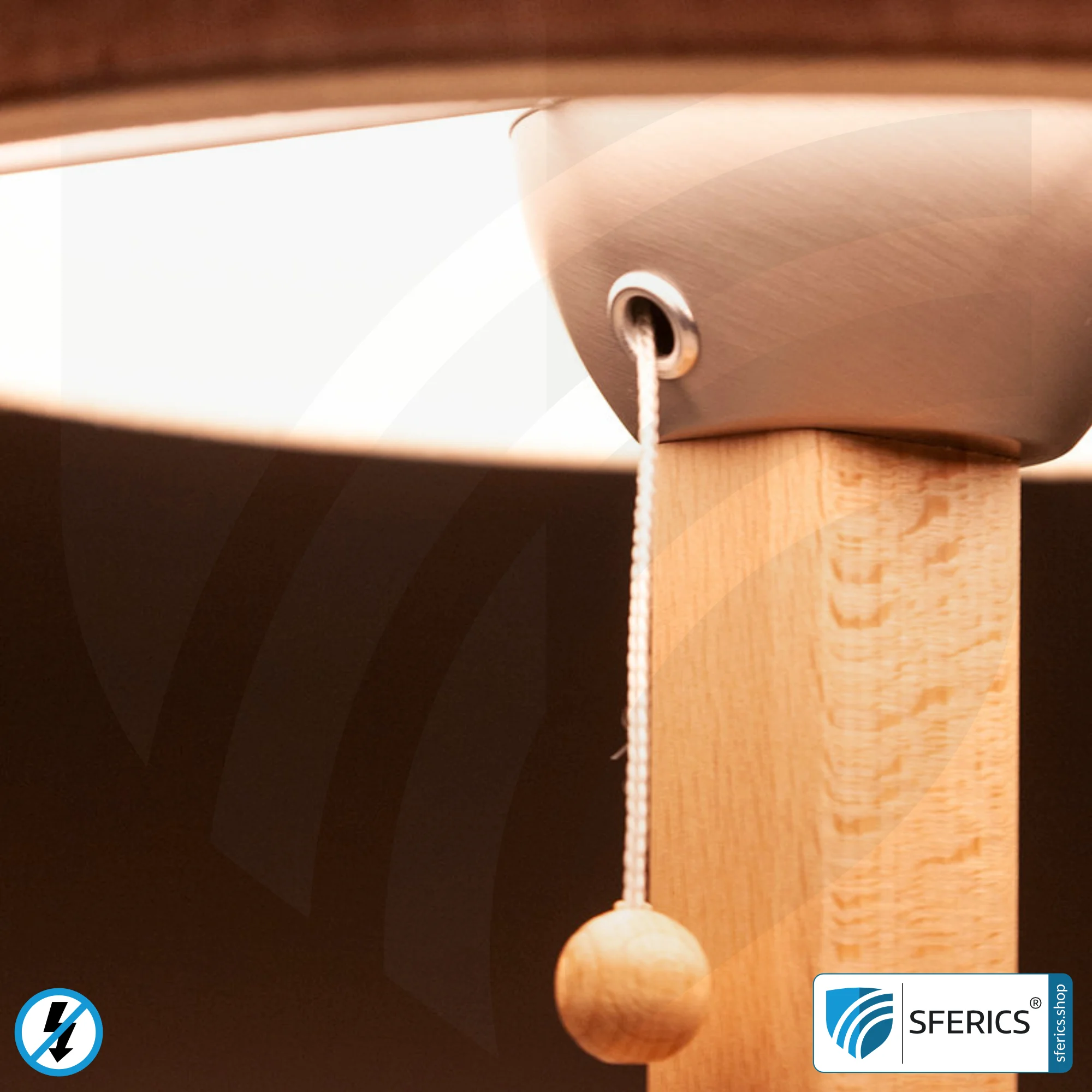 Unique shielding basket for replacing the light source
An unshielded lamp (protection class 2) with an unshielded connection cable produces an alternating electric field of 100 to 160 V/m. Consider: The recommended guideline value for building biology is a maximum of 10 V/m!
This shielded lamp (protection class 1) with the corresponding construction only produces an alternating electric field of a minimal 0,4 to 0,6 V/m.
Our lamps made of beechwood are manufactured in Germany; this applies to both the production and assembly. The high-quality lamp parts are the result of the craftsmanship of people with years of experience in their trade. This local production also allows for the replacement of individual parts, such as the power cord or lampshade, even after years.
Ecological motto: Create long-lasting products. Don't throw away, but redesign or repair.

Suitable bulbs for this lamp:
General bulbs with E27 socket
All bulbs with G9 socket (due to the included adapter)
Maximum 40 watts
In these countries this shielded lamp can be used:
CEE-7/4 (German System) and CEE-7/7 (French System): Afghanistan, Algeria, Andorra, Belgium, Bosnia-Herzegovina, Bulgaria, Croatia, Czech Republic, Estonia, Finland, France, Germany, Greece, Hungary, Iceland, Indonesia, Italy, Korea, Latvia, Lithuania, Luxembourg, Morocco, Macedonia, Monaco, Montenegro, Moldova, Netherlands, Norway, Poland, Portugal, Romania, Russia, Serbia, Slovakia, Slovenia, South Korea, Spain, Sweden, Tunisia, Turkey, Ukraine, Yugoslavia, Iceland.
Documentation (.pdf)
Technical data sheet