Shielded Table Lamp BERLIN | powder-coated, white | with integrated gooseneck, rotatable in all directions | Bamboo wooden base | E14 socket + G9 adapter
The shielded table lamp made of metal is distinguished by its bamboo wooden base and a shade in white. The interplay of white powder coating and beech wood creates a visually modern yet naturally designed appearance. Its flexible gooseneck, which can rotate in all directions, enhances the functionality of this lamp in a unique way. Due to this special feature of turning and bending, the beam of light can be individually directed for its application.
The BERLIN table lamp comes with a shielded connection cable of approx. 180 cm. The practical on-off switch allows for easy operation and is directly positioned on the lamp base. Due to the design of the lamp base, the table lamp remains stable in every shade position.
A special emphasis is on the completeness of the shielding: from the bulb to the plug, it is fully shielded and comes with a shielding basket and a G9 LED bulb.
Shielded table lamp made of metal with a bamboo wooden base
Gooseneck, rotatable in all directions modern powder-coated table lamp in white
Fully shielded from bulb to plug, including a shielding basket and Biologa Danell LED G9 bulb
Visually, ecologically, and naturally designed beech wood lamp with a natural-colored shade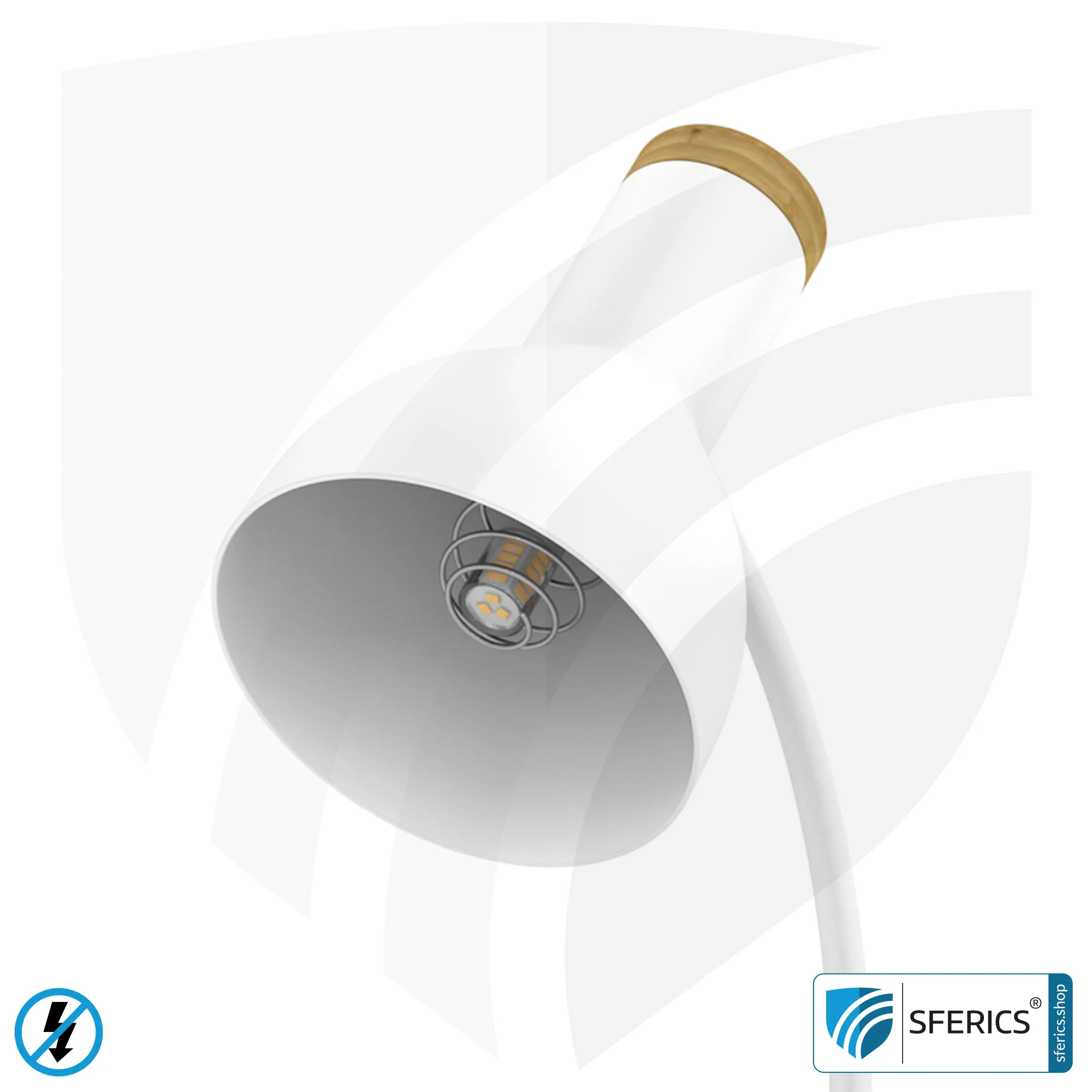 Unique shielding basket for replacing the light source
An unshielded lamp (protection class 2) with an unshielded connection cable produces an alternating electric field of 100 to 160 V/m. Consider: The recommended guideline value for building biology is a maximum of 10 V/m!
This shielded lamp (protection class 1) with the corresponding construction only produces an alternating electric field of a minimal 0,4 to 0,6 V/m.
Our lights are manufactured in Germany, encompassing both the production and assembly. The high-quality lighting components are the result of the craftsmanship of individuals with years of experience in their trade. This local manufacturing also allows the replacement of individual parts even after years, such as the power cable or the lampshade.
Ecological Motto: Create durable products. Don't throw away, but redesign or repair.
Suitable bulbs for this table lamp
Bulbs with E14 base
Bulbs with G9 base
In these countries this shielded lamp can be used:
CEE-7/4 (German System) and CEE-7/7 (French System): Afghanistan, Algeria, Andorra, Belgium, Bosnia-Herzegovina, Bulgaria, Croatia, Czech Republic, Estonia, Finland, France, Germany, Greece, Hungary, Iceland, Indonesia, Italy, Korea, Latvia, Lithuania, Luxembourg, Morocco, Macedonia, Monaco, Montenegro, Moldova, Netherlands, Norway, Poland, Portugal, Romania, Russia, Serbia, Slovakia, Slovenia, South Korea, Spain, Sweden, Tunisia, Turkey, Ukraine, Yugoslavia, Iceland.
Documentation (.pdf)
Technical data sheet
Info sheet shielded lamps