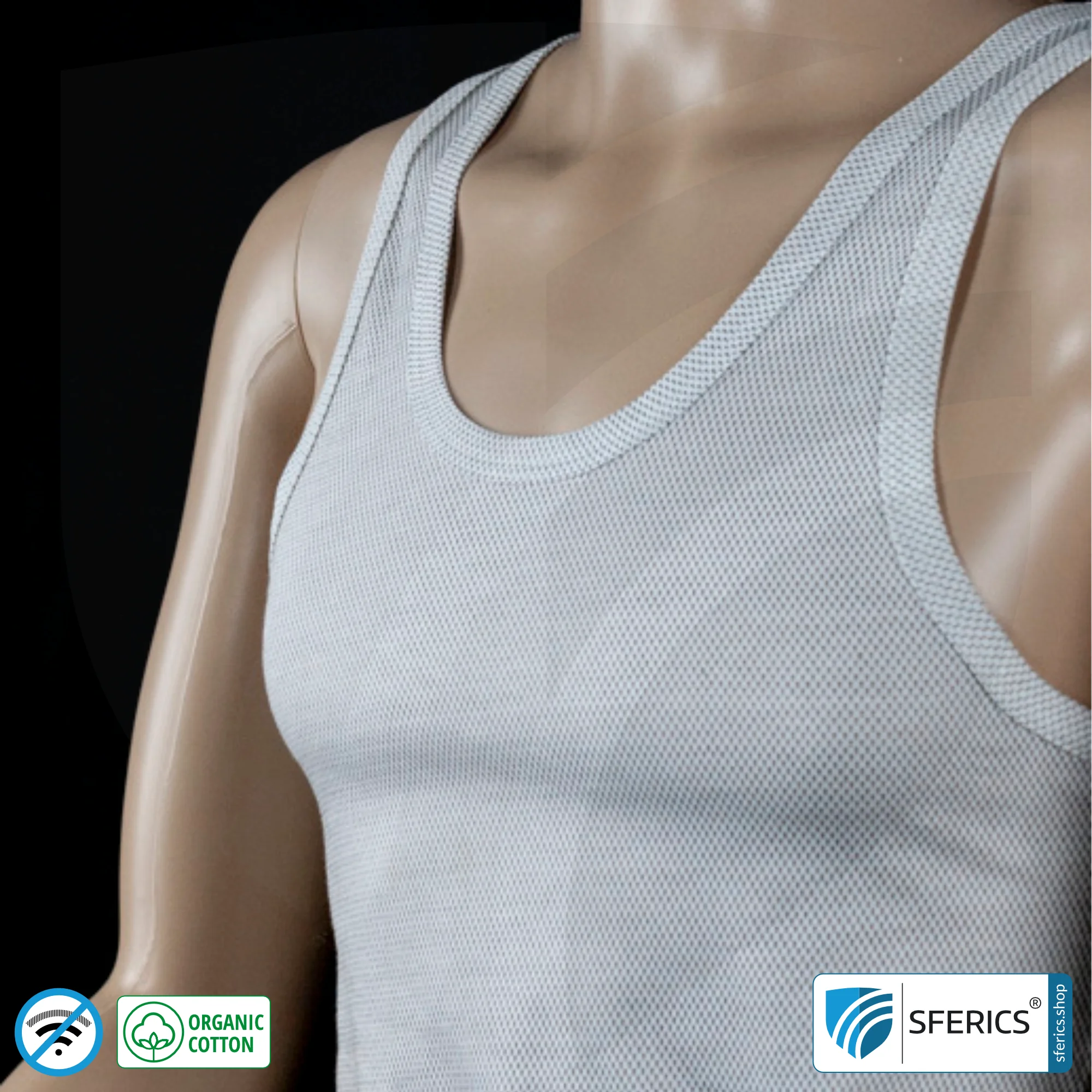 Shielding ANTIWAVE tank-top for men. Produced from NEW ANTIWAVE, this underwear protects up to 30 dB against electrosmog HF (99.9% efficiency). Ideal for electrosensitive people to wear hidden underneath.
Our NEW ANTIWAVE shielding fabric combines effective protection against HF electrosmogElectrosmog is a colloquial term for all emissions from electric, magnetic, and electromagnetic fields. More with comfort and durability. These factors predestine this shieldingShielding is the protection from the effects of external fault zones and environmental influences (on a person's health most of the time). More fabric for the production of shielding clothing and shielding underwear. The quality of NEW ANTIWAVE is a right-left jacquard knit, in a combination of combed cotton and silver-coated polyamide.
The coating consists of 20% pure silver that surrounds the entire polyamide fiber. This means that NEW ANTIWAVE is completely free of the controversial nanosilver. Metallic silver is absolutely harmless to human health and nature.
ANTIWAVE shielding clothing at a glance
High wearing comfort = ideal as underwear for daily use!
Effective due to highly developed and well thought-out material composition – 89% cotton, 9% polyamide and 2% silver. This composition and high quality also make ANTIWAVE garments very easy to care for.
Right-left jacquard knit, in a combination of combed cotton and silver-coated polyamide.
Due to the fibre coating with the precious metal pure silver, no skin irritations are to be expected. No nano-silver!
Pure silver has a natural antibacterial effect and can also have a positive effect on skin problems as well as excessive sweating and body odour.
Like all our mobile radiation protection products, this shielding ANTIWAVE clothing is an ingenious extension of a permanent EMF full protection shielding by means of a shielded bedroom or shielding canopy. However, mobile shielding products are by no means a substitute for such full EMF protection. Properly used, this highly developed ANTIWAVE clothing can be an effective aid on the go. This applies to electrosensitive people and generally to everyone who wants to protect themselves from too much electrosmog HF.
Shielding ANTIWAVE tank-top for men convinces with durability!
This tank-top can be used in almost any situation. Whether at home, on holiday or protected on a business trip – the shielding tank-top simply always fits. Worn "over the top" or "underneath" a shirt, for example. And what about sleep – yes, of course that is also possible without any problems. Lying directly on the skin as the top of pyjamas or pyjamas.
Thanks to the innovative construction of the fabric and the use of high-quality materials, this knitted fabric protects against electromagnetic radiation in the range from 20 kHz to 10 GHz with an efficiency of >99.9 %. This is confirmed by an expert opinion by Prof. Pauli from the University of the Federal Armed Forces in Munich.

Technical data and the right size
European sizes: M, L, XL, 2XL, 3XL
Shielding effectiveness: up to 30 dB
Color: white / silver
Raw materials: 89% cotton, 9% polyamide and 2% silver
Basis weight: 140 g/m²
ANTIWAVE clothing is easy to care for!
Underwear made of particularly easy-care quality. A high-quality finish ensures that the shielding property is retained even after several washes. Due to the antibacterial effect of the silver, it is sufficient to wash the laundry at 40° C.
No right of withdrawal for textile shielding products
Please note that shielding hygiene products such as clothing, blankets, bedding, sleeping bags, canopies, etc. cannot be returned or exchanged once used. The basis for this are applicable hygiene regulations, any one-off production as well as time-consuming and cost-intensive metrological testing in the EMF laboratory for quality testing of the returned textile products.
Documentation on shielding tank-top for men (.pdf)
Size details
Technical data sheet