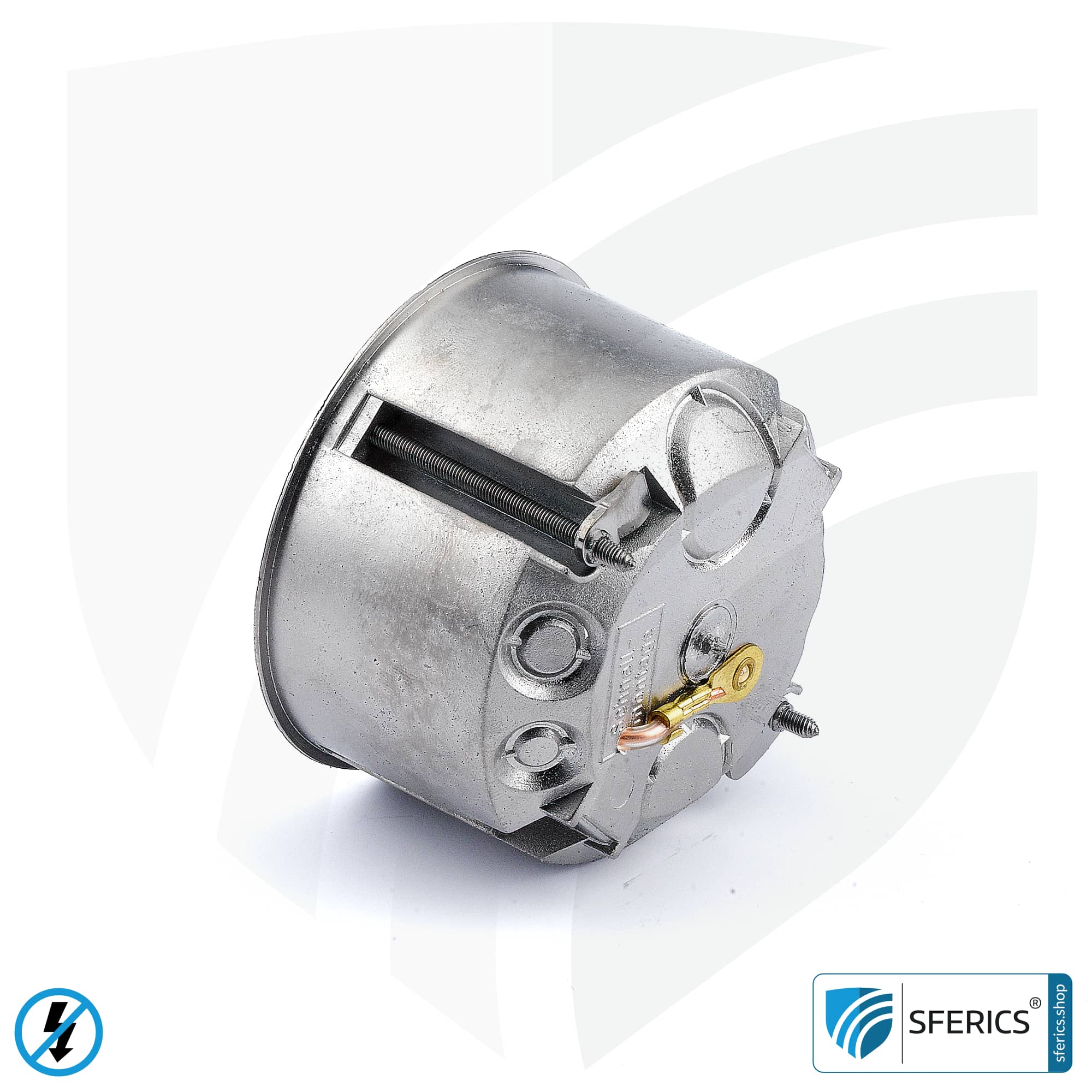 Shielded cavity wall box with a depth of 47 mm. Cavity wall junction switch box, halogen-free, for installing shielded electrical cables in drywall. For shielded rooms according to Faraday to reduce electrical fields LF.
This shielded installation box is used to reduce low-frequency alternating electrical fields. This is an ideal addition to the wall, which is shielded by means of shieldingShielding is the protection from the effects of external fault zones and environmental influences (on a person's health most of the time). More paint, in order to close the "hole socket" in the Farraday cage as well as possible.
Shielded with metal vacuum coating. Potential connection cable 1.5 mm² rigid. Can be used as a junction box and switch box for panel thicknesses of 7-35 mm. Standard mounting distances.

General information on the shielded cavity wall socket, flat, 47 mm
The coating of the cavity wall socket is electrically conductive and therefore perfectly suitable for the effective limitation of alternating electrical fields. The focus of this shielded installation box is in use in bedrooms, hospitals, computer rooms and other sensitive areas to limit alternating electrical fields.
Special conductive metal vacuum coating for shielding against electrical alternating fields (in accordance with the EU's 2002/95/EG guidelines)
Approved screw spacing
Connecting wire 1,5 mm² (Copper, massive, rigid, transparent insulation), quick installation in
Plug terminals (push-wire connectors)
Installation of the insertions with screws and stretches
Standard screw spacing of 60mm
Circuit diagram shielded junction box
Details on the shielded cavity wall socket, 47 mm deep
Can be used for a plate with a thickness of 7 to 35 mm
several breakout openings
pre-mounted device screws
snap-lock spacer
polypropylene (halogen-free).
Temperature range during processing -5° C to max. + 70° C (material breaks at too low temperatures)
Documentation (.pdf)
Technical details
Details on building biology electrical installations
Electrical Installations Instruction Booklet
Other available installation boxes
Optimal, shielded and halogen-free installation cables
Recommendation: WAGO junction box terminals