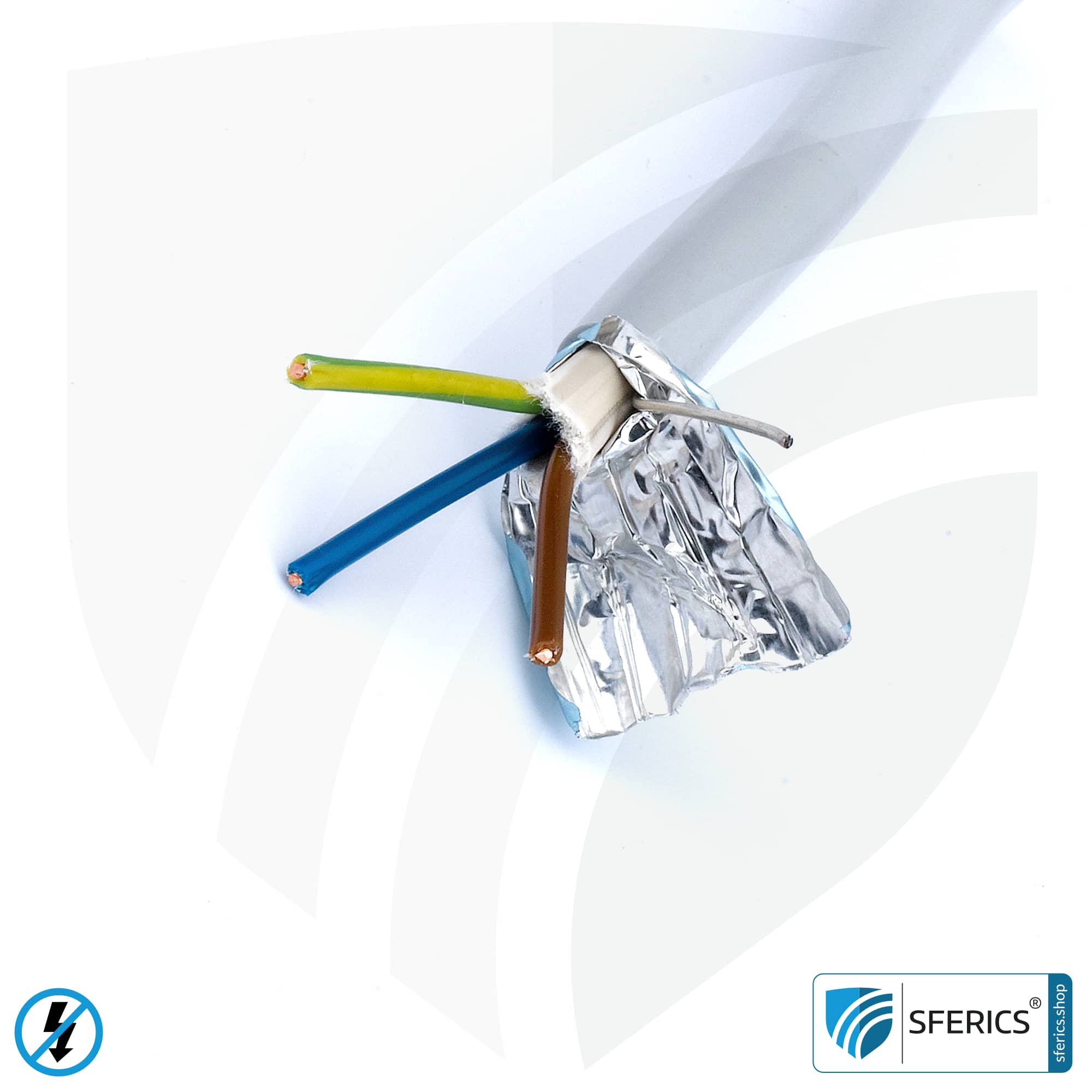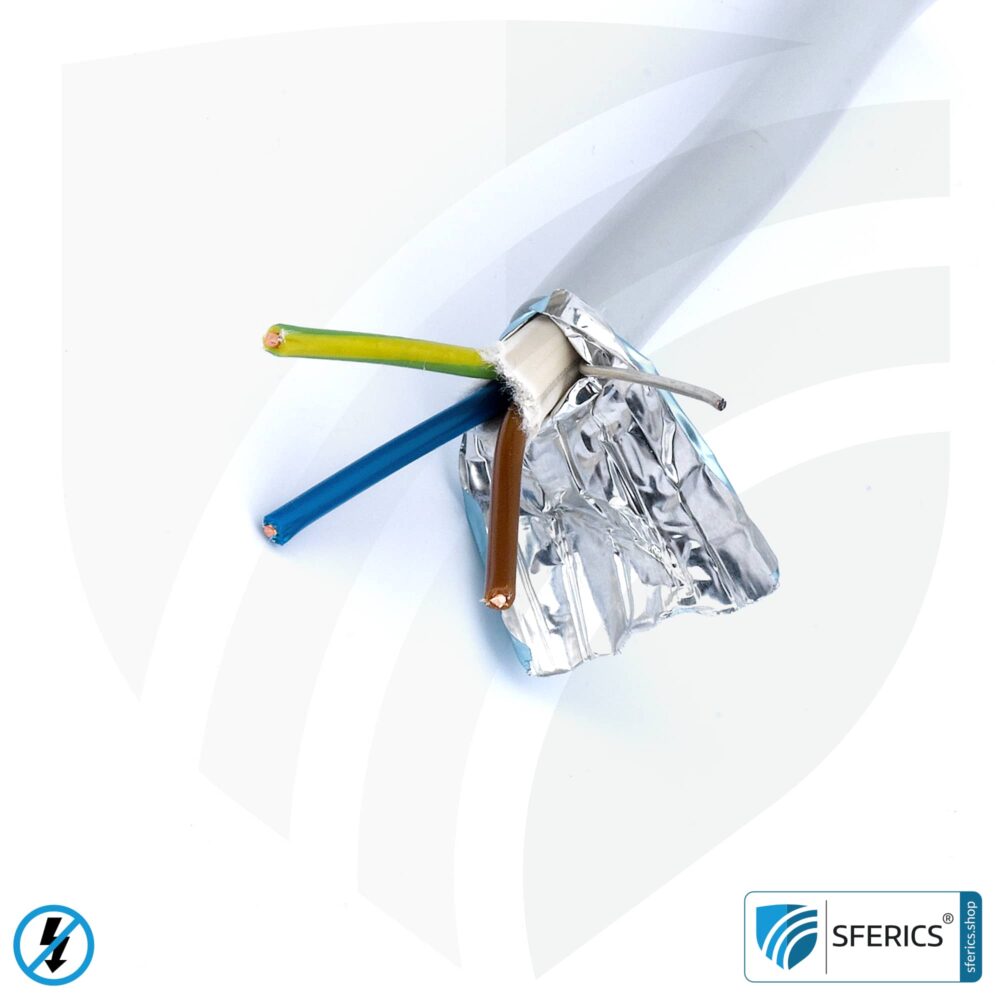 High-quality, shielded installation cable for the effective limitation of electrical alternating fields LF. This installation cable type (N)HXMH(St)-J is halogen-free and plasticizer-free.
3x 1,5mm²
This high-quality shielded cable enables effective shieldingShielding is the protection from the effects of external fault zones and environmental influences (on a person's health most of the time). More of low-frequency electrical fields. In contrast to the shielded PVC cable, this variant (N)HXMH(St)-J of a sheathed cable is also halogen-free (i.e. in the event of fire no corrosive / narcotic gases are produced. The smoke development remains low) and plasticiser-free. Furthermore, an improved behaviour in case of fire has been integrated. Consider that a standard electrical cable, laid during the construction of the flat or house, produces a strong electrical alternating field which reaches up to 2 meters into the room. And since the power lines in the floor, ceiling or wall are continuously under current with 16 amps and 220 volts, this LF electrosmogElectrosmog is a colloquial term for all emissions from electric, magnetic, and electromagnetic fields. More issue is a 24/7 topic – 24 hours and 7 days a week.
With this shielded electric cable, this problem is avoided from the outset. The low-frequency alternating fields automatically produced by the conventional household alternating current do not even leave the coated electric cable.
This (N)HXMH(St)-J shielded electric cable can be laid on and under plaster, in dry or humid rooms, on masonry, and on concrete. It is also suitable for outside use as long as it is protected from direct sunlight. It cannot be directly embedded into shaken, vibrated, or tamped concrete.
Important information about shielded home wiring:
In conjunction with shielded in-wall or flush-mounted boxes, this is the most effective way of shielding against electrosmog caused by electric fields. The commissioned electrician must be informed of the decision to use shielded cable BEFORE the tender. Laying this cable is a lot harder for the electrician, and the tender could be rejected as a result. Don't be put off by this, just ask the next electrician. The extra effort to achieve an electrosmog-free result is always worth it.
Construction of the (N)HXMH(St)-J shielded installation cable

1) Single-wire copper conductor
2) Insulation: joined-up polyethylene
3) Common core covering
4) (St)-Screen: foil with 1,13 mm wire
5) Outer casing: halogen-free polymer compound
Installing (N)HXMH(St)-J shielded installation cable
When installing, connect the ground wiring of the junction box to the ground wiring of the cable! Always connect yellow-green to yellow-green, do not connect them to the auxiliary wire in any case! Protect the auxiliary wire and toil with insulating tube, there can be no conductive parts in the junction box! The screen connection = lay the auxiliary wire to one side on the potential bonding bar. Do not use unshielded and shielded cables together.
Technical information on the (N)HXMH(St)-J shielded electric cable
Number of wires in core: 3
Cross-section per wire: 1,5mm²
Length: 25 meters / 100 meters

Outside diameter: approx. 10.4 mm
Cable weight: 148 g/m
Fire load: 0,43 kWh/m
Quantity: In rolls of 1,0 running meter. If tailor-cut for a customer, it cannot be revoked or cancelled. Request a free test sample before ordering.
No PVC with halogen-free polymer compound (according to DIN VDE 0250 Section 214)
No plasticizers for ecological constructions
Fire retardant according to EN 50266-2-4, EN 60332-1, IEC 60332-3 Cat. C
Nominal voltage U0/U: 300/500 V, current load according to VDE 0100
Construction according to DIN VDE 0250 Section 204/209, marking according to DIN VDE 0293
Test procedures according to DIN VDE 0472, test AC voltage 50 Hz, 3500 V
Bending radius according to DIN VDE 0298: 4 x D
Operating temperature: -30°C bis +70°C, cabling temperature -5°C bis +70°C
Application: Reduce LF fields
Field type: LF (low-frequency alternating fields)
The temperature range (not moved) is – 40º C to max. + 70º C, during installation + 5º C to max. + 70º C. Outdoor installation is only possible if the cable is not exposed to direct sunlight. Use in hazardous areas is not permitted. The product conforms to the 73/23/EEC Directive (Low Voltage Directive).
Schematic circuit distributor with shielded electric cable and shielded installation boxes
Checking the efficiency of the LF shielding
The screening is checked according to TCO'99, Volume I (MPR II) and DIN EN 50279 (measuring distance 30 cm, measurement against earth, free cable run over several metres, no connection areas, field-free laboratory conditions). The alternating electric field is measured in volts per meter, or V/m for short.
Unshielded installation cables: 30 – 80 V/m
Foil-shielded NYM-(St) or (N)HXMH(St) cable: below 1 V/m
Guideline value for building biology electrical installations: max. 10 V/m
Tips for comparing prices for shielded electrical cables
It is common in the cable industry for cables to be sold at a "cable price" with no copper content. Since the raw material prices are constantly changing, a "copper surcharge" is also levied, which is advertised as "plus a copper surcharge of € 150 per 100 kg of copper, the DEL notice is relevant on a daily basis". The stated "daily price" of € 150.00 / 100 kg is from 2002, as of 2011 we are at around € 500.00 to 600.00 / 100 kg. This increases the actual cable price enormously compared to the list price! For this reason, all prices of our shielded cables INCLUDE copper surcharge!
Documentation (.pdf)
Download data sheet
Details on building biology electrical installations
Our electrical cable range at a glance