Paint stirrer QUIRL: paint mixer with hexagonal handle for perfect mixing of shielding paints!
Introducing our new paint stirrer, specifically designed for stirring shieldingShielding is the protection from the effects of external fault zones and environmental influences (on a person's health most of the time). More paints in 1- and 5-liter containers. Shielding paints consist of a combination of solid and liquid components. During storage, even if it's just for a short time, the heavier shielding particles and pigments settle at the bottom and MUST be thoroughly mixed with the liquid before use.
This is common with other dispersion and wall paints, but even more important with shielding paints, as the quality of the shielding depends on it. With the QUIRL paint stirrer, you can efficiently and evenly mix all paint components.
Paint mixer suitable for drills with toothed chuck as well as single- and double-sleeved quick-release chucks
The hexagonal handle prevents the paint stirrer from spinning in the drill chuck and slipping out of the mixer
Thanks to its ergonomic design, you can reliably and quickly prepare shielding paints in the supplied container for a homogeneous, ready-to-use paint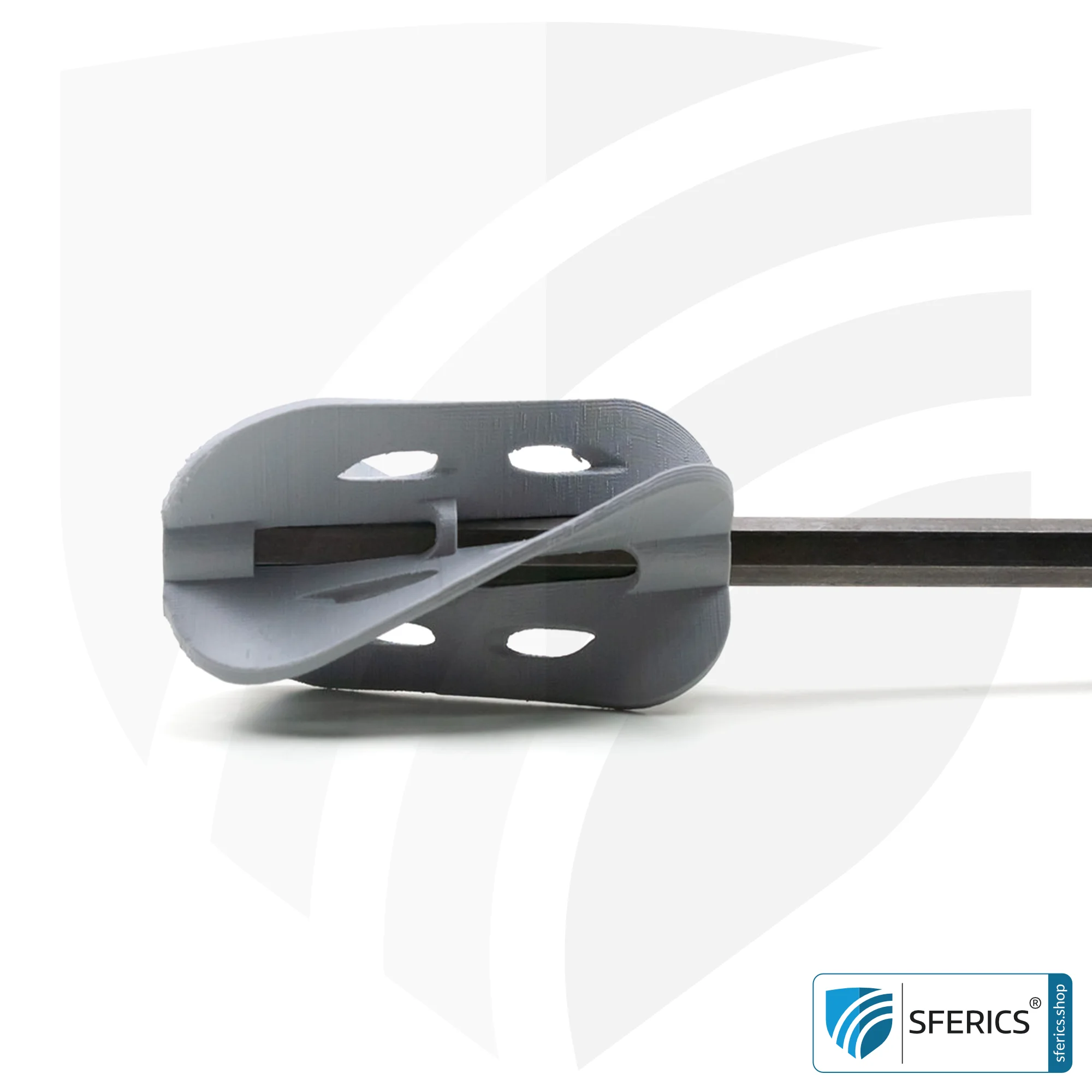 Using the QUIRL paint stirrer or paint mixer for shielding paints
No standard paint stirrer fits into the 1-liter containers of shielding paints with a 42 mm opening, which is why this one was specially developed for you. This stirrer rod has a diameter of 40 mm, a length of 33 cm, and stirs the shielding paints quickly and evenly even in slim and tall paint containers. The noticeable difference compared to the 3D-printed paint mixer AR42 is the hexagonal steel shaft for optimal fixation during mixing.
The application couldn't be easier. Simply attach the paint mixer to a drill or cordless screwdriver and stir the shielding paint directly in the original paint container. For a 1-liter container, we recommend a mixing duration of 1-2 minutes, and for a 5-liter container, a mixing duration between 3 and 5 minutes. Move the rod up and down as well as in a circular motion while stirring. As soon as the shielding paint is stirred, apply it immediately. For longer standing times (a few hours) or for reapplication the next day, please stir the paint again briefly.
Documentation on the QUIRL paint stirrer (.pdf)
Technical details